I just flew Copa Airlines' Boeing 737-800 business class from Miami, which is a flight that's blocked at around three hours. While I'll have a full review soon, in this post I wanted to share my initial impressions of the flight, because Copa sure is a unique airline.
Forgetting the aircraft swap, what did I think? Well, there were some things I liked about the experience, but there were also things that left a lot to be desired.
Copa is a quirky airline
I think a bit of background is needed on Copa, for those who aren't familiar. Copa is basically a cross between Continental Airlines (RIP) and Icelandair. The airline essentially has Icelandair's business model, using Panama as an efficient connecting point for travel within the Americas (in particular, to, from, or within Latin America). So whether you want to fly from Los Angeles to Santiago or from Miami to Caracas, Copa has you covered.
Why do I mention Continental? Well, because in 1998, Continental (now United) acquired a 49% stake in Copa, which the airline held onto until 2008. Continental wasn't just a silent investor, but rather just about everything about the Copa experience is based on Continental back in the day, from the livery, to the cabin interiors, to the carrier belonging to Star Alliance, to the airline using Continental's OnePass frequent flyer program back in the day (now Copa has its own frequent flyer program).
In terms of the passenger experience, flying with Copa really feels like flying with a US airline, for better or worse. With that background out of the way …
What I liked about Copa Airlines business class
There were a couple of things I liked about Copa. First of all, the food was actually pretty decent. Yes, it felt a lot like the meal you'd get on a US airline, but the quality was noticeably better. Service began with a lukewarm snack mix of sorts, served with drinks.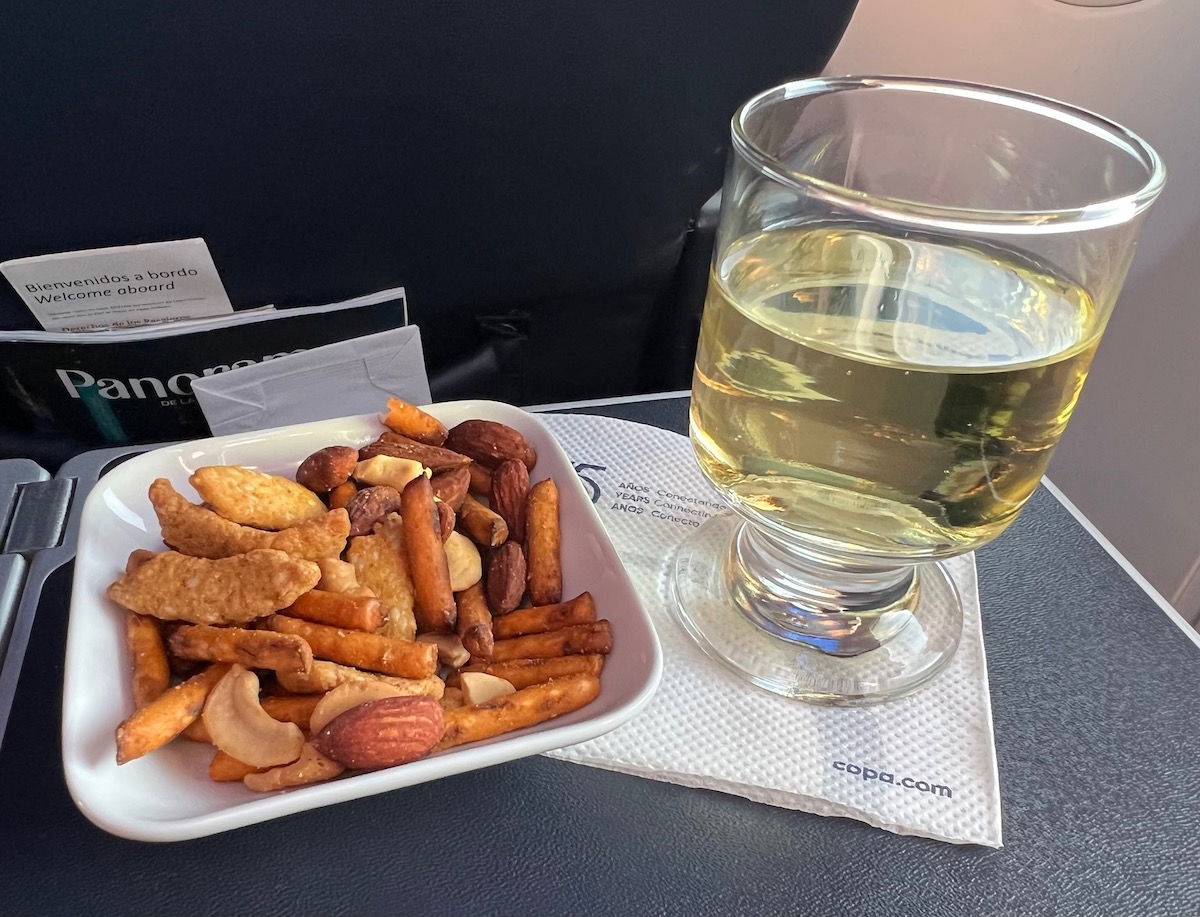 On my flight there were two dinner options, and I selected the sliced ​​chicken breast with rice and veggies. Then there was a (not great) salad, as well as a chocolate cake for dessert. The food was better than you'd get on American on the same route.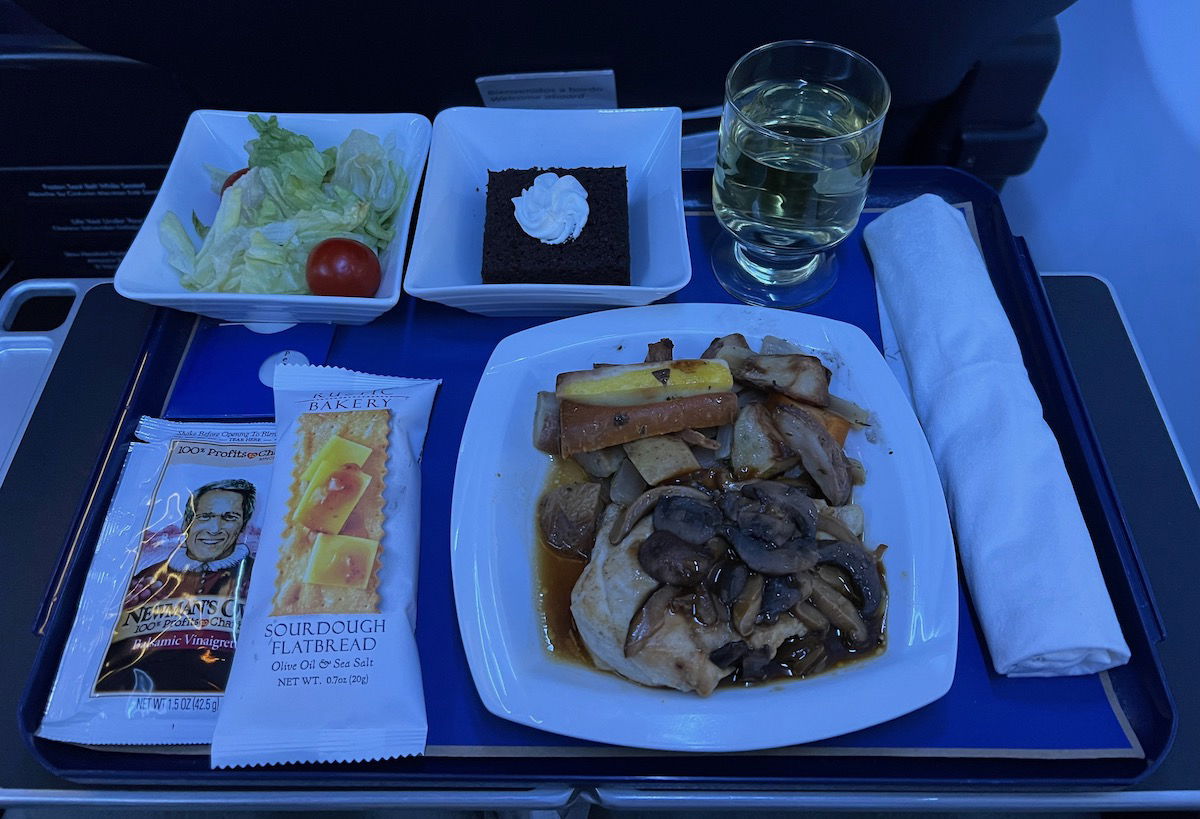 The service was also pretty good. I mean, it wasn't Singapore Suites or Air France La Premiere, but the flight attendant working business class was genuinely friendly and attentive, and that's all you can ask for on a flight like this.
What I didn't like about Copa Airlines business class
What I didn't like about Copa is that it felt like flying with a US airline… in 2006. The seats were almost identical to what you'd find in domestic first class in the United States, which is totally sufficient. The cabin was nicely updated, with Boeing's signature interiors, so at first I thought "great, I'm sure the tech onboard is good too."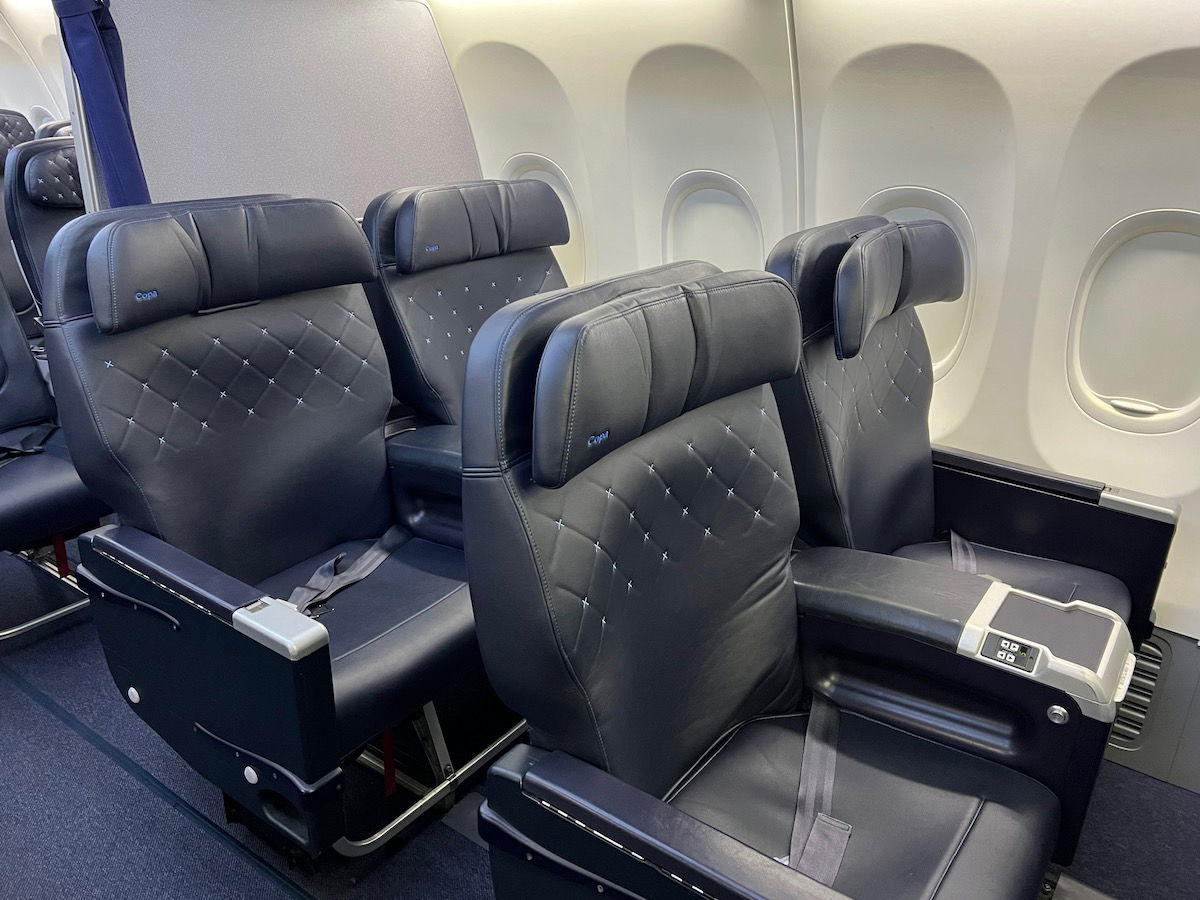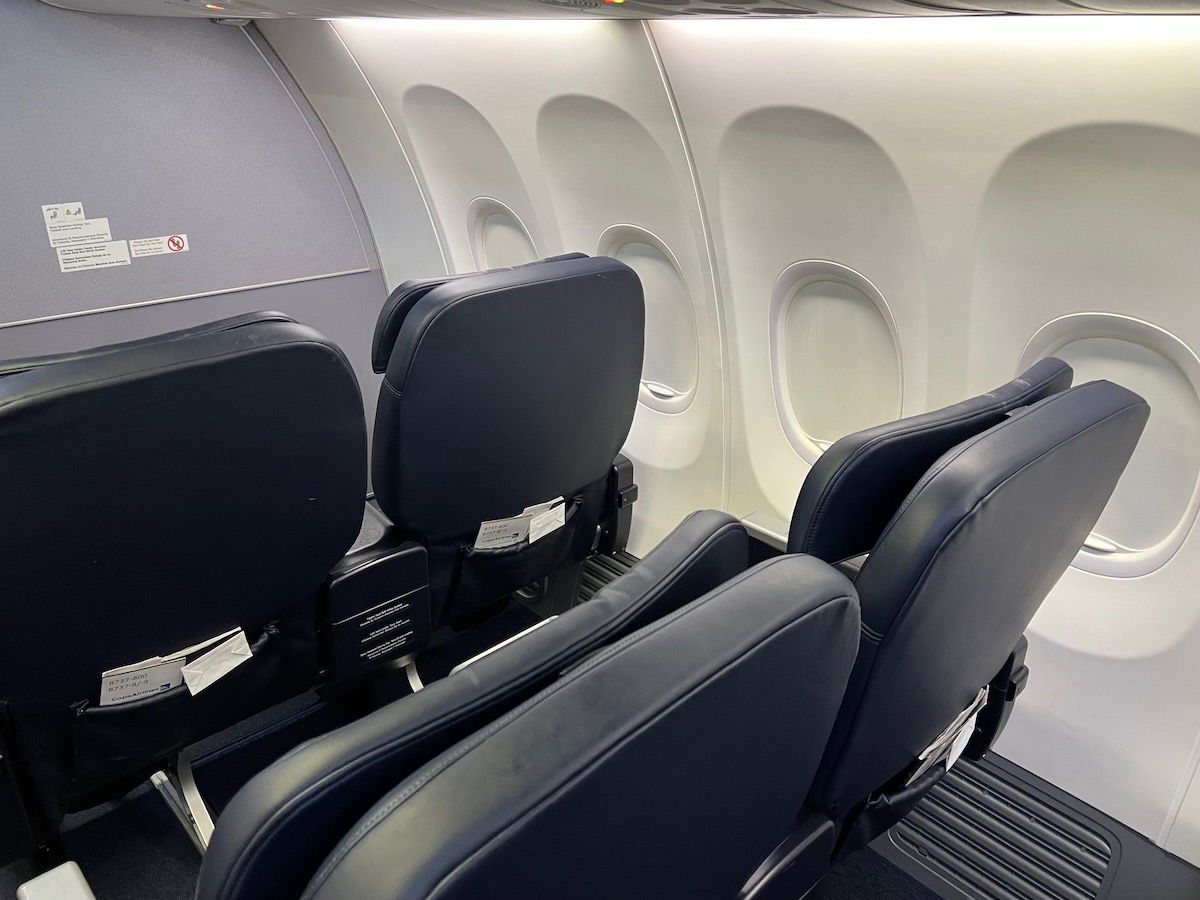 I don't think much attention has been given to this on the internet, but Copa has significantly reduced business class seat pitch over the years. Back in the day, Copa's 737-800s had 49 ″ of pitch in business class, way more than you'd typically find in domestic first class in the United States. With how Copa is reconfiguring planes, seats have just 38 ″ of pitch, just like you'll find at most US airline.
However, I couldn't wrap my head around the lack of amenities, especially in light of the cabin's recent refresh. There were no power outlets of any sort. There was no Wi-Fi. There was no seatback entertainment. There was no streaming entertainment. I can forgive there not being one, or two, or even three of those things, but none of them… really?
It truly felt like a blast from the past. And some people might say "well you don't need those things on such a short flight." Fair enough, but:
Keep in mind that a vast majority of passengers are connecting on Copa, and may find themselves on another flight that has none of those things
Copa operates some really long flights with Boeing 737-800s, including Panama City to Rio de Janeiro, which covers a distance of nearly 3,300 miles, and is blocked at close to seven hours
You want your electronics to be fully charged before you end up in traffic in many cities in Latin America (Bogota, Sao Paulo, etc.) 😉
I believe some Copa 737-800s may have streaming entertainment, but it's a crapshoot. The only entertainment is some destination related ads on overhead screens. I felt like I was flying TED in 2006 (how's that for a throwback ?!).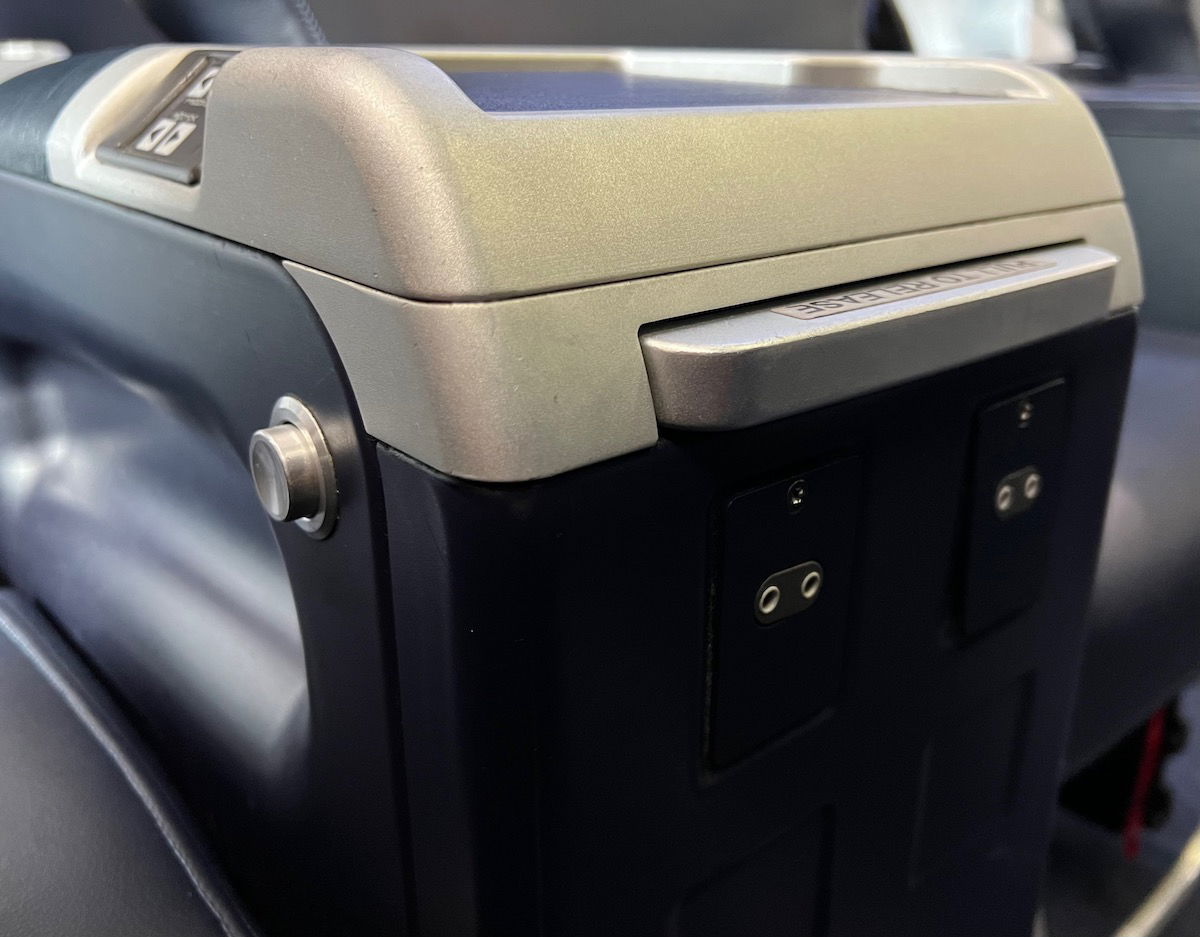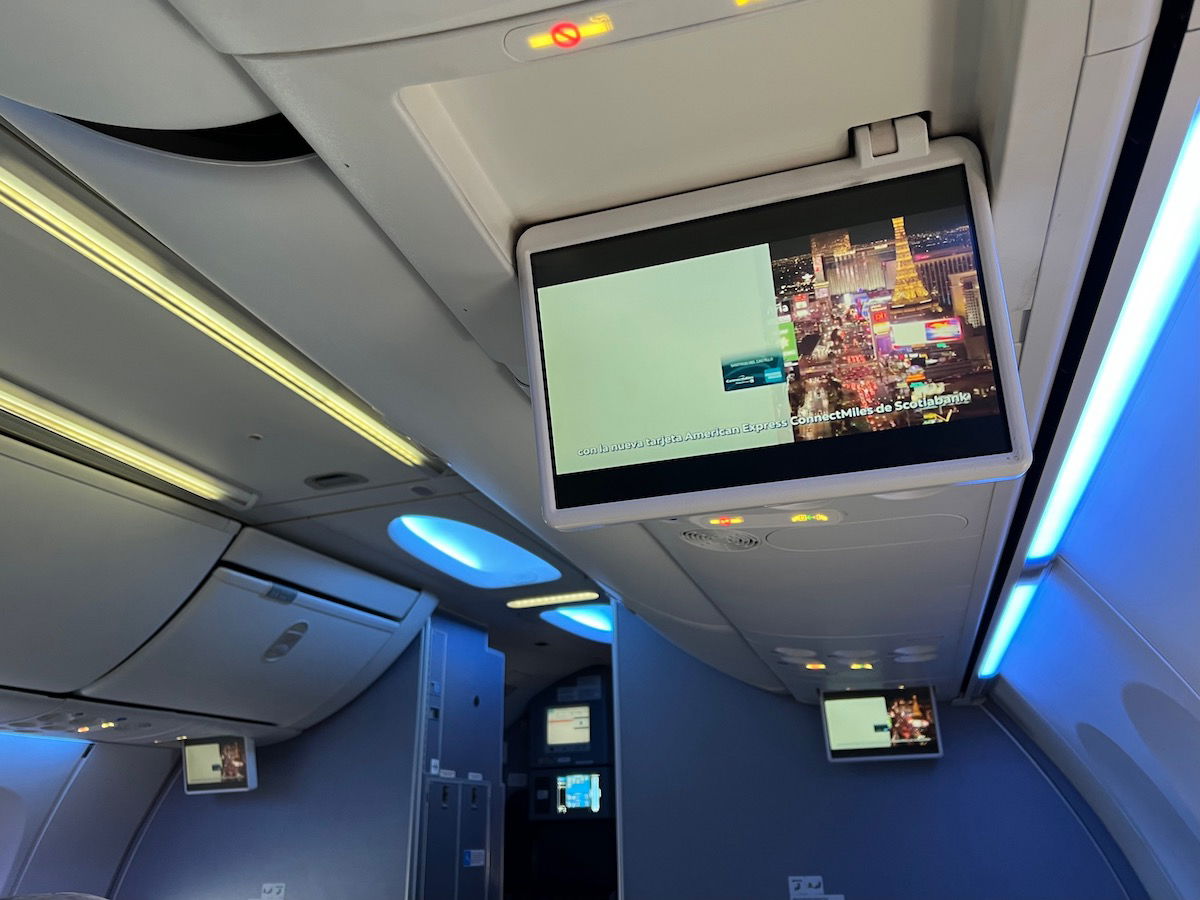 Bottom line
Copa Airlines' business class experience felt new (to me) but familiar. On the plus side, the flight had solid catering and friendly service. Copa's 737-800s have interiors similar to what you'd expect in the United States, minus all the advancements that have been made in the past 15 years – there were no power ports, no Wi-Fi, no seatback entertainment, and no streaming entertainment.
It seems like Copa's business model is essentially to capture any market that other airlines can't cover based on its extensive route network in the Americas, but not much more than that. I suppose that's fair enough, but adjust your expectations accordingly.
And stay tuned, because I connected from Panama to Lima on yet a different kind of Copa Boeing 737-800, which had much worse interiors…
If you've flown Copa business class, what was your experience like?