Coaching football is nothing new for Glacier Flag Football coach Mark Kessler.
With 25 years of experience on the sidelines at the high school and junior college level it is safe to say he has seen it all on the football field.
This year things might look just a little different as girls high school flag football hits the gridiron in Montana with Butte, Glacier, and Flathead breaking ground as the schools prepare to compete in the sport's inaugural season.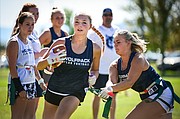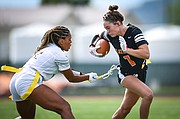 The sport comes to Big Sky Country after, among other states, taking off in the Georgia high school system, where over 175 schools played girls flag football programs as of 2021.
Atlanta Falcons team owner Arthur Blank has a ranch in Montana and is a major player in the development of the sport. First in Georgia, and now in Montana, the Falcons picked up the bill for the Montana High School Association for the inaugural season to help jumpstart the sport.
Recently the Falcons held a flag football camp in Missoula that featured around 60 athletes from the three Montana schools, and was met with a positive reception from everyone involved.
"Every girl was smiling and having fun playing football," Kessler said.
That had to bring a smile to Kessler's face as well: His goal for the inaugural season is to help athletes, "get excited and develop a passion for the sport."
The Wolfpack had a large turnout — 38 players — and Kessler intends to form a developmental squad featuring younger athletes that will add a fourth team to the mix and help grow the sport while strengthening the Wolfpack program.
Leaders of the Pack
The Glacier girls will start the year with junior Kai Johnson at quarterback. Johnson has a decorated resume in track and field featuring a third place finish in the shot put at the State AA meet as a sophomore. The team plans to utilize juniors Kiera Sullivan and Noah Fincher on offense and lean on the senior leadership of Abby Weber and Sidnee Brousseau. Staicia Thomas along with the Allen sisters, Zoey and Karley, are other athletes expected to take on a big role in the inaugural season .
Kessler has been coaching football since 1991, much of it at the high school level in California at San Ramon Valley, which competed in the same conference as football powerhouse De La Salle. La Salle won 151 straight games from 1992-2004, which had Kessler joking "we finished second a lot."
He also spent time as a junior college offensive coordinator, which implies the Wolfpack should be an interesting team to watch offensively this year.
Flathead
Many opportunities in life come down to timing and for Flathead flag football coach Lisa Koehler, this was the perfect time to make the leap once again for the former collegiate athlete to head coach.
"I've been coaching as long as I've been able to," Koehler said.
After a six-year break, she thought flag football was the perfect opportunity to get back into the coaching realm. Koehler said that she would have "jumped on it" had the sport been around during her high school days, when she competed in both softball and basketball.
"The Atlanta Falcons deserve major props," Koehler said, noting the team's efforts in jump-starting the sport in Montana.
After time as an assistant basketball coach at the college level for D-II St. Martin's University in Lacey, Wash., Koehler took the Flathead girls basketball head coaching gig from 2013-16 and has served as an assistant coach for the Bravettes softball team in recent seasons.
As with any new venture it takes courage to step into a new situation and thrive but that is exactly what seniors Akilah Kubi, Peyton Walker and Tali Miller have done so far, which earned them being voted as team captains by their peers.
"I think being selected as captains speaks volumes to the type of athletes these young ladies are," Koehler said. "I really could not feel more blessed, as all the girls that came out for flag football showed a huge amount of courage to try something new."
The MHSA is following the Georgia highschool rules for its inaugural season. Games will be played 7-on-7 style. Like the 6-man game played in Montana, the center is eligible to catch a pass. in 8-man and 6-man, is 80 yards long and 40 yards wide.
Games will consist of two 20-minute halves with a three-minute overtime period if required.
The inaugural season kicks off for Glacier and Flathead on Saturday at Naranche Stadium in Butte. The six-week season is set to conclude Oct. 1 with a championship game at Washington-Grizzly Stadium.