Military aircraft from the Chinese People's Liberation Army have broken their record for sorties in the airspace around Taiwan, soaring past their 2021 total in just eight months.
Over the past three years, PLA air force and naval air force warplanes have steadily increased the number of training flights conducted in Taiwan's air defense identification zone.
In August 2022—the month that House Speaker Nancy Pelosi stoked Beijing's disleasure by visiting Taipei—Chinese aircraft flew 444 sorties into the ADIZ, according to Taiwanese defense ministry statistics.
This brought the total flights in 2022 to 1,069, higher than the 972 Taiwan reported in the whole of 2021 and nearly three times as many as the estimated 380 in 2020, according to a database compiled by US-based security analysts Gerald Brown and Ben Lewis .
August's 444 flights, which coincided with what is typically the peak of China's annual military exercise cycle, also far exceeded the previous monthly record of 196, set in October 2021. Most of the planes involved are Chinese fighter aircraft.
Most concerning for defense planners in Washington and Taipei is the PLA's frequent crossing of the Taiwan Strait "median line," an unofficial buffer that kept hostilities in check throughout the Cold War and for three decades after it.
These crossings, which were previously in the low double digits, have surged past the 300 mark this year, with all reported instances after Pelosi's high-profile trip, according to Brown and Lewis' database.
Taiwan also monitors activity by PLA unmanned aerial vehicles, better known as drones, but the military does not publish figures. higher than its daily figures.
An ADIZ extends beyond a country's territorial airspace and isn't regulated under international law. Taiwan—and neighbors including China, Japan and South Korea—use the zones as a buffer for the identification of foreign aircraft, both military and civilian. Therefore, is operating in international airspace.
Taiwan began publicizing the uptick in China's air operations in September 2020. The year before that, there had been only 10-20 flights into Taipei's ADIZ, according to defense officials.
Analysts say the sorties near Taiwan serve operational and training objectives.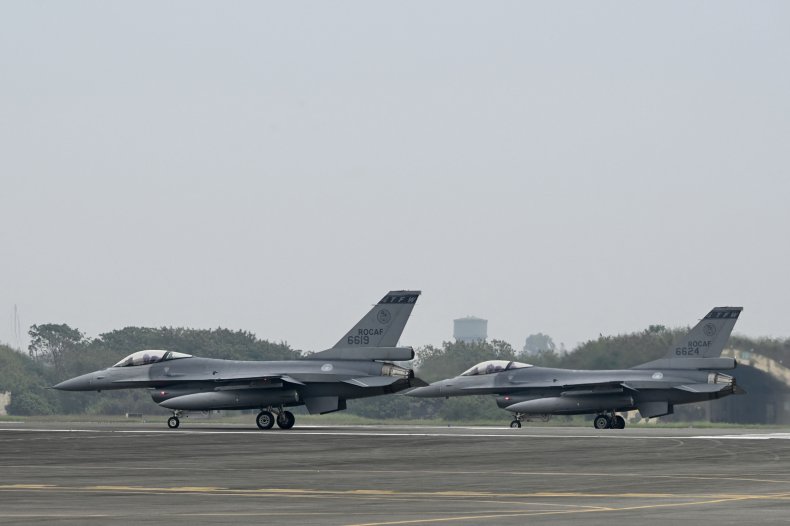 Beijing says Taiwan is part of Chinese territory, but the democratically elected government in Taipei rejects the claim.
China has refused to rule out the use of force to achieve its goal of a political union with the island, and its military posture and exercises suggest it increasingly believes in the likelihood of American military intervention if it were to attempt to take Taiwan by force.
China's "high-intensity" operations aim to "exhaust the capacity of Taiwan's countermeasures" and "paralyze the Taiwanese public's sense of apprehension," the Taiwanese defense ministry said in a briefing this week.
Its annual report on the PLA's growing capabilities said Chinese forces had been simulating attacks on US Navy vessels in the region to prevent the United States and other foreign militaries from coming to Taiwan's defense.
White House and State Department officials have described Beijing's military maneuvers as seeking to create a "new normal" in the Taiwan Strait.
John Kirby, spokesperson for the National Security Council, said the United States would not recognize or abide by China's new force posture, which officials say is destabilizing and risks miscalculation.
Under the Taiwan Relations Act of 1979, the US is required to sell Taiwan arms of a defensive character and assist Taipei in maintaining a credible self-defense to deter China. The legislation does not include an obligation to defend Taiwan from an attack.
Any such strike would trigger urgent deliberations between Congress and the White House. The US legislative branch has shown bipartisan support for Taiwan's democracy and autonomy, while President Joe Biden has suggested at least three times that he would defend the island with US military assets.