house on a hill celebrates picturesque vistas & topography
On a hillside in the southern Black Forest Germany sits a holiday house designed by Amunt. The clients who vacation exclusively in Germany desire a sustainable getaway with high-quality architecture that celebrates this picturesque location. Informed by its amorphous topography, the compact 110 sqm house unfolds on various levels, each of them framing scenic vistas of the area.
The final structure reflects the traditional building formations but reveals a modern twist that surprises with its irregular facades. The design expresses itself in two main wooden volumes that are angled by 45° to the slope and are topped by a thin roof shell with extensive protrusions. One corner of the structure gently touches the terrain, while the other sides are slightly elevated, supported by slender piles. Thus, the house creates different facade perspectives depending on the standpoint of the observer.all images by Rasmus Norlander
bed exploration adds a playful mood during the vacation
For the 'house on a hill', the Stuttgart-based studio opted for a structure that is highly connected with its surrounding nature. The steep slope of the topography is reflected in the composition of the house, with a variety of 'spatial situations' unfolding on different levels. The entrance to the house is achieved through the highest point of the inclined slope and leads the residents to the cloakroom. Taking some steps down, they encounter the kitchen and dining area with a large balcony opening towards the maple tree. A few more steps down lead to the living room and fireplace room.
If the residents want to go to the sleeping areas, they need to climb the central, open staircase from the entrance level. There, one can find different sleeping situations supporting the holiday mood. This includes a bunk bed, a cozy bedroom nestled in an alcove, a sleeping gallery under the roof, and a bedroom with a view of the stars. In total, the place offers eight varied sleeping spots for young and old alike.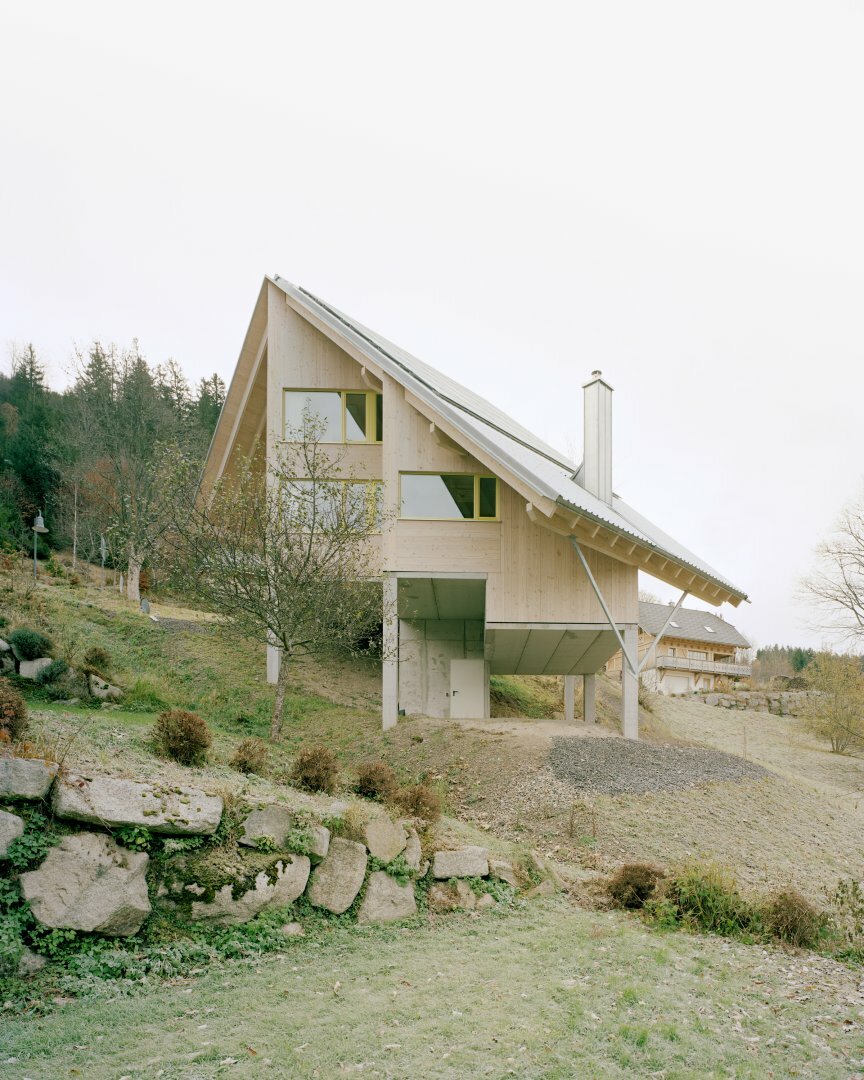 popping colors in harmony with nature
The architects applied generous amounts of glazing to flood the interior with stunning panoramas of the valley. This creates a sense of blurred boundaries between in and out when wandering the house. When it comes to the material palette, the architects opted for something fresh and modern while exploiting local materials with high resilience and patina ability. The window frames are covered in a yellow hue, while more yellow pops can be found throughout the house, such as a yellow mesh serving as a railing on the upper floors, yellow doors, and lighting frames.
Most of the furniture is painted pastel green operating in harmony with the surrounding nature, while the flooring is made of wood maintained in its natural condition. The body of the main staircase and the upper flooring from below is painted petrol to lend further to the interior's fresh and vivid environment.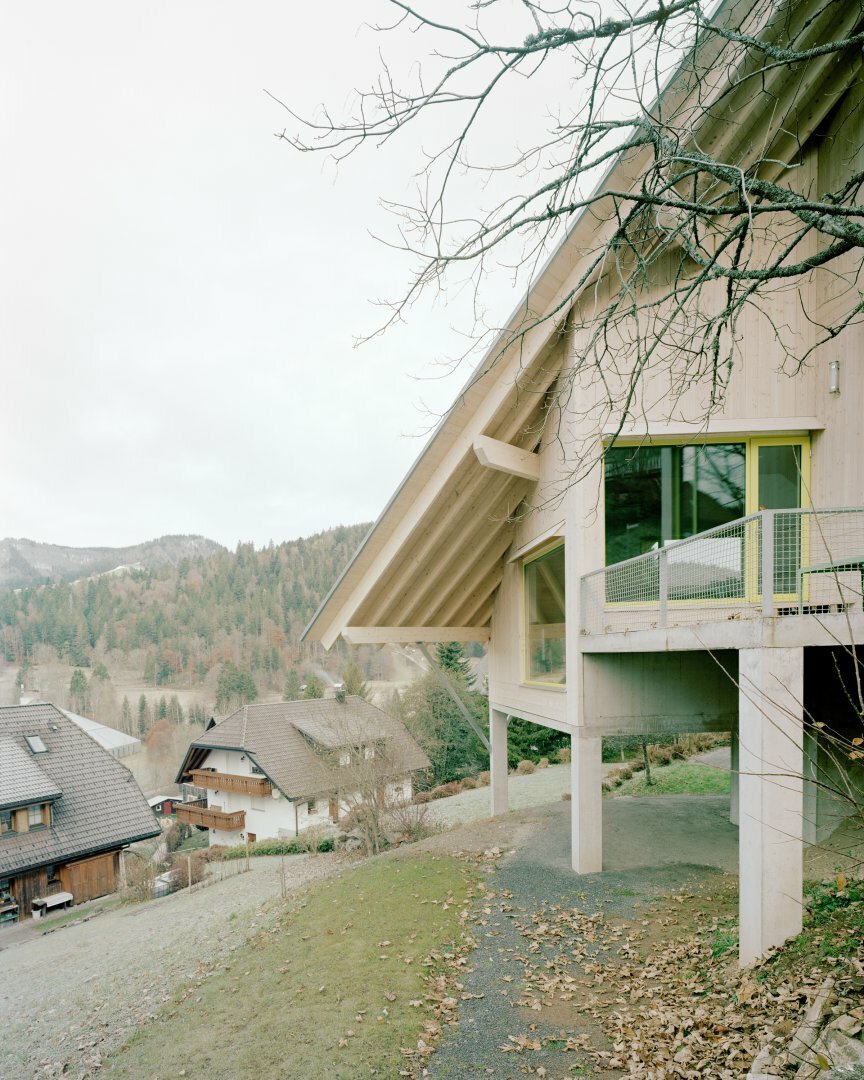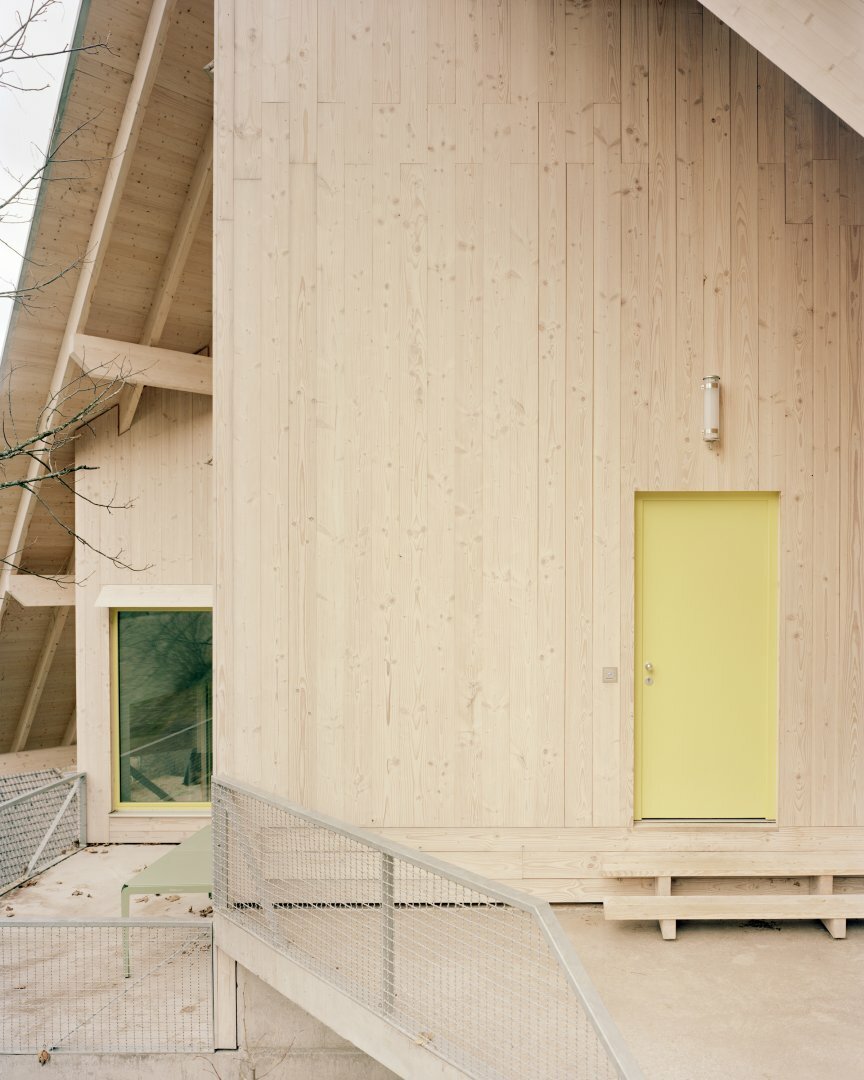 reflecting the traditional form of the local buildings