When traveling to Breckenridge, there's a good chance you're ready for a ski vacation. But this destination is much more than that! Sometimes, the best part of a good vacation can be the time you spend with family, thanks to perfect accommodations that nicely complement your reason for taking the trip. This amazing destination has plenty of such spots.
Even in the winter, there's a large selection of things to do besides skiing in Breckenridge. So if the slopes aren't for you, don't let that stop you from heading towards this beautiful part of Colorado. If you're heading to Breckenridge in the fall, you're going to love the beautiful autumn colors, fall festivals, hiking, biking, and more! Taking a summer trip? You're going to love the weather, and the timing gives you the perfect chance to enjoy the outdoors or the great culinary options in the area.
If you're looking for something a little bigger or that may run a little more pricey for one reason or another, we've got you covered! Our focus here are Vrbo house rentals (no apartments, no hotels) in or very near Breckenridge that are affordable (spots that run under $250 per night on average). Given those parameters, we have found 10 great options for you, and we think that you're going to find just what you're looking for. Happy Breck vacationing!
Grand Moose Lodge, Blue River
Rent Now$225/aug nightly
Welcome to the Grand Moose Lodge! Located 5 minutes from town, this amazing family-friendly chalet has space for 10 guests and features three king beds, gorgeous floor-to-ceiling windows with amazing views, a private outdoor hot tub, a game area, two fireplaces, and more — all on a full acre of land. The kitchen is fully stocked and has an extra-large stainless steel refrigerator. You can also head outside and cook on the propane barbecue. This home does not have air conditioning, as is the case with many properties in the area. The host notes that the driveway is steep and notes that visitors must adhere to the Colorado Traction Law (more information in the posting).
Bedrooms: 3
Bathrooms: 3
Sleeps: 10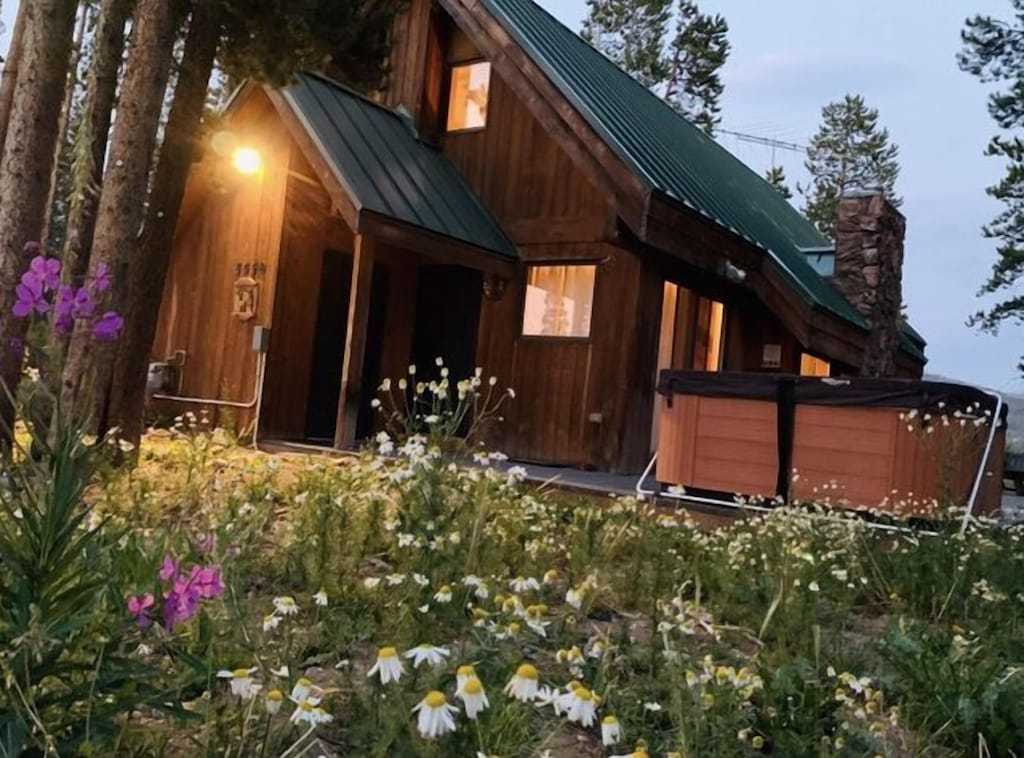 Heaven on Seven, Summit County
Rent Now$199/Aug nightly
Located away from the noise and crowds of downtown, Heaven on Seven is a 1,280-square-foot home with three bedrooms and room for six adults, situated on over half an acre. The host says this is the best location in Breckenridge! Just 4 miles from the town center, you're going to love the mountain views of the Peak 8 slopes and Bald Mountain from either inside the house or while soaking in the outdoor hot tub. Be sure to check out the photos of this great location!
Bedrooms: 3
Bathrooms: 4
Sleeps: 6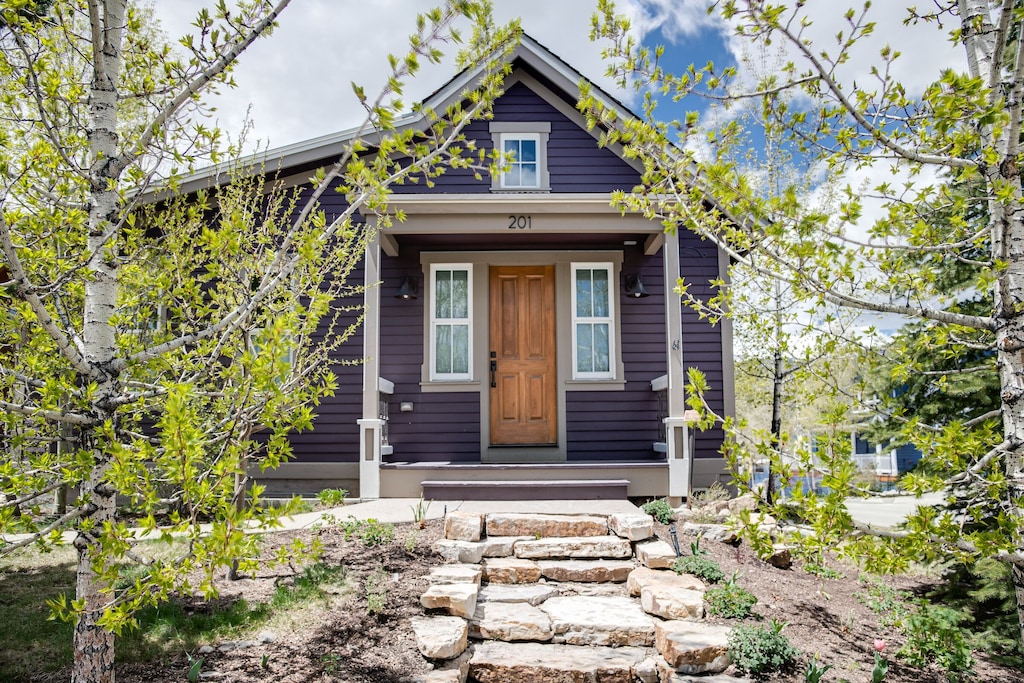 Plum Cottage, Breckenridge Historic District
Rent Now$199/Aug nightly
Looking for a charming spot in the Historic District of Breckenridge? Look no further! Plum Cottage is a 19th-century home that has been restored and updated. Just two blocks from Main Street, you're going to love the convenience of a shuttle stop just steps from your door. When it's time to kick back and relax, sink into the leather couch or overstuffed chairs in front of the fireplace. The vaulted ceilings and expansive windows serve up lots of natural light while you enjoy the stunning kitchen and dine at the vintage table that can seat up to six. The Plum Cottage photographs so well! Check out the pictures and prepare to be impressed.
Bedrooms: 2
Bathrooms: 3
Sleeps: 7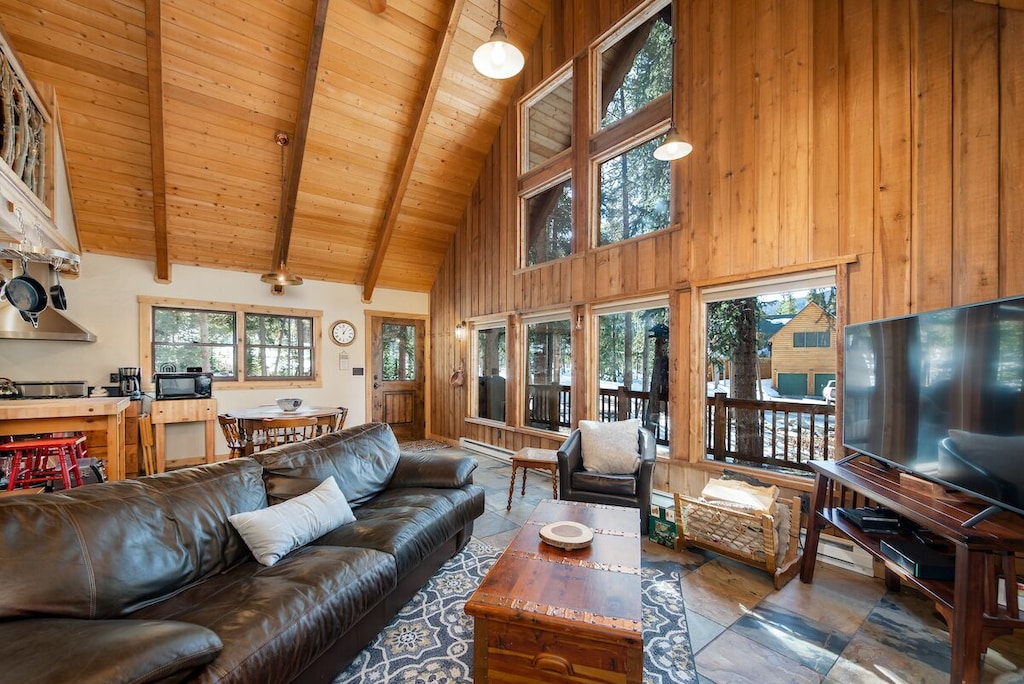 Sorenbrook, Blue River
Rent Now$179/Aug nightly
Lots of visitors to Colorado are seeking a cabin in the woods, but this particular host wants to offer you that cabin along with a high-end kitchen, beautiful flooring and furniture, and a smart TV! Put all of that together, and you have Sorenbrook. This one-bedroom is a great mountain getaway just 7 minutes from downtown Breckenridge and the slopes. An added bonus, there's a public park right next door. With an open-floor plan, vaulted ceilings, and large windows, there is plenty of natural light. Sit down to relax on the leather furniture in front of the wood fireplace after a long day on the slopes, or sit out back on the large deck that includes a gas grill. Note that a four-wheel drive vehicle is required during the winter, and this home does not have air conditioning.
Bedrooms: 1
Bathrooms: 1
Sleeps: 6
Sautter Guest Cottage, Breckenridge Historic District
Rent Now$189/Aug nightly
Private and elegant, the Sautter Guest Cottage is a charming modern Victorian home built in 1990 in the Breckenridge Historic District. Start your day out at the breakfast table, looking out at the snow-covered mountains. Then, enjoy a day of skiing, skating, snowboarding, sightseeing, or whatever you want to do before relaxing in front of the fire that evening. Cozy and completely private on the ground floor, this 900-square-foot cottage is within walking distance to restaurants and shops. You can also use the free transportation available to you just down the street that will take you to the ski lifts, the gondola, or anywhere else in the county. This is a perfect honeymoon spot. Book this one soon!
Bedrooms: 2
Bathrooms: 2
Sleeps: 4
Rapids Retreat Home, Warrior's Mark
Rent Now$239/Aug nightly
Heading to Breckenridge and need space for 10 guests? Check out the Rapids Retreat Home! Situated on the Blue River, this home is only a half-mile from downtown Breckenridge and two blocks from a shuttle that will take you into town or to the slopes. Inside, take advantage of the fully-equipped kitchen, eight-seat dining table, and wood-burning fireplace. Outside, fire up the gas grill on the upper deck or relax in the hot tub on the lower patio. Like Sorenbrook, there is no air-conditioning in this home and a four-wheel drive vehicle is required during the winter.
Bedrooms: 4
Bathrooms: 3
Sleeps: 10
Charming Victorian Townhome, Breckenridge Historic District
Rent Now$180/aug nightly
This charming Victorian themed townhome is located in the Historic District of Breckinridge, just steps to the Free Ride Shuttle Stop and walking distance to Historic Main Street and Carter Park. Settle in at the six-seat dining room table after preparing a meal in the well-stocked kitchen, or have a seat at the two-spot bar. With all the comforts of home, this Victorian Gables townhome has a fully furnished living room, a washer and dryer, a one-car private garage, and space for one additional vehicle. There is no air-conditioning in this townhome.
Bedrooms: 2
Bathrooms: 3
Sleeps: 6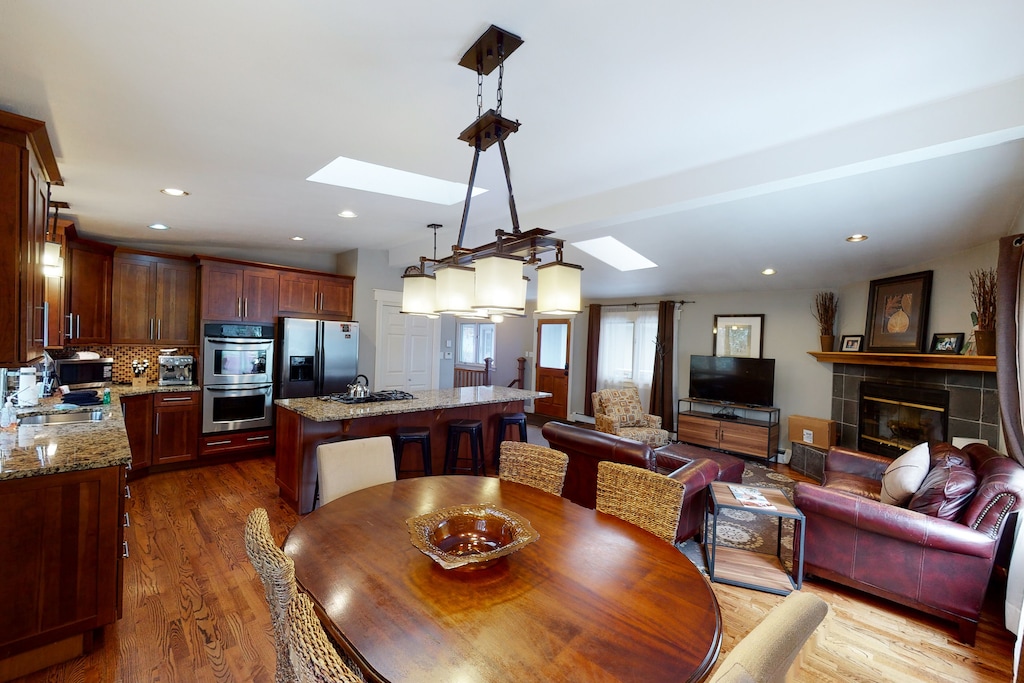 Woodsy Lodge, Weisshorn
Rent Now$184/aug nightly
Charming and near the heart of Breckenridge, the Woodsy Lodge sits on a half-acre lot in a quaint neighborhood that offers seclusion but is within walking distance to downtown. Right outside the door you can hike, go snowshoeing or mountain biking, or step outside onto the wrap-around deck to soak in the hot tub, relax on the lounge chairs, or sit at the dining set that includes an umbrella. Inside, the open-floor plan features large picture windows and skylights, allowing for lots of natural light. The living room has a gas fireplace, while the kitchen includes a gas range, two ovens, a large refrigerator, and a microwave. There are lots of things to do nearby, so be sure to check this one out today!
Bedrooms: 3
Bathrooms: 3
Sleeps: 6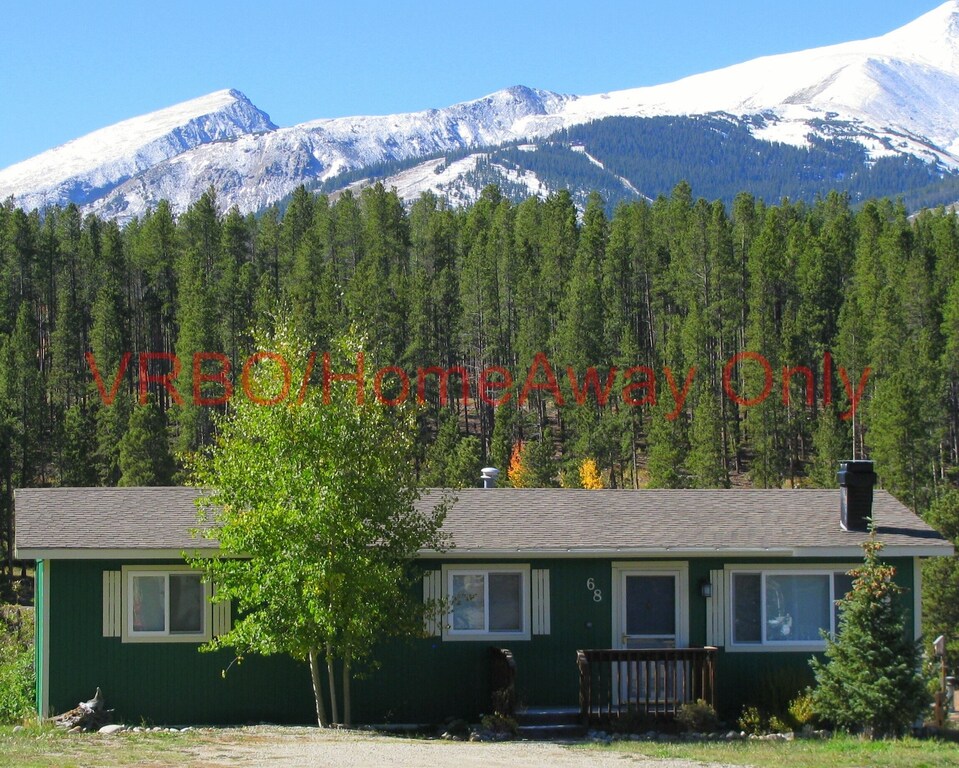 Well Located Private Home, Summit County
Rent Now$123/aug nightly
This private home sits in the perfect location of French Creek Historic District in Breckenridge, less than 5 minutes from downtown Breckenridge. Comfortable and roomy, this great vacation home offers three bedrooms, has space for two vehicles, and has a magnificent view of the mountains and ski runs. Under 200 yards away is a free bus shuttle to downtown and the ski area, among other locations. Looking to check out other local spots? There are plenty to pick from! Lake Dillon is just 9 miles away, Keystone is 13 miles away, Copper Mountain ski area is just 15 miles, Arapahoe Basin is 17 miles, and Vail is 35 miles. This one is a great value!
Bedrooms: 3
Bathrooms: 2
Sleeps: 6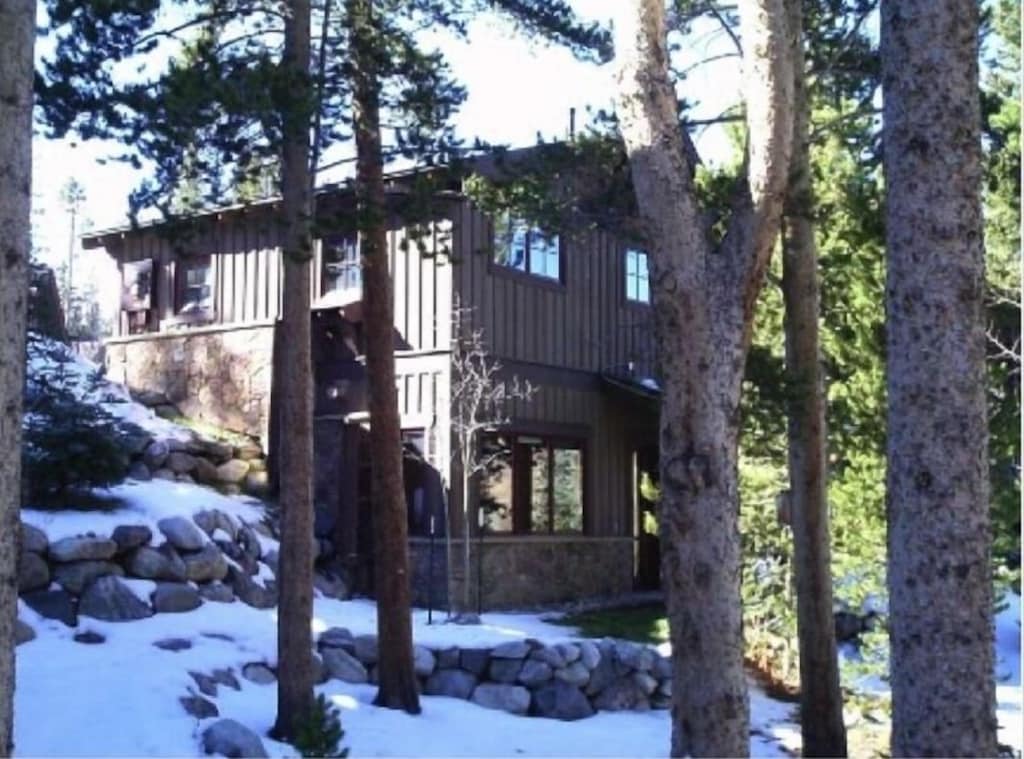 Luxury Shock Hill Mountain Home, Peak 8
Rent Now$206/aug nightly
This gorgeous one-bedroom luxury home in Shock Hill is located in a very private, wooded setting on Peak 8. Only 300 yards from the gondola, you can walk there and ride it to the base of Peak 8 or take it downtown. Just steps to the Breckenridge Nordic Ski Trail and Main Street, you're going to love the beautifully appointed kitchen that comes with high-end stainless steel appliances, granite countertops, and everything you'll need to put together a great meal. The bedroom has a king-sized bed, and the living room/kitchen/dining area has an open floor plan that lends itself nicely to visiting with one another in front of the gas fireplace. Ready to relax? Step outside and soak in the private hot tub!
Bedrooms: 1
Bathrooms: 1
Sleeps: 4
To read about the best things to do in Breckenridge, no matter which season you visit, check out: