Vilija Malinauskaite, CEO of Vilnius-based tour provider Travel Deli, was a student collecting stories about Lithuanians who had tried to save Jews from the Nazis during World War II when she decided that she wanted to bring Jewish people back to Lithuania.
"I want them to see that their heritage is being preserved," said Malinauskaite, who offers various types of tours of Lithuania and the Baltics, Jewish heritage among them.
Photo Credit: TW photo by Johanna Jainchill
Lithuania's capital isn't nearly as well known or visited as others in Europe, but as home to one of Continent's best preserved medieval Old Towns, it should be.
Continue Reading
Lithuania is remembering, memorializing and educating its own people as well as visitors about the Jewish community that was almost wiped out during the Holocaust. Before World War II, about 100,000 of the country's 250,000 Jews lived in the capital of Vilnius, making up almost half of the city's population and earning it the nickname the Jerusalem of the North. Almost 90% of that population was killed.
Lithuania clearly struggles with its role in collaborating with the Nazis, but today, Jewish artists, sculptors, doctors and philosophers are memorialized in statues and plaques around the county, and former synagogues are being rebuilt and restored.
During a three-day tour I took with Travel Deli, a truncated version of its Jewish Heritage tour, our guide took us through the narrow streets of Vilnius' former Jewish quarter, including the site of the heavily damaged and then demolished Great Vilna Synagogue, where a documentary filmmaker explained the synagogue's significance and the efforts being made to restore it. Tours also include a visit to a Jewish cemetery and discussions about the thriving pre-war Jewish community and its traditions.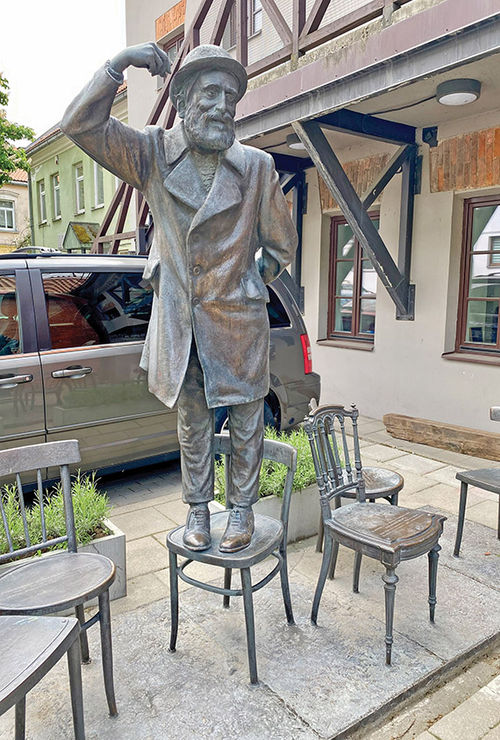 A sculpture in Kaunas, Lithuania, honoring Abraham Mapu, a famed Jewish author born in the city in 1808. Photo Credit: TW photo by Johanna Jainchill
A stop the in the lush Ponary Forest, the site of the massacre of tens of thousands of Jews by the Nazis and their collaborators, is one of many where visitors will feel the contrast of gut-wrenching history and beautiful settings.
Our tour continued in Kaunas, Lithuania's second-largest city and the interim capital of interwar Lithuania. We visited the Sugihara House, site of the Japanese Consulate during World War II and from where the Japanese consul, Chiune Sugihara, issued more than 2,000 transit visas to Jewish families. Now a museum, it tells the fascinating story of Sugihara's defiance of authorities to save between 6,000 and 10,000 lives.
A stroll in Kaunas' Old Town
Kaunas, whose lovely Old Town is itself worth strolling, is also home to the Kaunas Choral Synagogue, one of the country's few functioning synagogues, and the Kovno Ghetto, which held 29,000 people during the war in what had been the city's main Jewish neighborhood. Our guide explained what life was like both before and during the war, pointing out still-standing homes in which Jews lived and worked.
En route back to Vilnius we visited Ziezmariai, the site of one of the rare remaining wooden synagogues on the Continent, and a stop on the European Route of Jewish Cultural Heritage. An ongoing, six-year restoration of the synagogue includes making the space a museum and cultural center. Particularly powerful are inscriptions now framed in the walls written during the time of the war by members of Jewish community.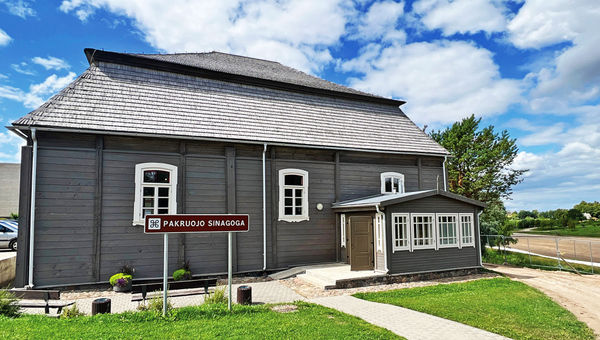 Lithuania's oldest remaining wooden synagogue, dating to 1801, in Pakruojis, a small town in the north. Photo Credit: Courtesy of Vilija Malinauskaite
The stops on Travel Deli's Jewish heritage tours are growing: Malinauskaite recently toured more potential places to visit as more of the country's synagogues are being restored, turned into art and cultural centers and libraries.
One of them is the country's oldest remaining wooden synagogue, dating to 1801, now a cultural center in the small town of Pakruojis, in Lithuania's north.