While no two ski resorts are the same, Taos Ski Valley is more special than most. Located about 20 miles northeast of Taos (a much-beloved town in its own right), the valley is host to a tiny village and a fantastic ski area. The area (Taos is the name of the larger town but many people refer to the ski area simply as Taos as well) is a bizarre mix of cultures. This fact is no small part of the appeal. The aesthetic and culture of the Alps have been imported and thoroughly adopted by the area, but have since undergone a hybridization, taking on elements of the more local native and Hispanic cultures that make New Mexico so unique and appealing.
The Taos ski area boasts steep terrain, high-quality snow, and small crowds. There are a large number of ski-in, ski-out accommodations and many more just a short walk from the base lifts. At over 9,000 feet above sea level, it does present some issues for people who live at sea level. But this also brings the area the light and fluffy snow which makes so many skiers smile. There are plenty of advanced and intermediate terrains, but the mountain is somewhat lacking in beginner areas. (People skiing for the first time won't have a problem though; there are multiple lifts for first-timers.)
Visitors should also be advised that many properties are unreachable in winter without a car with four-wheel drive.
If you remain undaunted and eager to tackle this incredible mountain, here is a list of nine Vrbo vacation rentals to stay in while you explore Taos. Some are reachable from the mountain, others are a short drive away, and each promises an incredible ski getaway.
Comfy Cabin One Mile From The Mountain
Rent Now$650/aug nightly
When people imagine a ski vacation, the image of a cabin in the woods comes to mind for many. Most people, however, enjoy their ski trips from condos or hotels. But the picturesque cabins are still out there, including this cabin rental just a mile from the Taos ski lifts. The den is a cozy amalgam of rustic furniture and winter sports paraphernalia with a river-rock fireplace. There are two rooms with bunk beds while the master suite has a homespun queen made of rough wood, just the sort of thing you'd expect to see in a ski house.
Bedrooms: 3
Bathrooms: 2
Sleeps: 8
Kachina Ridge Dreams
Rent Now$660/aug nightly
There's a large selection to enjoy during a ski trip to Taos. Guests staying at this unique house rental can add their accommodation to the list of wonders found in Taos Ski Valley. It's quite the spectacle, with half the house sitting on stilts. Highlights include the flying sunroom and wood-burning fireplace in one of the two living areas. Best of all, the house is located in a quiet wood just a 5-minute walk from the Kachina chairlift. The Kachina base area is much quieter than the main one but gives guests the same access to the mountain. Staying here also means inevitable aprés ski trips to The Bavarian, a fabulous German bar and restaurant located at the base of the lift. Great for couples or a whole family of skiers, the home has a master king bedroom and a guest room with three twin beds.
Bedrooms: 2
Bathrooms: 3
Sleeps: 5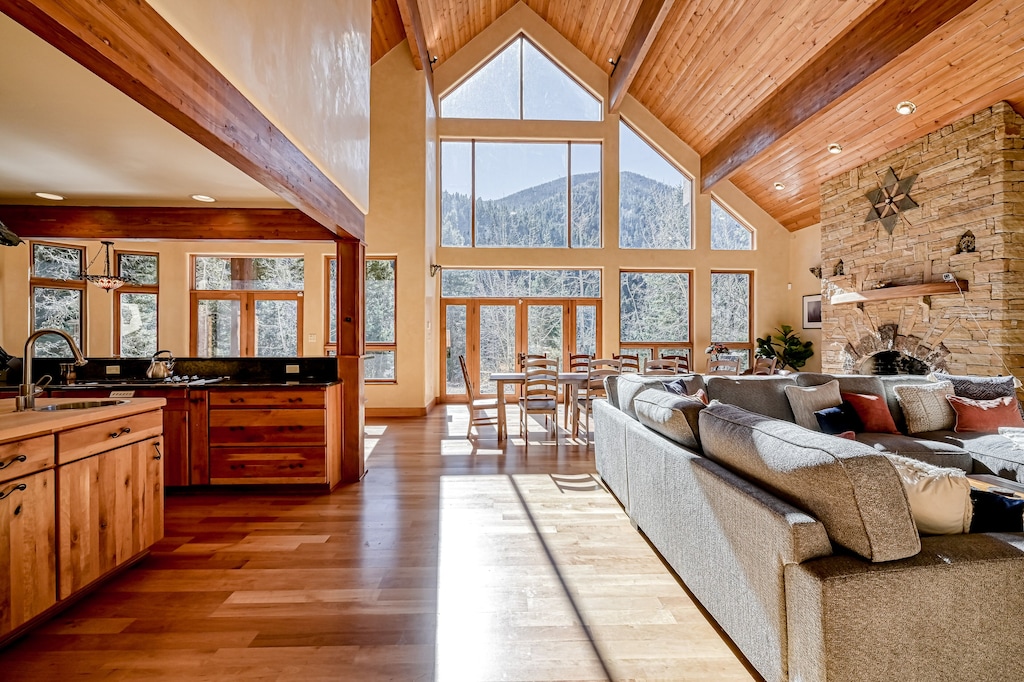 Lorelai's Black Diamond Lodge
Rent Now$1,160/aug nightly
Perhaps the grandest property in the valley, this spectacular lodge is a treat for any large group looking for a great stay in Taos this winter. The cavernous living room is an excellent place to relax after (and prepare for) a wonderful day on the mountain. For extra relief, the property has a massive hot tub and a steam shower in the master bathroom. The home has multiple game rooms with classic arcade games as well as modern consoles. The outdoor area is equipped with several heaters so you can enjoy meals al fresco while watching the sunset, even in the thick of winter. With two stories and seven bedrooms, there really is room for everyone, including your pets. Note that the home is about 2 miles from the ski area and anyone driving to the location should have a four-wheel drive.
Bedrooms: 7
Bathrooms: 6
Sleeps: 21
Ski Chalet Steps From The Slopes
Rent Now$975/aug nightly
This free-standing cabin in the village center is the very image of a ski chalet. It is a luxury log cabin complete with rustic leather sofas and walls of hewn lumber and rough stone. Each of the four bedrooms offers a cozy taste of mountain life and is furnished in the classical-alpine style. There's a kids' room with two bunk beds, a master king, and two queen rooms. As an added bonus, the property next door shares the same owners. Guests can make use of the Alpine Village's amenities and services, which include massages, saunas, and more. The elevators of the main base area are just steps away from the front door.
Bedrooms: 4
Bathrooms: 3
Sleeps: 10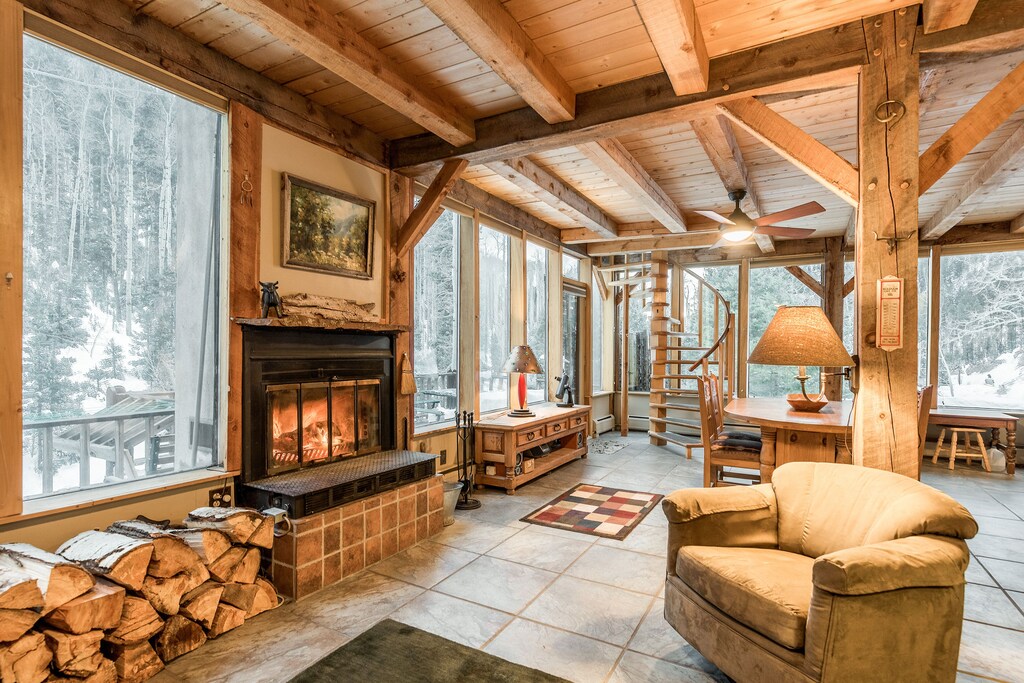 Spalding Chalet
Rent Now$441/aug nightly
Spalding Chalet is a two-story mountain vacation home located about 2 miles from the lifts at Taos Ski Valley. It features an abundance of beautiful wood fixtures and comfortable, rustic furnishings. Each of the three queen bedrooms has sufficient space, as does the living area and kitchen. The Hondo Rio River — a tributary of the Rio Grande whose headwaters are found on the slopes of nearby Wheeler Peak — flows through the backyard. It is great for fishing in the summer and provides a pleasant ambiance all year round.
Bedrooms: 3
Bathrooms: 2
Sleeps: 6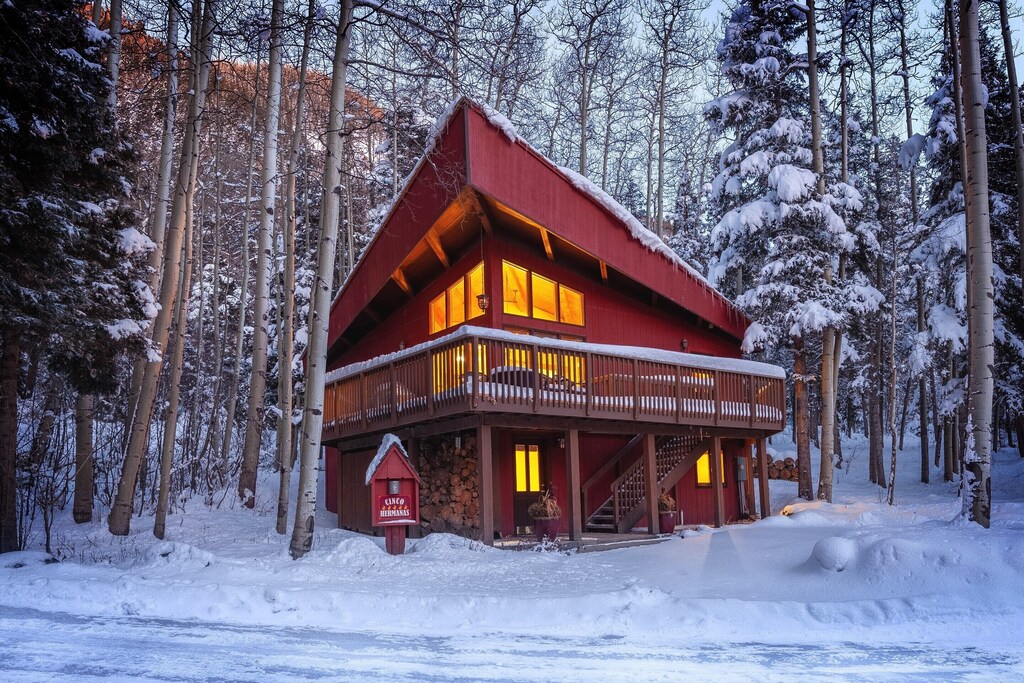 Cinco Hermanas Large Ski-In/Ski-Out Cabin
Rent Now$595/aug nightly
If your family is full of fanatic skiers, you've undoubtedly fantasized about how great skiing home after a long day on the mountain must be. Cinco Hermanas will allow guests to live out this dream in the coming winter season. The cabin is a 100-yard walk to the Pioneer beginner area. Even novice skiers will be able to ski home via the long green road which connects the Kachina and Resort Center areas. The home has queen and king bedrooms for the adults and two rooms with bunk beds for the children (or the adults who draw the short straw). Located as it is in a clearing surrounded by aspen and pine, guests will need reliable four-wheel-drive vehicles to access the property in the winter.
Bedrooms: 4
Bathrooms: 2
Sleeps: 10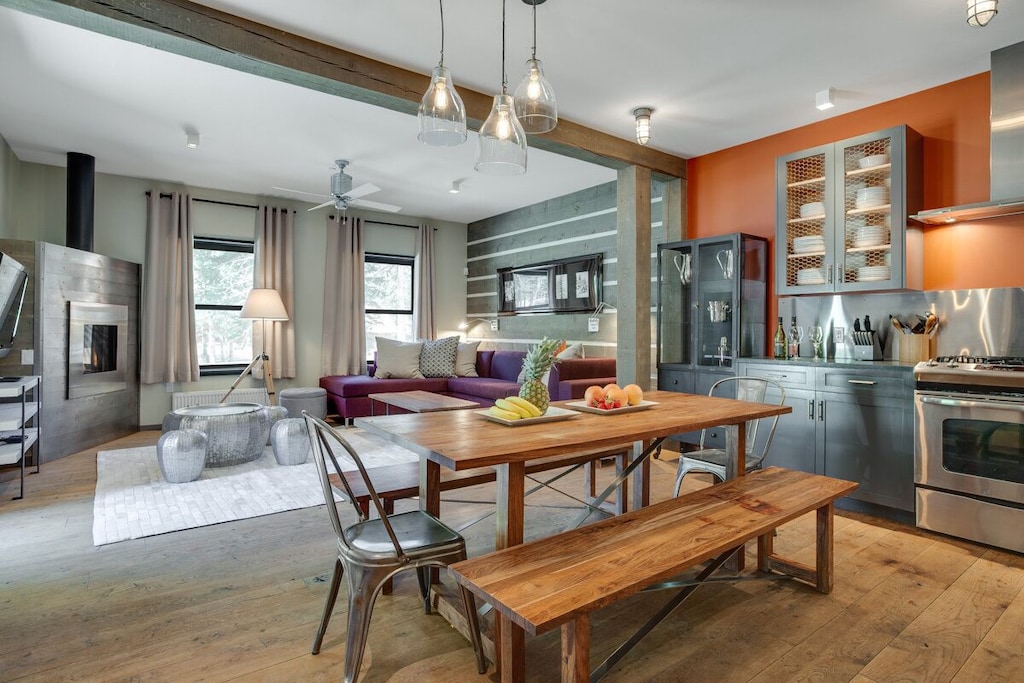 Kachina Village Chalet
Rent Now$638/aug nightly
Another option near the Kachina base area, this grand Bavarian-style chalet promises comfort, quiet, and easy access to the mountain — the Kachina lift and Bavarian restaurant are a short walk away. The home is furnished with a mix of modern and mid-century elements. The kitchen is not only fully equipped and spacious but also quite gorgeous. Each of the three bathrooms is a pristine and clean product of our modern age of design — and has a bathtub to relax in after a strenuous ski day. There are two king bedrooms with sleek beds and a kids' room with two bunk beds. Sitting at 10,000 feet above sea level, the home, like others off Kachina Road, can only be accessed by guests with four-wheel-drive vehicles.
Bedrooms: 3
Bathrooms: 3
Sleeps: 8
Taos Mountain House
Rent Now$545/aug nightly
Spacious, stylishly furnished in the southwestern-alpine style, and set in a serene location, Taos Mountain House is another great option for a large group of skiers. Clocking in at 2,000 square feet and about a mile and a half from the slopes, it has everything you expect in a ski house (that is to say, yes, there is a hot tub). Gorgeous leather couches and fine mountain views await. The downstairs area has a kitchenette, two queen bedrooms, and a third with two queen beds. Upstairs you'll find the main living area, fireplace, kitchen, and a loft fitted with yet another queen.
Bedrooms: 3
Bathrooms: 3
Sleeps: 10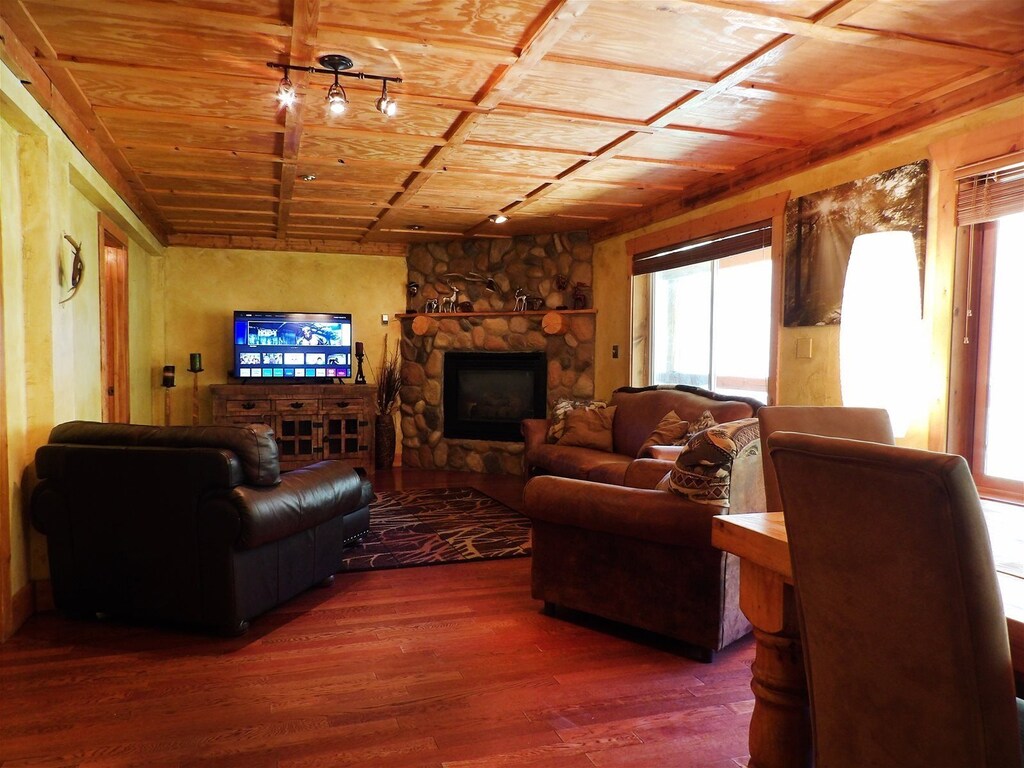 Ski-In/Ski-Out Condo
Rent Now$779/aug nightly
Enjoy the convenience of skiing home from the comfort of this well-furnished Taos Condo. The location also means that the village's restaurants and bars can be reached on foot within minutes. The kitchen is fully equipped to meet your needs and every inch of the home matches the local style, a mix of southwestern flair and the classic alpine look. With three bedrooms (two queens and a room with a single-plus bunkbed), it is suitable for a family, couple, or small group of friends.
Bedrooms: 3
Bathrooms: 2
Sleeps: 8
To discover more things to do around Taos, check out: