DISCLOSURE: This post may contain affiliate links, meaning when you click the links and make a purchase, we receive a commission.


With almost 7,000 flights taking off a day, American Airlines stays busy! Busy airlines mean busy airports, and with increasing prices many travelers are choosing to stick with carry-on luggage to avoid additional fees.
American Airlines allows for one free carry-on per passenger, along with a personal item like a small backpack or purse. Carry-on luggage shouldn't exceed 22 "x 14" x 9 ", but other than that you're free to choose whatever works for you!
Whether you have an upcoming trip booked with American or just need to upgrade your carry-on, here are some options that will fit their specifications AND your budget!
It wouldn't be a luggage post if we didn't include a piece from our favorite luggage brand, American Tourister. Hardside luggage will protect your belongings throughout turbulent travel and we highly recommend trying one. This carry-on by American Tourister is made with an ABS shell that is highly durable.
The extendable handle and 360 degree spinner wheels will make it a breeze to navigate busy airport terminals. The lined interior features standard compression straps, plus a zippered mesh divider between each half. There's also an additional, small zippered privacy pouch. The entire suitcase weighs 6.3 pounds and is exactly the max dimensions allowed. It comes in seven different colors, so you are sure to find one that fits your style!
Click here to buy the American Tourister Stratum XLT Expandable Hardside Luggage!
If you prefer softside luggage, try this suitcase by classic luggage brand SwissGear. Even without the hard shell this case will still provide ample protection, and the outside material is scuff-resistant.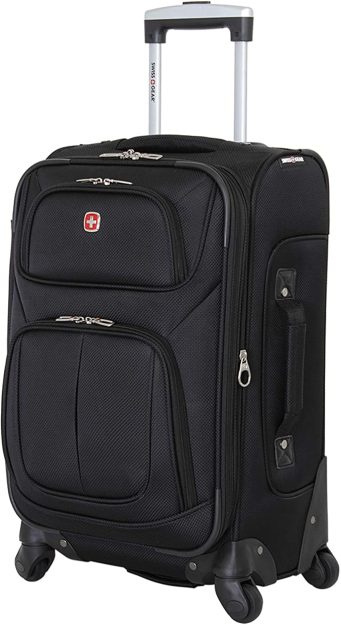 Packing organizers, you will love this bag! It has two front pockets for smaller items or things you'll need quick access to, multiple interior pockets, AND it comes with a detachable zippered wet bag for toiletries! Reviewers have noted how they love this suitcase and any luggage they purchase from SwissGear, as they last for ages.
Click here to buy the SwissGear Sion Softside Luggage!
Looking for something a little more stylish? This totally adorable spinner suitcase by Rockland comes in both black and pink polka dot prints. You also have the option of purchasing just the carry-on or buying a three piece matching set if you're in the market for all new luggage!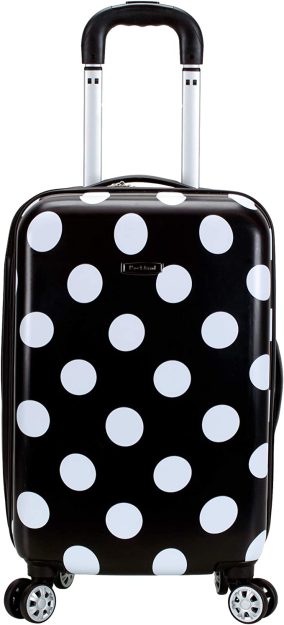 This suitcase is lightweight and has a static handle on the side for easy lifting to and from the overhead compartments. Having a smooth suitcase can also come in handy if you want to apply any decals or stickers!
Click here to buy the Rockland Laguna Beach Hardside Spinner!
This suitcase is for the person who's phone battery is always at 10%. The Traveler's Choice Pagosa carry-on not only carries your possessions but can charge your phone too! The built-in adapter allows you to keep your charger plugged in inside the suitcase while you use your phone with the exterior USB or Type C ports.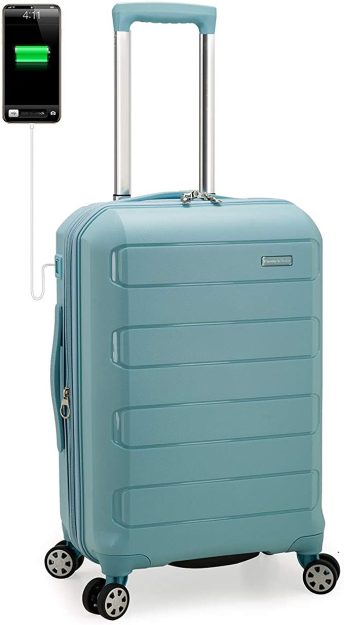 Alongside the portable charger spot, the inside of this suitcase has plenty to offer! There are five different zippered compartments that function as built-in packing cubes, making it easy to organize your outfits, accessories, and other belongings. Multiple reviewers mentioned they were able to fit everything they needed for a week-long trip, so you know this suitcase will see you through!
Click here to buy the Traveler's Choice Pagosa Indestructible Hardshell Expandable Spinner Luggage!
Sometimes it can be hard to fit all that you need into a single carry-on. Take advantage of the free personal item most airlines allow you to bring with this set by Rockland, which includes a 20 inch suitcase as well as a matching tote bag. When you board your plane just pop your carry-on in the overhead bin and slip the tote under the seat in front of you and you're good to go!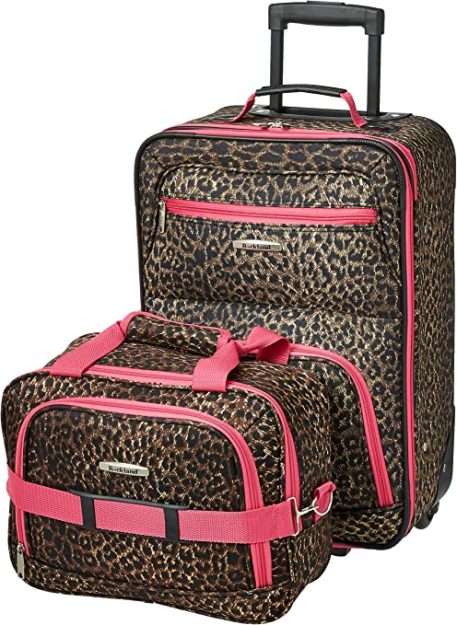 Both pieces are made out of a heavy-duty fabric and have easy grip handles. The suitcase has a telescopic handle for rolling and strolling, while the tote bag has a detachable and adjustable shoulder strap. We love that this set comes in a TON of color and pattern choices, from the classic solid black to exotic leopard print! If you need a bit more room when it comes to packing but don't want to pay for a checked bag, try this set.
Click here to buy the Rockland Fashion Softside Upright Luggage Set!
Carry-ons aren't just for adults! Get your little one their own big-kid suitcase for your next Disney trip. We love this one by American Tourister with some of our favorite princesses on the front. This royal design features scroll work and jewels, and they'll surely feel just like a princess using this case.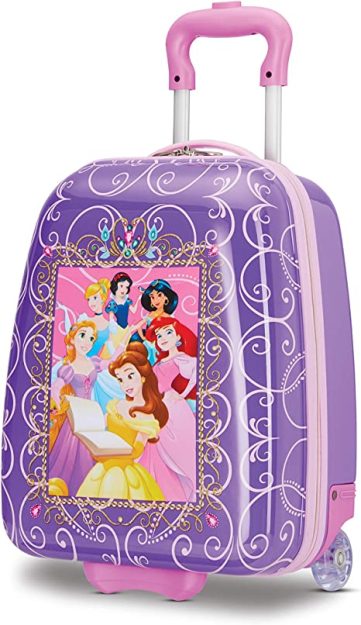 This hardshell suitcase is the perfect size for kids with an extendable handle for little hands. Inside is a rich purple lining, with pink compression straps and a zippered divider separating each side. If princesses aren't their thing, check out some of the other designs in this listing, which include Mickey, Minnie, and Grogu!
Click here to buy the American Tourister Kids' Disney Hardside Upright Luggage!
Fly freely knowing you have everything you need with you and saved money on baggage! What would you use that extra cash for?
For more travel advice, check out these posts!
If you're traveling soon, don't go to Disney without this list!
Join the AllEars.net Newsletter to get the free list of the 10 Best Secrets of Disney World! Click here to get started!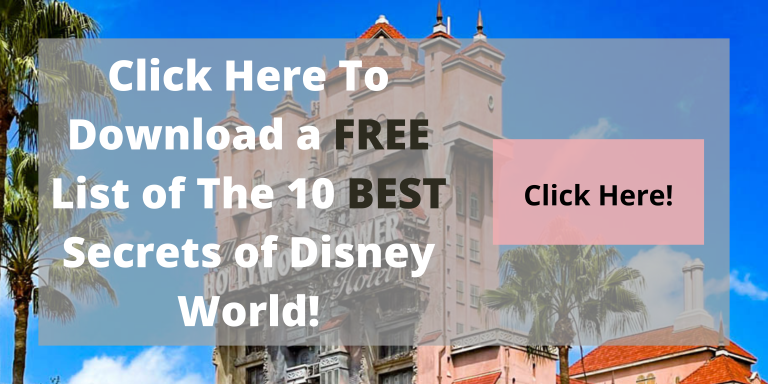 How do you pack when you fly? Do you check baggage or try to pack everything in a carry-on? Tell us in the comments!