Article content
A German cyclist who was stranded in Calgary after traveling halfway around the world to raise funds and awareness for cancer research will soon be hitting the road thanks to help from a local business.
Article content
Darius Braun flew from Frankfurt to Calgary earlier this month to begin a fundraising cycling tour from Alberta's largest city to Ushuaia, Argentina. However, once he arrived at the Calgary International Airport he found his bike and trail gear did not land alongside him.
Without that gear, the 31-year-old cancer survivor could not begin his journey. Braun said Saturday that after his story was made public, he was put in touch with Two Wheel View, a non-profit bike organization in Inglewood, who were willing to provide him with a new bike at a discounted cost.
"This moment, when they say we have something for you, I jumped because I was so happy that I can start my trip. I was really, really happy about it and very thankful," said Braun.
Article content
Braun said he is generally a positive person but he was becoming disappointed having to wait in Calgary by himself. Now, he's able to start his trip, first going to Vancouver before turning south to go through the United States. He noted he had also received help from the owners of Bike Bike in Calgary, who helped him with accommodations.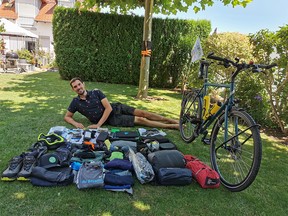 Braun originally had planned to start his trip in 2020 but that was sidelined due to the COVID-19 pandemic. Instead, he cycled thousands of kilometers in his home country and shared his journey locally. Now, after the latest delay in Calgary, he will be able to start his adventure.
In addition, to the new bike, he said the airlines he flew with to North America found his bike and gear in Frankfurt and are sending it to Vancouver.
"I've got my stuff in Vancouver and because of this I thought to sell the bike I got (in Calgary) and give the money to the Brain Tumor Foundation," said Braun.
Braun picked up his new bike from Two Wheel View on Saturday and said he expects to begin his trip early Sunday morning.
Funds collected on his website throughout his journey are donated to the German Brain Tumor Association, and he encourages Calgarians to donate to the Brain Tumor Foundation of Canada if his story inspires them to do so.
— With files from Stephanie Babych
dshort@postmedia.com