Activities and Interests
Destinations
Hawaii
Hawaii (The Big Island)
Hotels and Resorts
United States
Vacation Rentals
Show Page Contents
Hide Page Contents
Hale Romantik, Kona Coast

Honolii Black Sand Beach Vacation Rental, Hilo

Oceanfront Condo at Sea Village, Kailua-Kona

The Land of Sunshine, Hawaii Island

The Cove at Milolii, Kona Coast

Ocean Beach Home In The Heart Of Authentic Old Hawaii, Kona Coast

Oceanview Luxury Villa, Mauna Kea Resort

Contemporary Oceanfront Home that Feels Like a Cruise Ship, Hilo

Paradise Pali Kai, Hilo

Oceanfront Peaceful Haven, Kona Coast
All products featured on TravelAwaits are independently selected by our writers and editors. We may earn commission when you click on or make a purchase via our links.
While it's usually pretty difficult to find consensus on virtually any topic, there's one thing you can almost certainly count on — those who have been lucky enough to vacation in Hawaii typically hunting vacationing in Hawaii. With so much to do on the Big Island, we've pulled together options on the beach, more secluded spots, large venues, smaller venues, and everything in between for you to stay in during your next visit to Hawaii Island.
The largest of the Hawaiian Islands — the "Island of Inspiration" — features every type of weather, beach activities, water activities, and much, much, more! If a trip to the Big Island is part of your vacation plan, gather up your swim gear, get ready for a luau, and scroll through to find the best Vrbo vacation home rental to fit your style.
Hale Romantik, Kona Coast
Rent Now
$195.00/Aug nightly
Hale Romantik has so much to offer! It is in the perfect location — directly between a long list of popular tourist sites located on the Kona Coast side of the Big Island, including Kealakekua Bay, Place of Refuge, Kahalu'u Black Sands Beach Park, Honomalino Bay, Punalu'u Black Sands Beach Park, and Volcano National Park. An oceanfront home just 40 feet from the ocean, this is a place where you can hear and see whales, spinner dolphins, Green Sea Turtles, and an occasional manta ray. Hale Romantik offers two deluxe bedrooms, two separate deluxe bathrooms, and two separate walk-in, tile and glass block showers. The spectacular sunsets are a must see. Bring your camera!
Bedrooms: 2
Bathrooms: 2
Sleeps: 4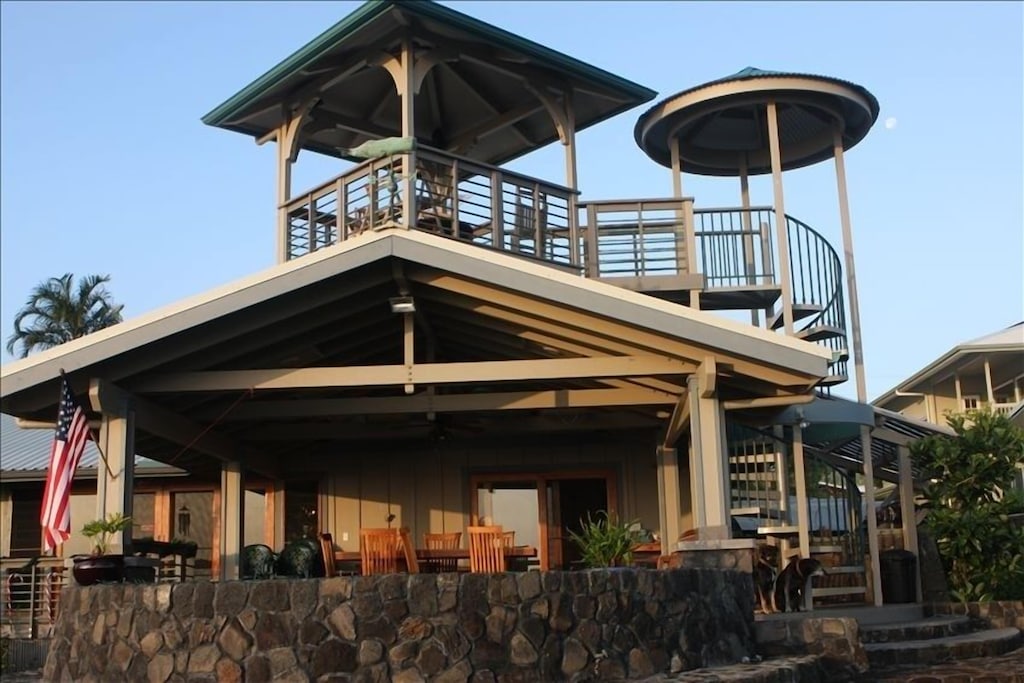 Honolii Black Sand Beach Vacation Rental, Hilo
Rent Now
$135.00/Aug nightly
If you're looking for something a little more cozy for a getaway, this Hilo vacation condo is right across the street from the best surfing beach in East Hawaii — Honolii Beach Park. While featuring just one bedroom and one bathroom, the unit has a spacious living room, fully-equipped kitchen, and an oversized oceanfront observation deck with spectacular views of the ocean and island. Step outside and take your turn at surfing, swimming, golfing, biking, beach-road walking, and shelling.
Bedrooms: 1
Bathrooms: 1
Sleeps: 4
Oceanfront Condo at Sea Village, Kailua-Kona
Rent Now
$230.00/Aug nightly
If you're looking for privacy but yearn for the amenities of renting a condo, this oceanfront unit at Sea Village is perfect for you. This recently updated beauty offers an unobstructed view of Kailua Bay on the living room side, and the bedrooms back into a beautiful green courtyard. With no windows facing a parking lot, your view offers dolphin and whale watching, and the chance to take in beautiful sunsets from a private lanai. The master bedroom features a California king bed while the second bedroom offers two twin beds. To best appreciate exactly what you're getting, you must view the amazing photos!
Bedrooms: 2
Bathrooms: 2
Sleeps: 5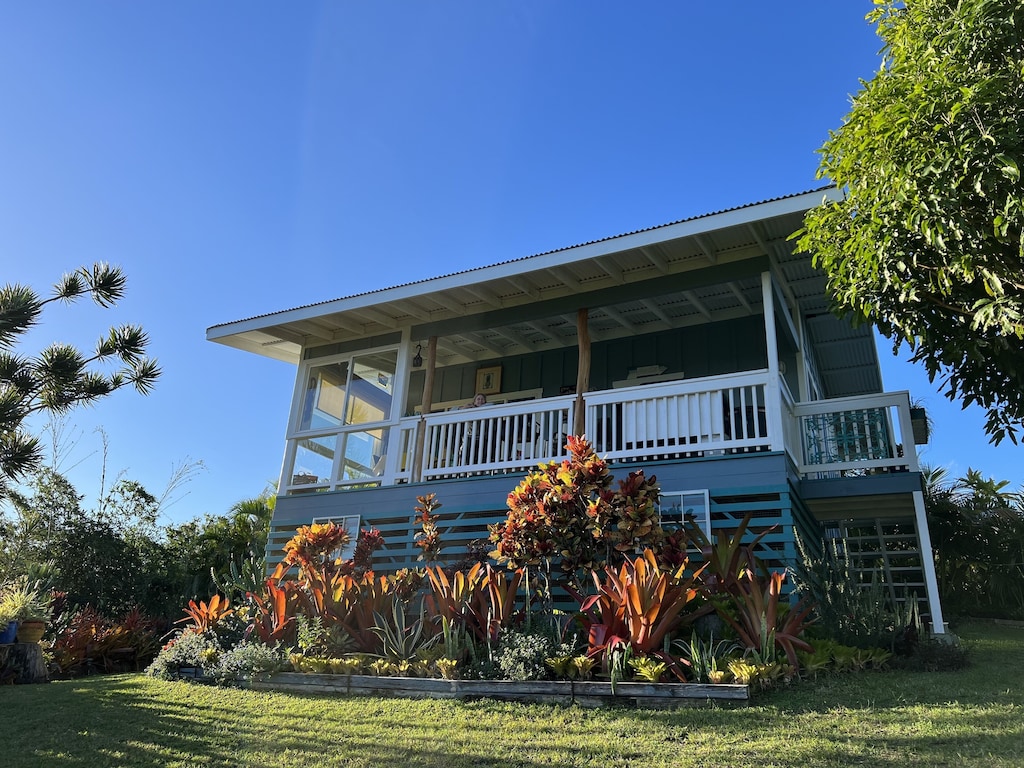 The Land of Sunshine, Hawaii Island
Rent Now
$105.00/Aug nightly
You are going to love the amazing views afforded from this small but mighty destination! Located on the Hamakua Coast in the historical village of Paauha, The Land of Sunshine The cottage is built on the edge of a large gulch overlooking beautiful greenery and a gorgeous blue ocean. Enjoy peace on the large covered deck that includes a grill. This property is perfectly suited for a party of two — an ideal romantic experience on the Big Island.
Bedrooms: 1
Bathrooms: 1
Sleeps: 2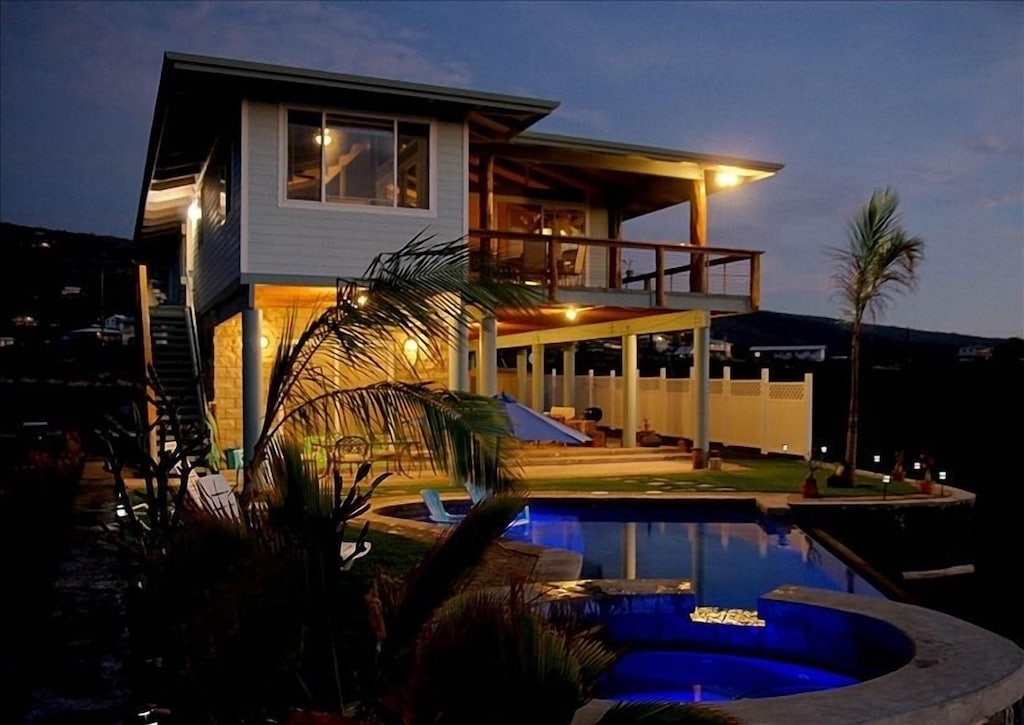 The Cove at Milolii, Kona Coast
Rent Now
$450.00/Aug nightly
Stunning oceanfront views from every room and an infinity edge pool and spa are just a couple of the highlights at this four-bedroom home. Known as The Cove at Miloliiit is located on the Kona Coast of the Big Island. You're going to love the amazing views of Kona sunsets from this house that sits on cliffs overlooking the Pacific Ocean. With two master suites, a large open kitchen, living, and dining area, and an open deck, the Cove at Milolii is perfectly situated to take in great views of the winter humpback whale migration, occasional monk seal sightings, and year-round dolphin and turtle visits.
Bedrooms: 4
Bathrooms: 4
Sleeps: 9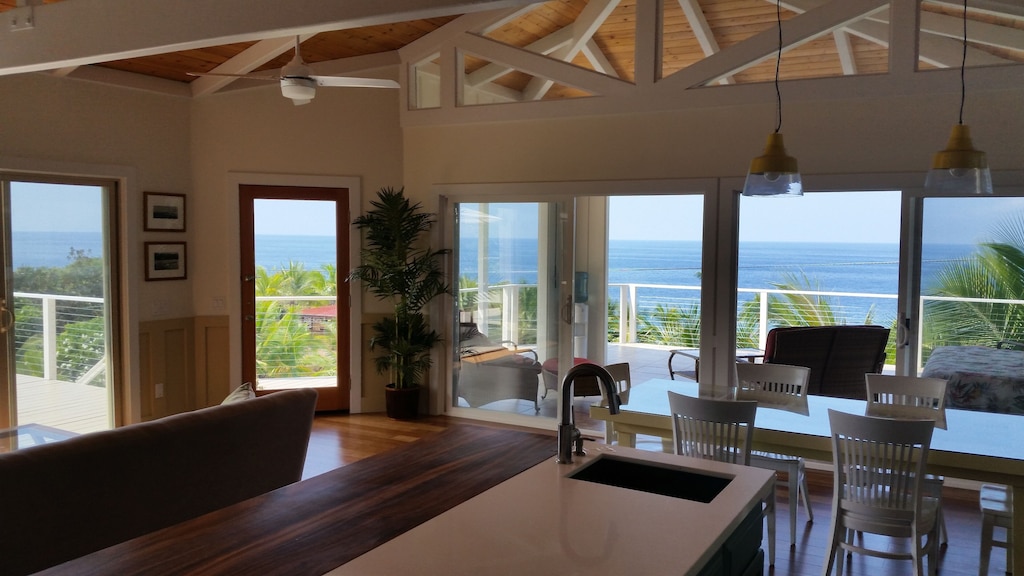 Ocean Beach Home In The Heart Of Authentic Old Hawaii, Kona Coast
Rent Now
$325.00/Aug nightly
Imagine a newly built custom home in an upscale neighborhood only 200 feet from the ocean in the heart of Old Hawaii. Imagine a private beach park directly across from that home. Imagine large open-air decks, covered patios, and expansive ocean views from every room. Now, check out the amazing sightlines at this ocean beach home on the Big Island of Hawaii. This craftsman-style home rental also includes use of beach chairs, beach towels, a beach cooler, and a beach umbrella. The views and sightlines you'll get at this beauty are stunning!
Bedrooms: 2
Bathrooms: 3
Sleeps: 4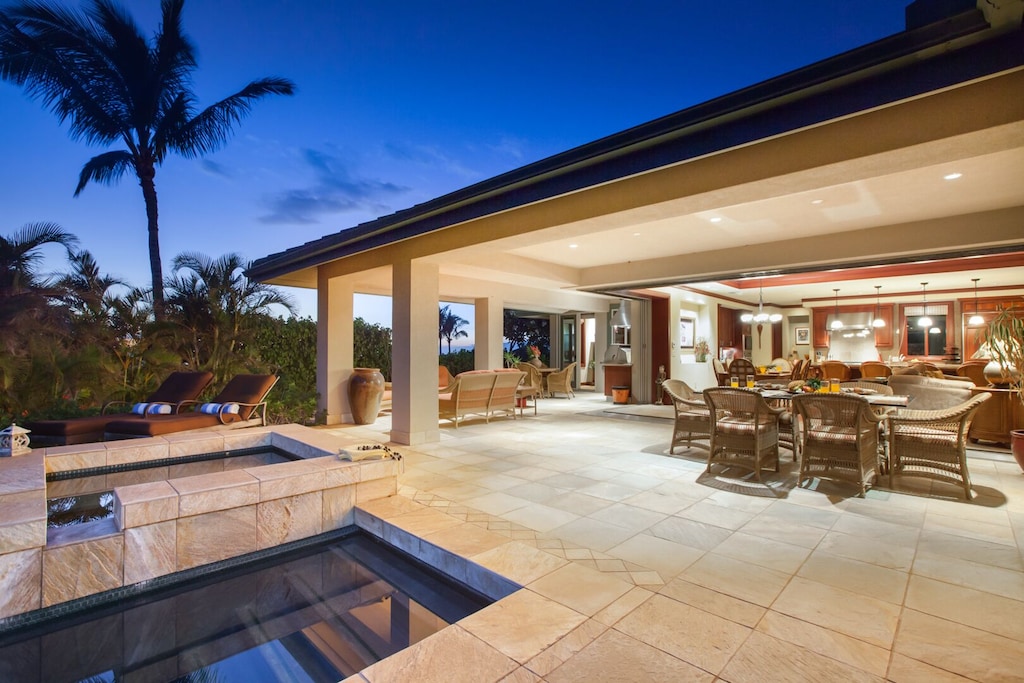 Oceanview Luxury Villa, Mauna Kea Resort
Rent Now
$895.00/Aug nightly
If you're part of a large group that's seeking paradise, this luxury villa at Mauna Kea Resort might be the perfect place for your next vacation to the Big Island. This property, located in prestigious Wai'ula'ula, offers year-round sunset views of the Pacific Ocean as well as the Hapuna Golf Course. Whether you're taking in the views from your private pool and spa from the covered lanai, this villa offers the ultimate Hawaiian Island feel. This gated and secure villa offers access to both the Mauna Kea Resort and the Hapuna Beach Prince Hotel. With so much to see and offer, this is a must-consider option for your trip to the Big Island.
Bedrooms: 3
Bathrooms: 4
Sleeps: 10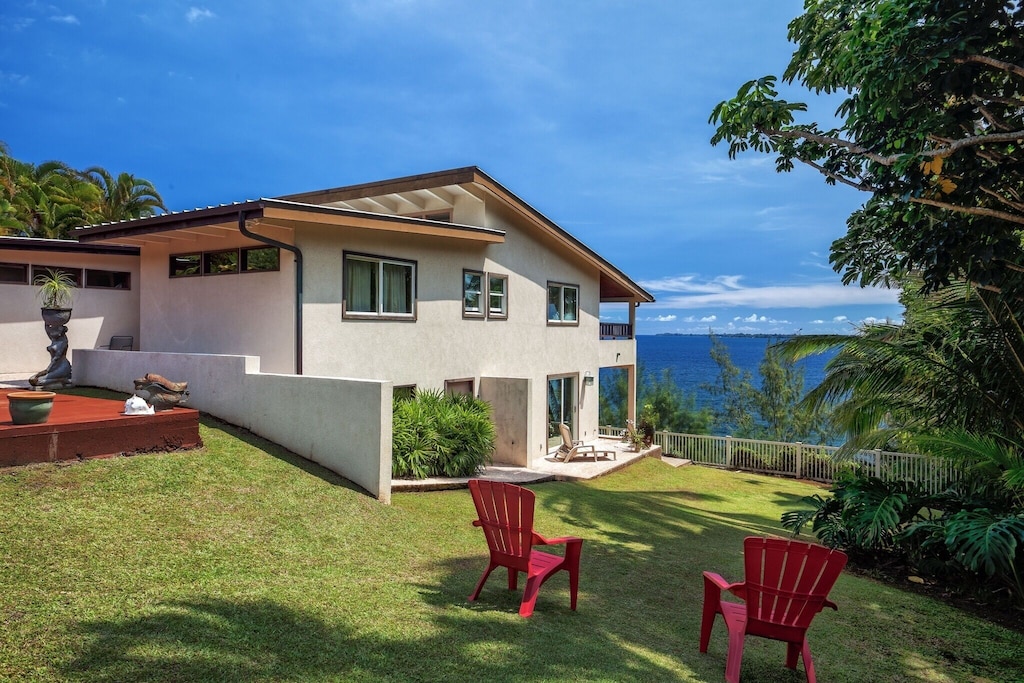 Contemporary Oceanfront Home that Feels Like a Cruise Ship, Hilo
Rent Now
$400.00/aug nightly
Gorgeous views and a beautifully designed interior are just two of the things you'll immediately notice at this contemporary oceanfront home that makes you feel like you're on a cruise ship! With large spaces and endless light, this home is strictly cooled by ceiling fans, so you'll want to consider this if you're planning a visit in the heat of the summer. Privacy, spectacular views, the sounds of crashing waves, and a desirable location are just some of the oft-repeated mentions in the reviews. A must see!
Bedrooms: 3
Bathrooms: 3
Sleeps: 8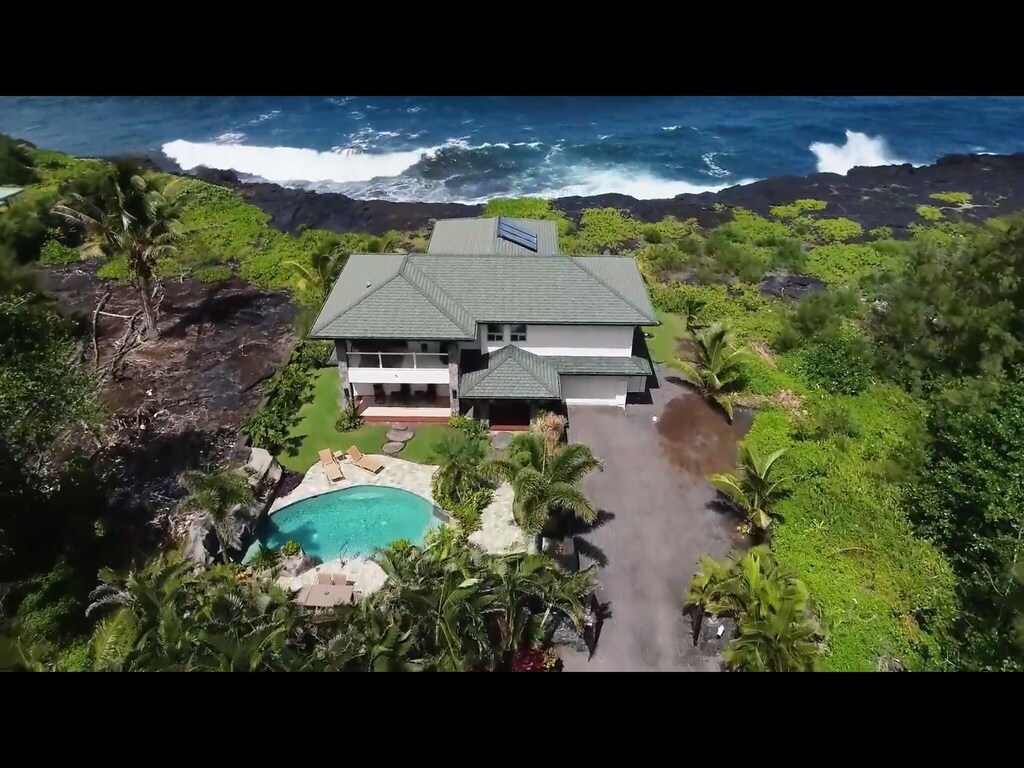 Paradise Pali Kai, Hilo
Rent Now
$514.00/Aug nightly
This oceanfront home offers true luxury, cool air-conditioning, a quiet neighborhood, whale watching, and a private pool featuring gorgeous waterfalls. Paradise Pali Kai offers three bedrooms, three bathrooms, 1,800 square feet inside, and 1,200 square feet of lanais. This home offers a gated entry and surveillance cameras for your security, gorgeous views from every room, and majestic Pacific sounds. A true island paradise!
Bedrooms: 3
Bathrooms: 3
Sleeps: 5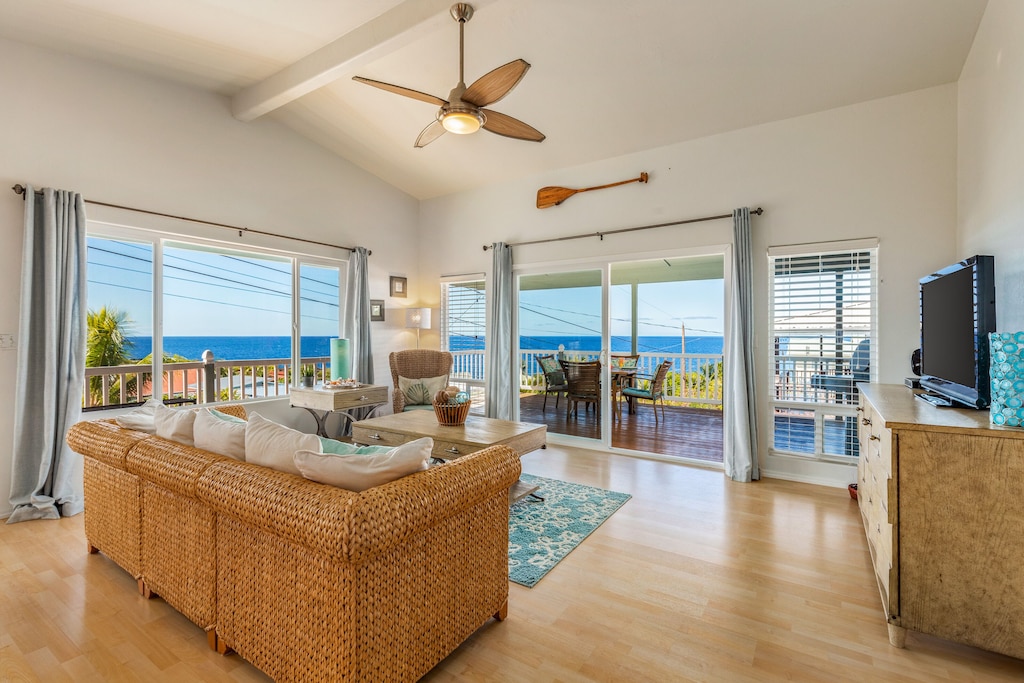 Oceanfront Peaceful Haven, Kona Coast
Rent Now
$300.00/aug nightly
Perfectly located only steps from Pebble Beach on the Big Island of Hawaii, this Peaceful Haven offers you access to snorkeling, hiking, and the opportunity to explore the Big Island. Within walking distance of a private, community beach, you will enjoy hearing the waves hit Pebble Beach and — when in season — whales calling! The living room, all the bedrooms, and the lanai come equipped with ceiling fans and all windows are screened, although the home is not air-conditioned — again, something to consider in the heat of the summer. You will, however, still enjoy the ocean and mountain breezes! The wrap-around lanai will allow you to enjoy gorgeous views of the mountains and ocean while you relax in the ocean breeze. Come to the Peaceful Haven to experience it all!
Bedrooms: 3
Bathrooms: 2
Sleeps: 6
To discover the best things to do while on the Big Island in Hawaii: