Whether you're interested in southernmost Florida, the Gulf, the Atlantic, the Panhandle, or you're just not sure, finding appealing vacation rentals on the beach in Florida isn't hard to do. The biggest challenge often turns out to be deciding what the best location option is for your trip — what exactly are you looking for? If you're looking for great options in the Panhandle, we've picked out 10 of the top on-the-beach options for you at Navarre Beach.
Known as one of the best places to vacation in the Panhandle, Navarre Beach is appealing for lots of reasons — including being a great place to visit if you aren't interested in big crowds. It's actually rated the best of such places by travel experts and is, as a matter of fact, regarded as one of the best beaches in the Florida Panhandle. It offers a lot of great Navarre Beach rentals to stay right on the sand if you're headed that way. We hope our list of options helps you find your perfect fit.
Sea Salt Cottage
Rent Now
$795.00/Aug nightly
Completely remodeled in 2019, the Sea Salt Cottage offers two master bedrooms that face the beach, each with king-sized beds. This beachfront cottage offers five televisions, including 55-inch televisions in each of the master bedrooms and a 65-inch television in the main sitting area.
Step outside and grill on your stainless steel grill or hang out on one of the 13 beach chairs. The driveway can hold 12 vehicles, so this home is a great option for beach weddings or other big parties or events!
Sea Salt Cottage Beach Home was awarded Wedding Wire's 2022, 2021, and 2020 Couples' Choice Award for Top Wedding Venue in the Panhandle as well as The Knot Best of Weddings for 2022 and 2021. Definitely check this one out!
Bedrooms: 5
Bathrooms: 3
Sleeps: 13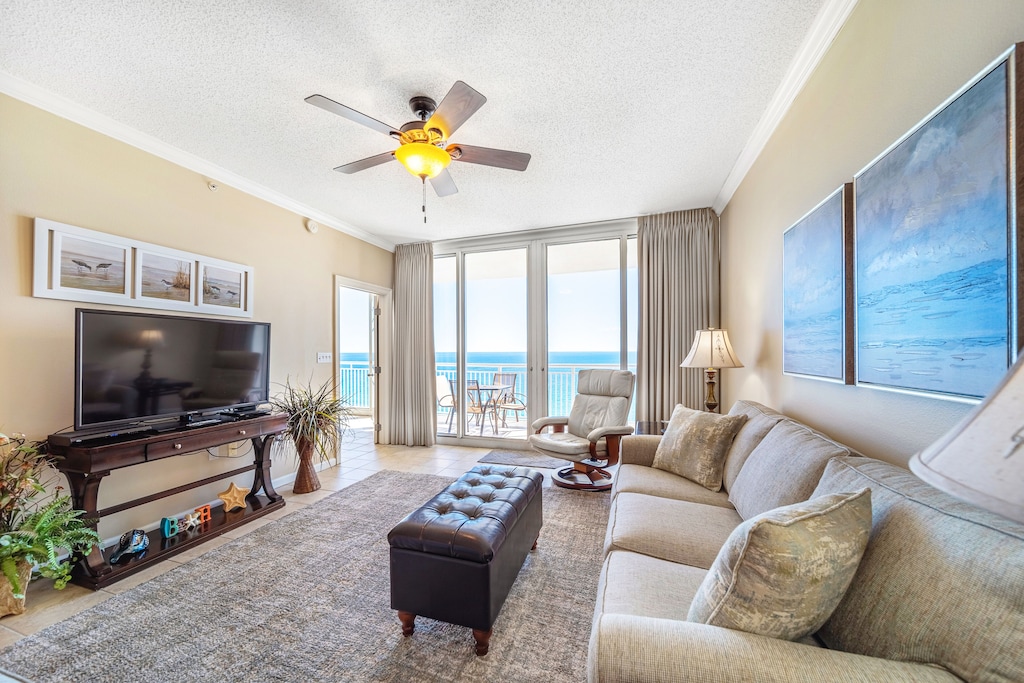 Upscale And Tropical Condo At The Pearl
Rent Now
$145.00/Aug nightly
This 14th-floor Upscale and Tropical Condo at the Pearl sits directly on the water and has a wonderful view of the Santa Rosa Sound and the Gulf of Mexico. Just a 5-minute walk from the longest pier in Florida — a 1,545 foot fishing pier that you can see from your balcony — you can also enjoy 20 miles of federally protected beaches to run, walk, or bike with 15 miles of bike paths. The Pearl complex features two pools (one is heated year-round), and this unit offers 1,400 square feet and nine-foot ceilings. Great views, beautiful unit!
Bedrooms: 2
Bathrooms: 2
Sleeps: 8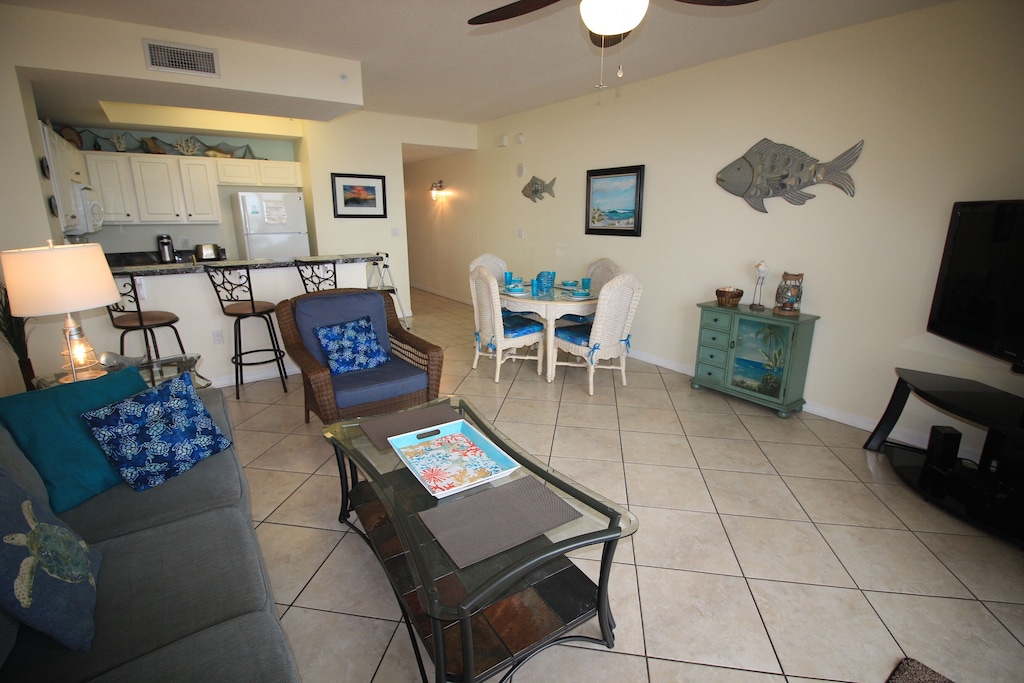 SeaDuced
Rent Now
$177.00/Aug nightly
This professionally furnished third-floor unit — The SeaDuced — is located in the Summerwind complex and looks directly out to the Gulf of Mexico. Enjoy the gorgeous views! For your convenience, the front door features a keypad that takes away the burden of carrying a room key to and from the beach. The fully stocked kitchen in The SeaDuced features Mr. Coffee-style and Keurig-style coffee makers, and you will love the counter-height bistro table on the balcony along with another small table and two counter-height chairs. This one books quickly — be sure to take a look!
Bedrooms: 1
Bathrooms: 2
Sleeps: 6
On the Beach, 16 Stories Up
Rent Now
$300.00/aug nightly
Another gem located at the Pearl! High up on the 16th floor, this highly rated condo is on the beach, overlooking the Gulf of Mexico and beautiful white Navarre Beach sand. There are some unique aspects to the interior of this two-bedroom condo, so be sure to check out the pictures! The master bedroom features a king-sized bed and master bath that has a large jetted tub and separate glassed-in shower.
Bedrooms: 2
Bathrooms: 2
Sleeps: 8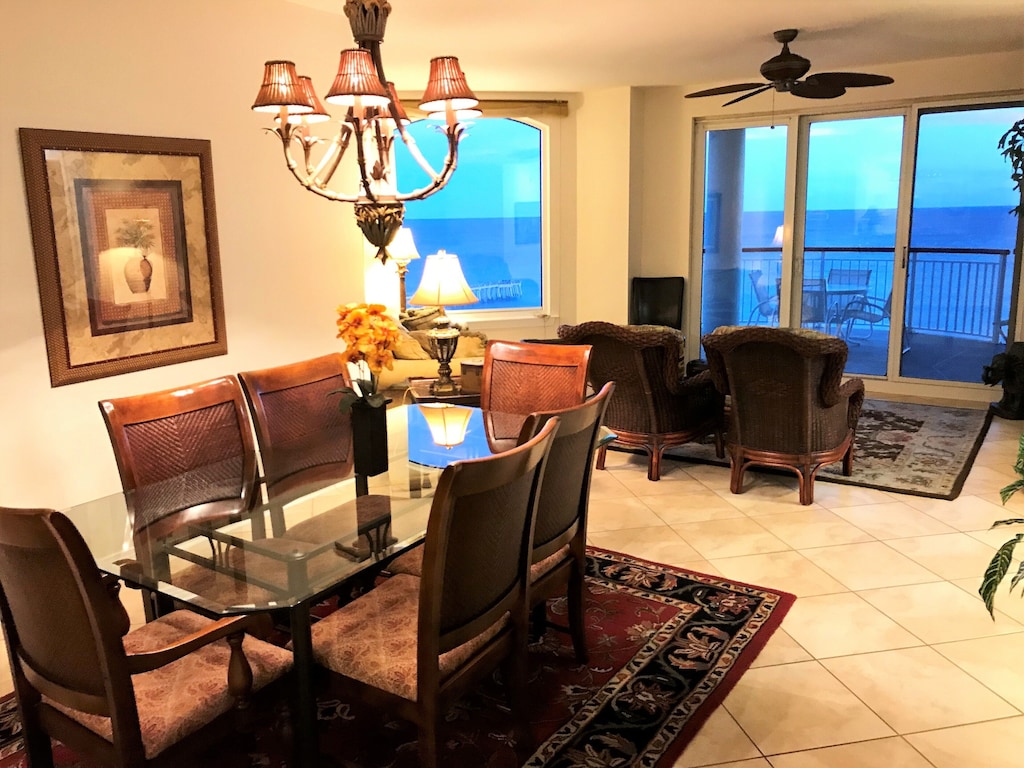 Breathtaking Views from the 17th Floor
Rent Now
$286.00/Aug nightly
This luxury penthouse is located on the 17th floor of Beach Colony Resort East, right on the Gulf of Mexico on the sands of Navarre Beach. The views from this complex are absolutely amazing, as you will see in the provided photos! You can get a great view of the Gulf from the window in any room — no obstructions from neighboring buildings.
Located just steps away from great beach restaurants, Beach Colony Resort offers a free, fully equipped and air-conditioned workout room. This one is a real find!
Bedrooms: 2
Bathrooms: 2
Sleeps: 6
Against the Wind
Rent Now
$195.00/Aug nightly
This Gulf front condo is just steps from the beach and ocean. Located on the second floor overlooking the pool, Against the Wind is professionally decorated, nicely furnished, and has nine-foot ceilings and a private 30- by 8-foot balcony that's accessible from both the living space and master bedroom.
In that master bedroom, you're going to love the whirlpool tub in the private bath! Located in the Navarre Beach Regency, Against the Wind offers you approximately 1,520 square feet of space with room to sleep eight.
Bedrooms: 2
Bathrooms: 2
Sleeps: 8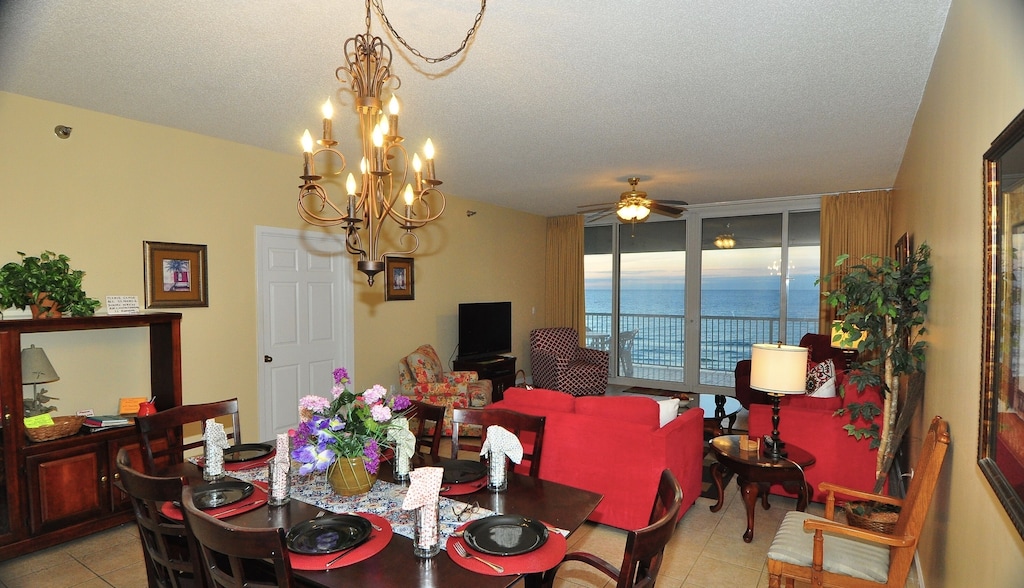 Casa Delmar
Rent Now
$375.00/Aug nightly
This immaculate and luxurious condo on the Gulf is situated on the fifth floor, just across from the elevator. The 1,520-square-foot Casa Delmar offers you a king-sized bed in the master bedroom and two queen beds in the second bedroom. The warm decor and nine-foot ceilings provide a relaxing ambiance, and the keypad entrance lock on the front door keeps you from having to carry a key to the beach.
The 30- by 9-foot balcony is accessible from the living room or master bedroom and offers amazing views of the beach and Gulf. Casa Delmar also offers four complimentary beach chairs and a beach umbrella!
Bedrooms: 2
Bathrooms: 2
Sleeps: 8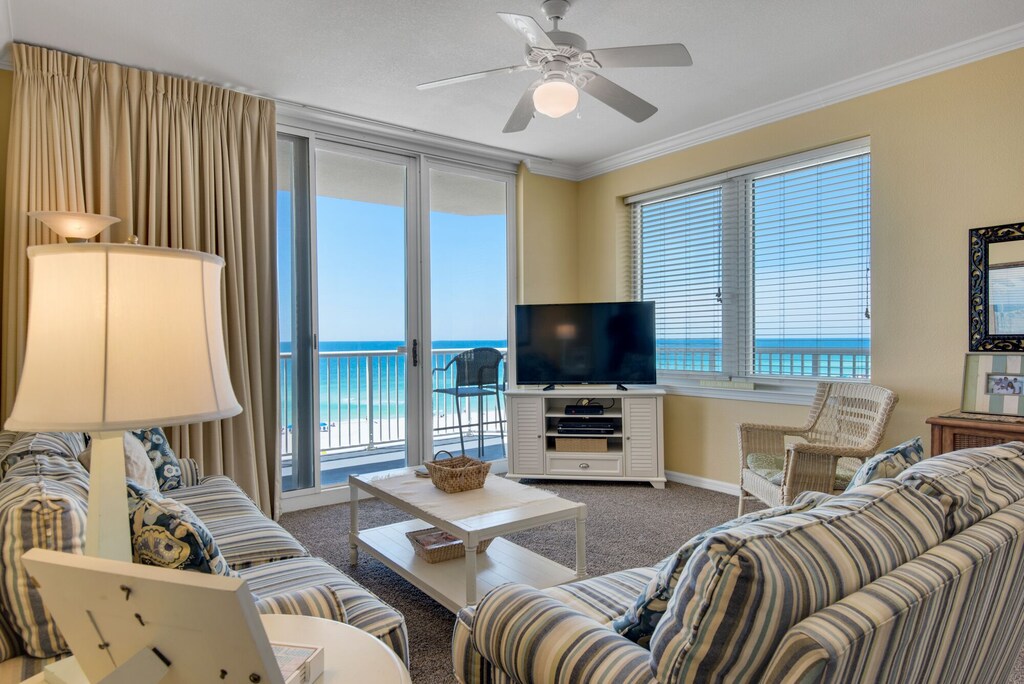 Elite Platinum Ranked Oceanfront Condo
Rent Now
$223.00/Aug nightly
This beautiful, professionally decorated, elite, and platinum-ranked condo is freshly painted and offers lots of upgrades, including new appliances, new mattresses, new flooring, and a new 50-inch television. Located in the popular Summerwind Resort, you're going to be thrilled with the two king bedrooms and great views of the Gulf of Mexico from the large wraparound balcony.
The Summerwind offers three pools, three hot tubs, a huge sunbathing area, and a boardwalk that leads right to the beach. You also have access to three fitness centers that all overlook the Gulf. This one is a great find!
Bedrooms: 3
Bathrooms: 3
Sleeps: 10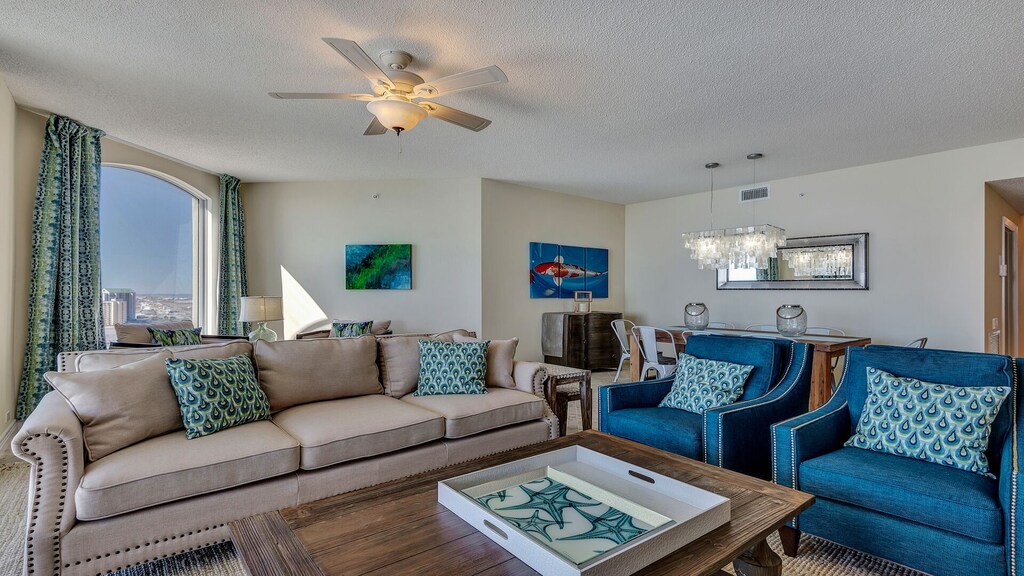 Coastal Chic
Rent Now
$315.00/Aug nightly
Some people prefer a lower level unit. Others prefer the penthouse. If you are a penthouse person, you're going to love this three-bedroom, three-bath coastal chic beauty on the 18th floor of Beach Colony West. With an open floor concept, you will be able to accommodate nine comfortably in the dining room that opens into the spacious living room and adjacent reading nook.
No matter which direction you look, the views are breathtaking! This 1,680-square-foot unit features a 270-square-foot terrace that's a perfect spot for morning coffee or evening relaxation. Step out and watch the dolphins and sunset!
Bedrooms: 3
Bathrooms: 3
Sleeps: 8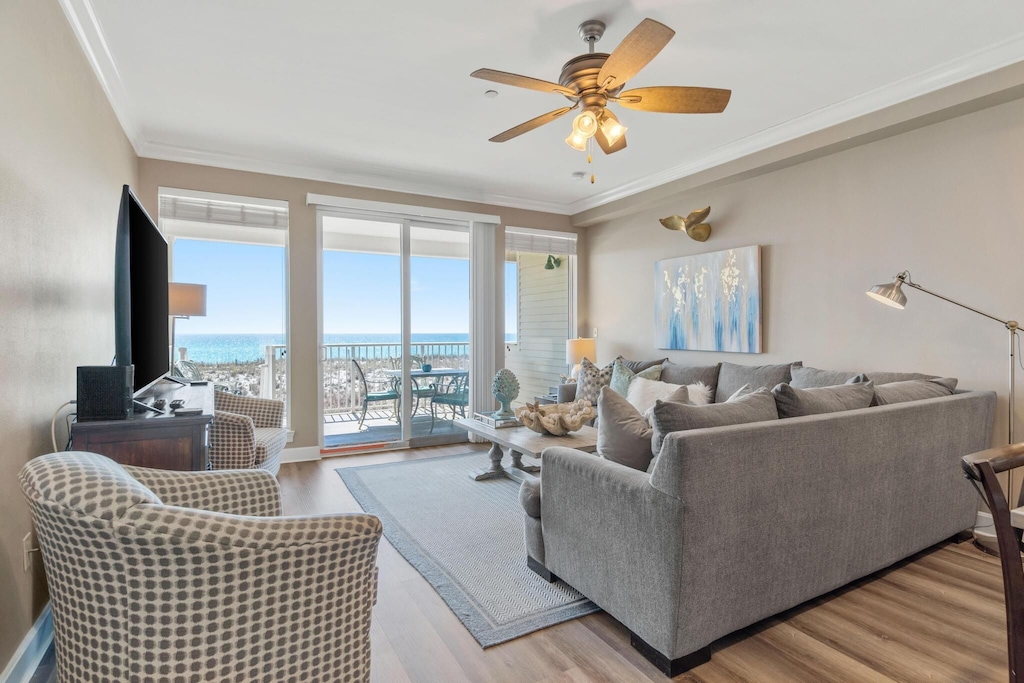 Shellnel No. 9
Rent Now
$495.00/Aug nightly
Three levels, a private garage, and great views, all yours! Shellnel No. 9, located in the Beachview Complex, is a 1,632-square-foot unit with three bedrooms, three full baths, and a large tandem garage. If you want to avoid inconvenient parking lots, crowded elevators, and walking through public lobbies, Shellnel No. 9 might be the spot for you.
Enjoy the amazing views from the second- and third-floor balconies, and after hitting the beach, take advantage of your outdoor shower and drop off your things in the garage — both of which are on the ground level. This unique and private find offers so many conveniences! Please note, this townhome includes multiple staircases and no elevators — something to keep in mind if anyone in your group has mobility issues or concerns.
Bedrooms: 3
Bathrooms: 3
Sleeps: 8
To discover more things to do on the Florida Panhandle, check out: