After two years of the pandemic, India's decision to resume regular international flights from March 27, 2022 provides much-needed impetus to the recovery of aviation economy. Air bubble flights, especially on nonstop routes between USA and India, cost almost double the fare for regular international travel. The preference for nonstop air bubble flights over one-stop flights shot up during the pandemic though it burnt holes into the pockets of travelers, as there was an apprehension about some unexpected regulations during transit in a third country or stricter post-arrival norms in India . The recommencement of scheduled passenger flights will gradually make things fall back in the pre-pandemic order.
New routes to India from USA in 2022
The resumption of scheduled international air travel to and from India is a green signal for United Airlines and American Airlines to launch much-awaited nonstop flights to Bangalore from the US. United Airlines 'SFO to BLR route, and American Airlines' Seattle to BLR service were repeatedly deferred over the low demand for travel, limited number of flights in the air bubble corridor, and other pandemic-induced restrictions. With international passenger flight operations returning to the pre-pandemic schedule from March 27, 2022, the new flights – SFO to BLR and Seattle to BLR – are likely to take off in May and October 2022 respectively.
Increased service frequency and seat availability
Indian government's go-ahead for 100% recommencement of regular international civil flights will remove the existing cap on weekly services to and from India for foreign airlines. Reportedly, Emirates flights to India are being restored to the pre-pandemic frequency in a graded manner. Emirates, one of the largest foreign carriers flying to India, operated 172 weekly flights connecting nine major Indian cities with the US via Dubai before the pandemic. Air Canada is also up with its spring schedule of 21 weekly return flights to Delhi from Canada.
In view of capacity restrictions to be eliminated from March 27, 2022, Lufthansa and Swiss International Airlines are looking to double their flights to Delhi and Mumbai in the weeks after March end. Bangalore and Chennai will also see the scaling up of weekly frequency by Lufthansa. Delta Airlines, Air France, KLM, and Virgin Atlantic have also operated international flights to India in limited capacity as per the air bubble agreement. These four partner airlines are looking to restore their pre-pandemic schedule for India.
India will also see resumption of flights by Turkish Airlines in the days following March 27, 2022. Turkish Airlines repeatedly canceled its bookings for India in view of Indian government having extended the suspension of regular international travel, both inbound and outbound. Notably, Turkish Airlines, other than Qatar Airways and Emirates, connects Ahmedabad with 12 destinations in the US.
International airfares unlikely to drop anytime soon
"Higher frequency means lower fares. The restart of regular international air travel will provide stimulus to the competition among foreign airlines ramping up their service to India. The escalating competition on the international front will curb fares for not only economy travel but also business class air tickets to India in the months to come, "said the chief market analyst from Indian Eagle.
He added, "However, there are contradicting reports on this. Some reports state that international airfares will drop by 30-40% over the capacity and routes being restored to the pre-pandemic times. According to other reports, the resumption of scheduled international flights will have a very little impact on airfares in the aftermath of the geopolitical conflict that has already escalated the aviation turbine fuel (ATF) cost to an all-time high. Apparently, jet fuel accounts for nearly 40% of an airline's operating expenses. If the ATF price hike sustains in view of the soaring crude oil prices, this will rule out any possibility for international flight tickets to get 40-30% cheaper in the near future. "
No airline-specific restriction for Indian travelers
Indian passport holders had been subjected to airline-specific restrictions on boarding in India for a considerable period of time during the pandemic. Bound to the bilateral air bubble agreement with India, British Airways, Air France, KLM, Lufthansa and Virgin Atlantic barred Indian passport holders from boarding flights in India, as they were destined to travel beyond Europe. Only US citizens and / or their spouses were able to travel to the US via Europe. Most of the European carriers, except British Airways, have recently loosened the restriction as reported by travelers holding an Indian passport.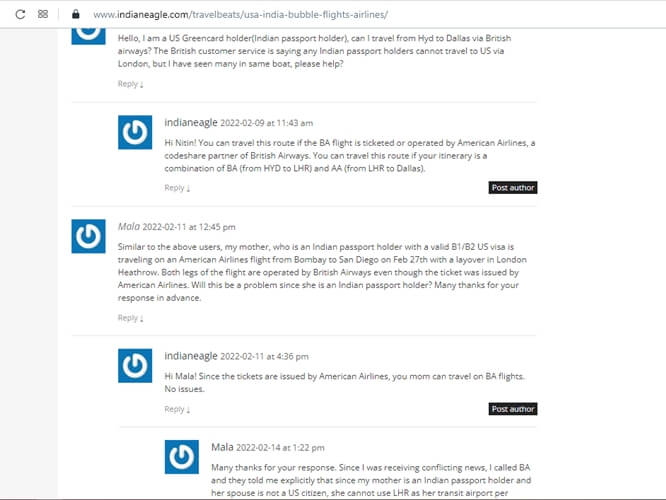 However, the US-bound Indians traveled on BA flights from India, which were either ticketed or operated by the codeshare partner, American Airlines. We, at Indian Eagle, have addressed hundreds of queries regarding the travel eligibility for British Airways' air bubble flights from India over more than 18 months of the pandemic, on our US-India travel news portal. The termination of air bubble travel agreements is expected to lift airline-specific restrictions, starting on March 27, 2022.
"The more routes, the more freedom of choice. With the reopening of routes through Europe for Indian nationals, we will be able to give our customers, especially students and B1 / B2 visa holders, more competitive deals for travel between USA and India, "said the chief travel advisor of IndianEagle.com.
India restores all suspended tourist visas with immediate effect
With immediate effect from March 16, 2022, the government of India has restored all long-term valid tourist visas for the nationals and citizens of 156 countries, including the United States. The long-duration tourist visas, paper (regular) and electronic, had been suspended for entry to India since March 2020. Read the latest news about revalidation of tourist visas to India in detail.