After dealing with pandemic restrictions for much of 2020 and parts of 2021, the number of Yakima Valley air travelers is beginning to take off — even if fewer airplanes are doing so.
The Yakima Air Terminal, like other airports across the Pacific Northwest and the nation, is dealing with a reduced number of flights due to shortages of pilots and other airline employees, coupled with an upgrade to the Alaska Airlines/Horizon Air fleet of aircraft.
But that hasn't stopped the airport from seeing mostly full flights for its early morning, midday and late-night connections to Seattle-Tacoma International Airport, said Jaime Vera, airport operations manager at the Yakima Air Terminal.
"We've seen a load factor (on SeaTac flights) of 85% to 90% — they're pretty full," Vera said Wednesday. "With COVID, we've seen it as low as 50% to 60%, but lately it's been pretty consistently in the high 80s or 90s (percentiles).
"Passengers are anxious to get out and travel again, and we've definitely seen an increase this summer," he added.
The number of airline passengers nationally remains slightly below 2019 levels as the travel industry continues its rebound from the pandemic, said Buck Taft, airport director at Tri-Cities Airport in Pasco.
"We are still lagging behind 2019 by about 10%. This is around the national average," Taft wrote in an email to the Yakima Herald-Republic.
"Our biggest issue right now is the number of seats we have coming into our market. We are down approximately 10% in seats compared to 2019," Taft wrote. "Our growth has appeared to have leveled out compared to the year-over-year growth we were seeing coming out of COVID."
National statistics released by the Federal Aviation Administration confirm Taft's observations. The FAA reported roughly 13 million IFR (commercial aircraft above 18,000 feet) flights in the US in 2021, compared to 16.4 million such flights in 2019.
At the Yakima airport, that trend was reflected by the reduction of flights to and from SeaTac. There were three or four flights a day between the two airports as recently as 2019, but those were cut back in March 2020 as the outbreak of COVID-19 drastically reduced air travel.
Passengers waiting to board the 2:02 pm Horizon Air flight from YKM to SeaTac on Wednesday said the ability to make connections to other destinations in Seattle, without battling the traffic and weather conditions of driving over the mountains, are good reasons to fly out of Yakima.
"Having only two flights a day is not as convenient as it used to be," said Doug Sarver, a Denver resident who used to live in Yakima, and uses the airport regularly. "Obviously, (the Yakima airport) still offers the convenience of being able to visit friends here without having to rent a car in Seattle and drive over. That's nice."
Other passengers, who were making connections Wednesday in Seattle to final destinations in Salt Lake City and Juneau, Alaska, agreed with Sarver, noting the additional cost of a one-way ticket from Yakima to SeaTac is much better than driving and parking in Seattle.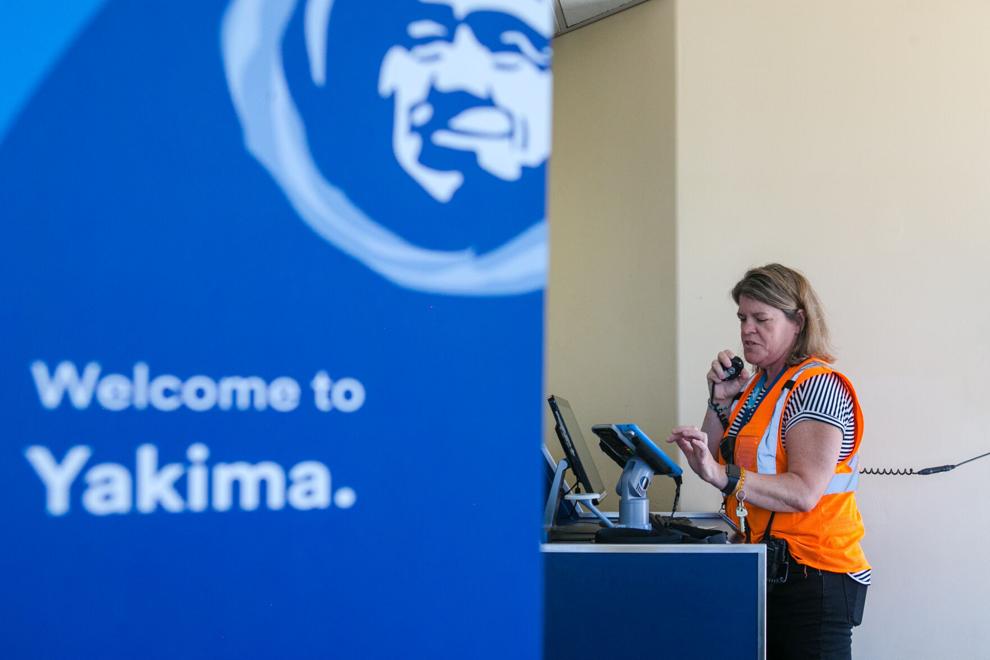 Schedule changes coming
Unfortunately for Yakima and many other regional airports, Alaska Airlines, along with its sister regional carrier, Horizon Air, will cut its daily flights beginning Sept. 7. For the Yakima Air Terminal, only one flight in each direction will be scheduled, both in the middle of the day. The early morning departure to SeaTac and late-night arrival in Yakima will no longer be available.
Through Labor Day weekend, Alaska Airline's website shows flights from Yakima to SeaTac departing at 5 am and 2:02 pm, with arrivals in Yakima from SeaTac at 1:27 pm and 11:36 pm When Alaska's reduced schedule takes effect on Sept. 7, a flight from SeaTac will arrive in Yakima at 1:13 pm, then leave Yakima to return to SeaTac at 1:48 pm
Yakima is one of six regional airports that will have its Alaska Horizon flights cut to once a day in each direction, with Walla Walla, Wenatchee, Great Falls, Mont., Edmonton, Alberta, and Victoria, British Columbia, also facing schedule reductions on Sept. 7.
Other regional airports, such as Portland, Spokane and SeaTac, will also have their number of daily flights reduced, Alaska Airlines officials said.
The reason for the reduction in service is several-fold. Besides adjusting its entire schedule due to pilot and staffing shortages, the Sept. 7 reduction in flights coincides with plans to change the aircraft used by Alaska Horizon.
Horizon Air recently announced plans to transition to a single, more efficient fleet by the end of 2023, an Alaska Airlines spokesperson wrote in an email to the Herald-Republic.
Horizon plans to use the Embraer 175 jet as its primary aircraft, and will eventually stop flying the Q400 turboprop, the spokesperson said. Horizon's fleet currently consists of 32 Q400s with an average age of 13 years. It has 30 E175 jets that are each less than five years old, with additional new E175s on order.
"Although Horizon has no plans to discontinue service to any of the communities it serves, the transition will impact our operations at various airports at different times as we scale back the number of Q400 planes in the fleet," the spokesperson wrote.
Vera, the Yakima airport operations manager, noted that the switch to new aircraft, which happens every 20 to 30 years, exacerbates the pilot shortage. New pilots joining Alaska Horizon are not being trained on the older Q400 aircraft, but those planes are still being used for flights until the new E175s replace them, creating more complications in scheduling pilots, he said.
"We don't know how long that (reduced number of Yakima-SeaTac flights) will last," Vera told the Herald-Republic on Wednesday. "The good thing about keeping those afternoon flights is, overall, those are the best times to connect with other destinations, rather than the early morning.
"We're trying to attract more air service and more options, possibly by adding other carriers, but it's going to be difficult because every airline is facing the same labor shortage issue," he added.
Vera stressed that Alaska Airlines remains committed to serving Yakima Valley passengers and will resume additional flights as soon as possible.
"A lot of communities across the nation have lost air service," he said. "Basically, we're asking our passengers to be patient with the airport, and to be patient with the airline industry. It's been a rough stretch with COVID and the pilot shortage, but we'll get through it."
The Tri-Cities alternative
Amid the planned reduction in flights to and from Yakima and other regional airports, Tri-Cities Airport has resumed a marketing campaign targeting Yakima Valley customers.
Last month, a direct mail flyer in English and Spanish sent to Yakima Valley residents from Tri-Cities Airport showed a map of the western half of the US, noting the "11 direct flight destinations with multiple flights every day" from the Pasco airport.
Bold type proclaimed "90 minutes from Yakima to your gate" and noted that Tri-Cities Airport allows passengers to avoid big-city traffic, congested parking, and long security lines.
Taft, the director of Tri-Cities Airport, said the advertising campaign is a continuation of a pre-pandemic strategy of attracting Yakima Valley customers who are currently driving to SeaTac for flights.
He did not have estimates of how many Tri-Cities Airport passengers currently live in the Lower Valley or other portions of Yakima County.
The Tri-Cities Airport flyer listed lower ticket fares among its attributes, but an online search of Alaska-Horizon flights for the weekend of Sept. 9-11 shows ticket prices depending on what time of day a passenger travels.
A search on alaskaair.com on Thursday for a trip between Yakima and SeaTac on those days showed a Friday, Sept. 9, departure at 1:48 pm that arrives in Seattle at 2:34 pm, for either $99 (saver fare) or $119 (main fare). The return trip leaves SeaTac at 12:26 pm and arrives in Yakima at 1:13 pm, for either $129 or $149.
Options on Alaska-Horizon for PSC (Tri-Cities Airport) include six travel times in each direction, but a wide range of prices that top out at $219 for a one-way ticket from Pasco to SeaTac at 5:30 am on Sept. 9. The cheapest option is a $69 or $89 flight which leaves Pasco at 7:35 pm and arrives in Seattle at 8:41 — too late to connect to most other Alaska destinations.
Return-trip prices from SeaTac to Pasco range from $89 or $109 for an 8:40 am departure to $219 for a 3 pm SeaTac to Tri-Cities flight.
.