MT. IDAHO — To say the home of Shawn and Teri Wassmuth is a labor of love puts it lightly.
"We've worked on it and done things as we could afford it," Teri said.
"We just didn't want to go into a bunch of debt," Shawn said.
The results are a well-thought-out home with unique, personal touches. The couple the home from Shawn's grandparents, purchased Ken and Dorothy Earp, shortly after they married in 1998.
Since, they have worked on the house and property a little at a time, making and meeting specific, achievable goals.
"Eating the elephant one bite at a time," Teri smiled.
"Yeah, like telling myself I can work on the roof or something else for two hours. You can get through that, and it doesn't seem so overwhelming," Shawn explained.
"I grew up here in this house," he added, showing and telling the changes from his childhood to now.
The remodels and renovations have included adding and removing walls, brick entryway structures, sidewalks and patios, filling in floors to make them level, building stairs and more.
"Where we're standing in the living room now was formerly the chicken coop," smiled Teri, who said she loves the history of the house and her husband's family.
Teri, who has a creative eye, has drawn up sketches and plans that Shawn has learned to create and implement throughout the years.
"There have been so many things I didn't know that I've learned through trial and error and the help of friends," Shawn said.
One friend who helped them get the home addition rolling years ago was contractor Jim Fogelman.
"He suddenly had a week in-between jobs and said, 'let's do this,' so we did," Shawn said.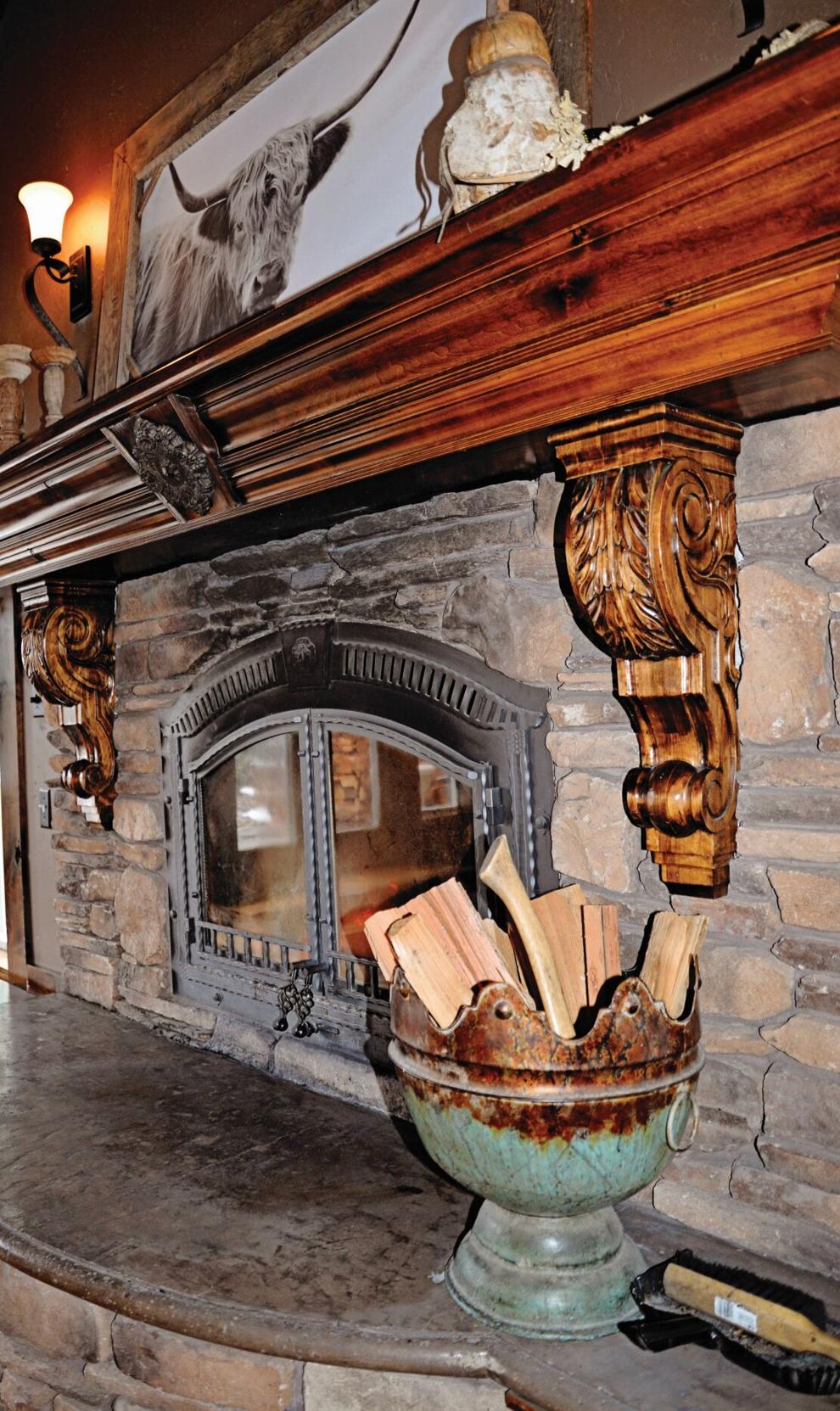 Getting that shell up helped the couple decide little by little how to continue designing their home and making it uniquely theirs. The Wassmuths planned their front main entryway and patio to make sure they kept intact the walnut tree planted by Shawn's grandparents.
Shawn painstakingly (quite literally at times) carried in and placed beams, laid hardwood flooring, used rocks from their property to build retaining walls and the chimney, built cabinets, hanged chandeliers and tiled and grouted intricate areas in the kitchen, living room, bathroom and laundry areas.
Every corner of the Wassmuth home has a story:
The living room holds a large display cabinet which includes windows from Grangeville's Trinity Lutheran Church.
"The pastor had come into The Gallery [Teri's shop Polish'd is inside] when they were replacing windows, and he gave me one," she explained. She was later able to obtain one more.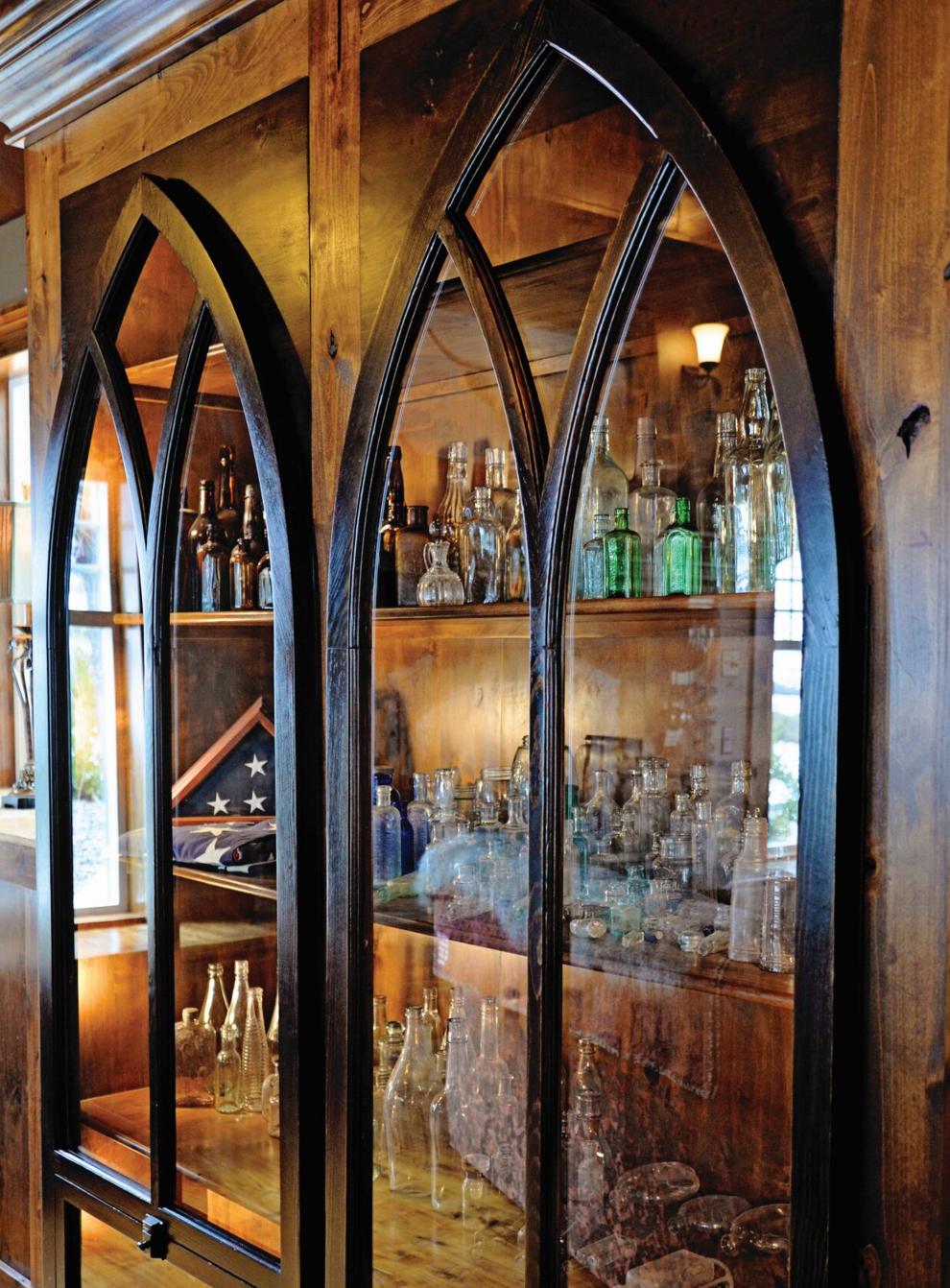 The cathedral windows make for perfect doors to a handmade cabinet by Shawn that displays antique bottles passed down from Teri's father.
The kitchen stove hood is made from a large, heavy chunk of tree purchased at a yard sale. Yes, a yard sale.
"Yeah," smiled Shawn. "[Friend] Nick Slichter got that at a yard sale on Crooks Street years ago. After moving it a few times I wasn't sure if I should thank him or not."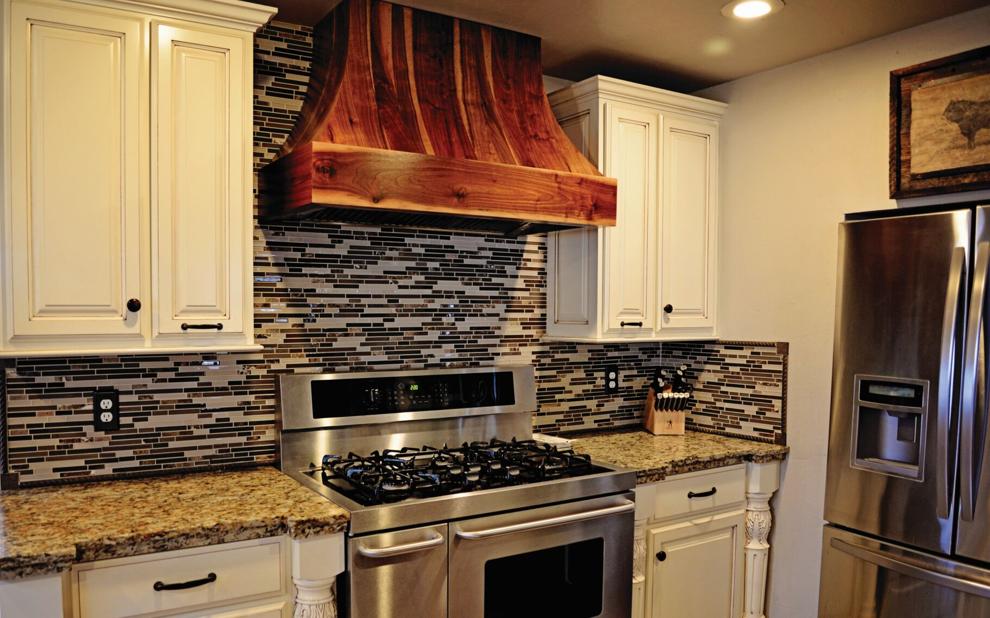 However, when the piece spoke to Shawn, it is practically yelled. He spent hours soaking and bending the hardwood into submission.
"I looked up ideas online and found a couple I liked and melded them together," he said.
The finished product not only made for a nice centerpiece to the kitchen area, but there was also enough leftover wood for Shawn to make a cribbage board for his friend, Nick. He's finally getting his thank you for the yard sale purchase.
Small touches litter the home, including a tiny crystal chandelier hanging over the kitchen sink, a table made from an old wine barrel's widest slats and metal rings ("That was one of my most difficult projects I ever did," Shawn admitted), photo frames crafted from old barn board, and a vintage mirror Teri's mother gave her years ago which is used to write grocery lists on in the pantry.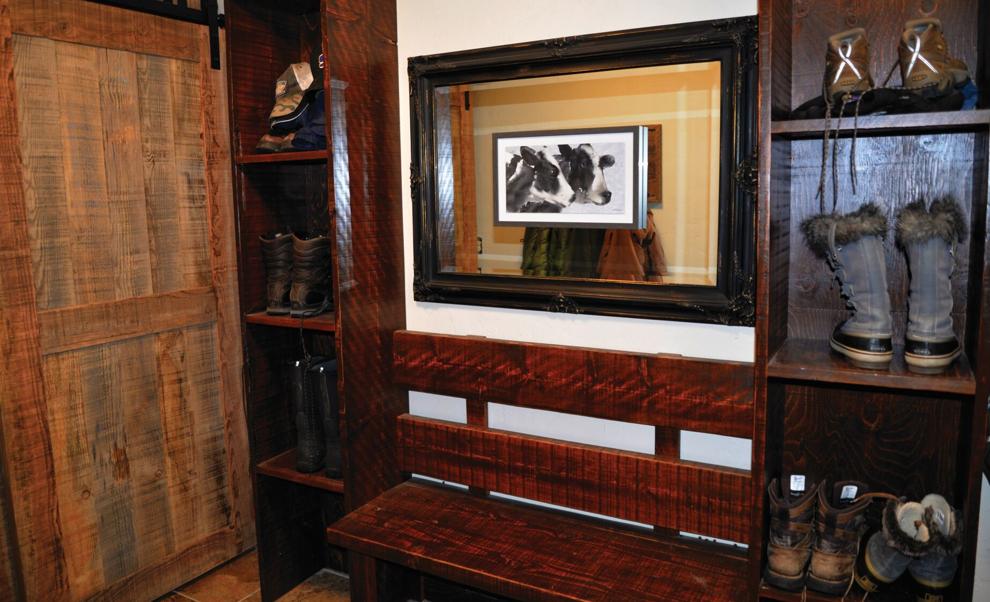 Larger furniture items grace the home, such as the solid wood family kitchen table surrounded by velvet-covered high-back chairs, the laundry room sliding doors crafted from old barn wood from their property, and a large, heavy coffee table made from an old door. And by an old door, the Wassmuths mean one found abandoned in the trash.
"We like to repurpose and use things other people discard," Teri laughed. For this project, she eyed an old, slivery rustic wooden door in the dumpster.
Shawn dove in.
"It was incredibly heavy, and there were broken windows in there," he shook his head.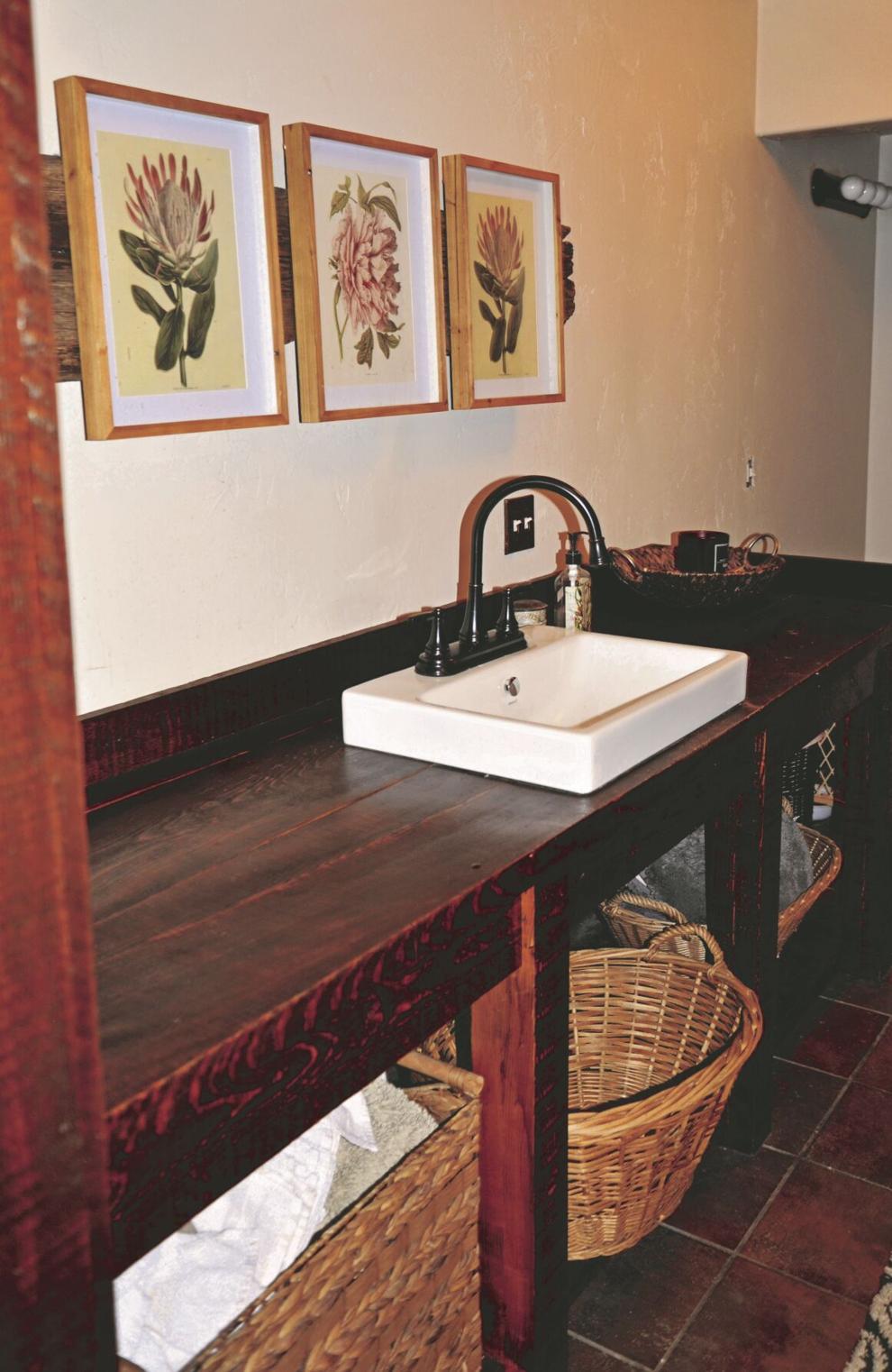 The end result, though, shows a functional, artistic and aesthetically pleasing coffee table with custom-designed touches by Teri, brought together by Shawn.
"We really do work well together," she said. "It's nice to have ideas and then have someone who can make them happen."
The duo said their main goal is to live in a comfortable home for themselves, their family and their friends.
"I want people to come in and put their feet up, relax and enjoy being here," Teri said. "There are often grandkids' coats and toys strewn around, the dog's muddy paw prints and the cats lying on furniture. We live in our home, and we love all of it."
The house has 47 windows ("That's our main artwork, what we see through the windows," smiled Teri), stairs to the second custom-built story by Shawn, a buffet made into a vanity, custom bathroom and laundry room storage, and continuing projects, including plans for a new coat of paint inside ("We're going lighter," Teri said, showing a couple of swatches on the entryway wall), and a front yard patio, which they said is on the priority list for this summer. In addition, they plan to build their own tiny house in two portions and move it to their property in Elk City.
Through it all, Shawn, who has worked for Les Schwab (mainly through the corporate office in Oregon) since 1996, has learned a variety of life lessons.
"Number one — don't tell him he cannot do something," Teri emphasized.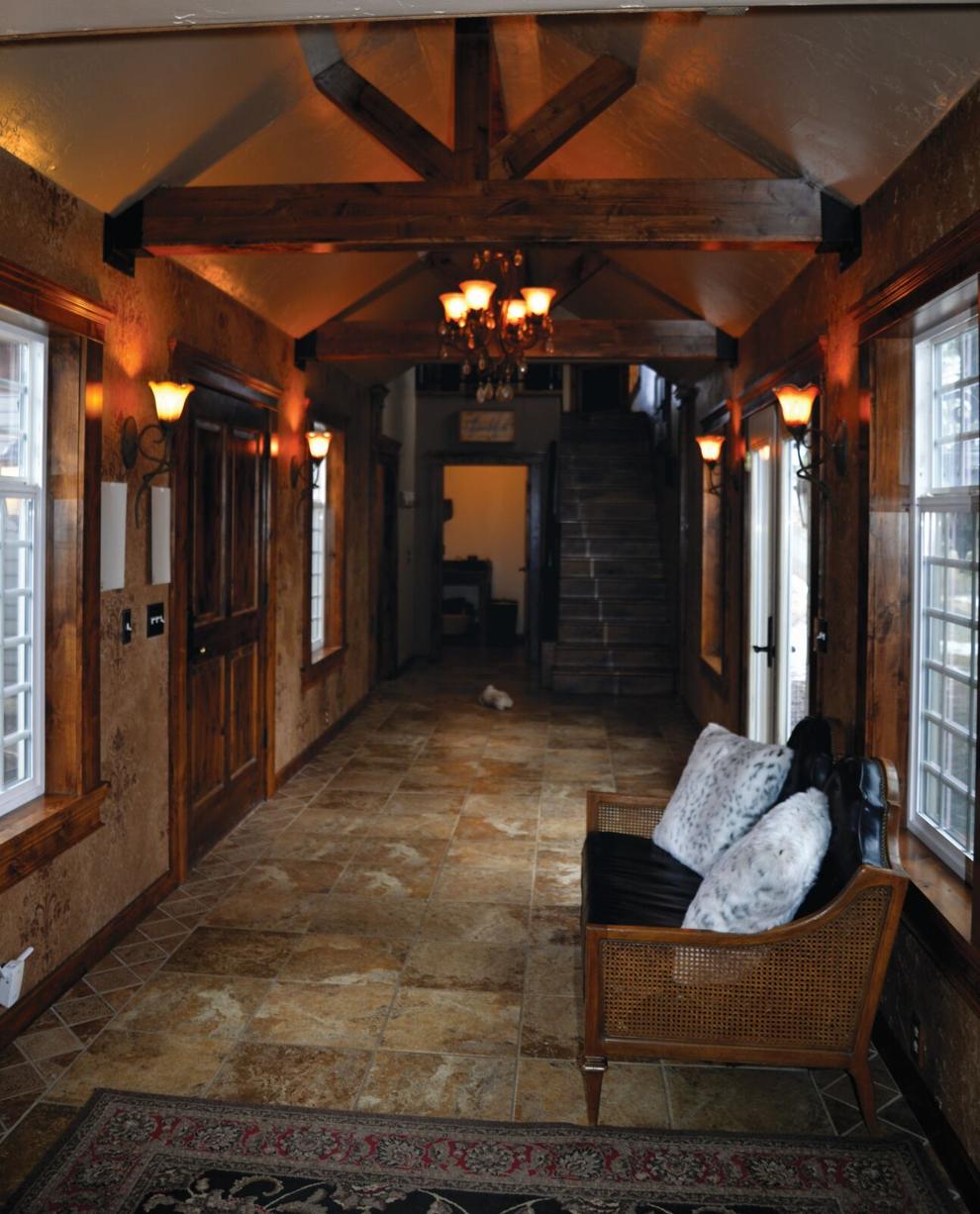 "That's right," he smiled. That line has kept him refiguring, building and using his ingenuity to accomplish his goals. Looking toward retirement within the next year, he purchased a sawmill with a brother-in-law. Some of the projects he has completed for himself will allow him to offer his services to others.
"I don't want to be overwhelmed," he said. "I think maybe I could comfortably work on three projects a month, depending on what they are. I want to be able to continue going into my shop and enjoy the work."
Teri also plans to retire from her current job as a nail technician in the next couple of years; However, don't expect her to stop working with people.
"I am a certified life coach, and that's something I can do from anywhere," she said. "I love working and helping people, so I will continue with that."
And the couple will carry on making their home even more comfortable and distinctive, highlighting their family and local history, and making each handcrafted masterpiece in their meaningful and functional home.