Farm Equipment editors encounter a variety of articles, social media posts, podcasts and videos that offer a unique look at various aspects of our great farm machinery industry. Here is our favorite content from the past week from across the web. "Best of the Web This Week" is brought to you by CLEANFIX.
---
---
New Podcast & Landoll Corp. Founder Don Landoll
We discovered a new podcast from North American Ag, "What Color is Your Tractor: Stories Behind the Ag Brands We Love & Love to Hate." We were happy to tune in to hear our friend and ag equipment legend Don Landoll. Don foundation Landoll Corp. in 1963 in a 12,500 square foot building – and has since grown that manufacturing space 72 FOLD. EXTRA: Don was also one of the first manufacturers featured in our Ag Equipment Entrepreneurs: How We Did It series podcast.
---
Farmers, Tech Companies Betting on AI, Autonomous Equipment in 2022
Artificial intelligence and autonomous equipment are among the top 5 trends in agriculture in 2022, according to this article from Forbes. Sachin Gupta, global agribusiness industry leader at IBM, predicts AI will drastically improve sustainable farming by helping farmers forecast weather conditions. Robotics and autonomy, as many have predicted, will help farmers overcome labor shortages.
---
The Business of Agriculture Podcast: Rob Saik, AGvisorPRO
This entertaining video is a filmed conversation between 2 of our favorite speakers from past Lessiter Media events – podcast host Damian Mason and Rob Saik, founder/CEO of AGvisorPRO. On the heels of the Precision Ag Conference in Arizona, this fast-paced episode covers sustainability, the "wild west" of carbon, autonomy and more. EXTRA: Rob is a Precision Farming Dealer "Digital Demo" webinar on his AGvisorPRO system for dealers on February 23.
---
Can Farm Equipment Truly Be Sustainable?
Larry Hertz, vice president of the Western Equipment Dealers Association, discusses the sustainability of the combine market in this article from The Western Producer.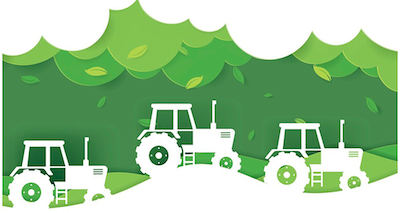 ---
100 Years of SIMA Farm Show
2022 marks the 100th anniversary of SIMA Paris. The show will take place Nov. 6-10, 2022. Based on the photo below from the first SIMA helped Jan. 28, 1922, the size of both the show and the equipment being showcased has increased significantly over the last 100 years. SIMA states its aims and its mission: "To showcase the solutions and technologies dedicated to the development of sustainable and successful agriculture, at the center of Europe's agricultural powerhouse."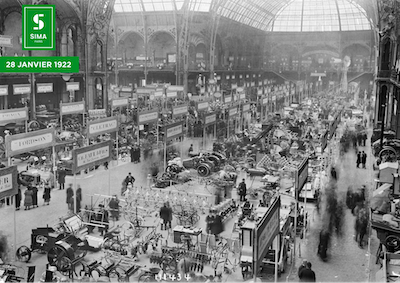 ---
Best of the Web This Week is brought to you by CLEANFIX.
Proven in the most demanding of ag conditions, CLEANFIX Reversible fans provide the most efficient diesel engine cooling and radiator cleaning available. The multi-patented reversing fan technology maintains machine cooling as needed and, when required, provides the strongest blowout of dust and debris — without halting or slowing operations.
Click here to view past "Best of the Web This Weekupdates.
.