After winning his first two starts in Canada in the summer of 2020, owner/breeder Charlies Fipke proposed an ambitious aim to Hall of Fame trainer Roger Attfield for the promising Speightstown 3-year-old Shirl's Speight . The target? A COVID-19-postponed Kentucky Derby Presented by Woodford Reserve (G1) at Churchill Downs that September.
The plan didn't come to fruition, but two years later, an alternative one did April 15 when the now 5-year-old horse scored a 9-1 upset of Juddmonte's Masen in the $577,000 Maker's Mark Mile Stakes (G1T) at Keeneland.
Priced too high at 50-1 on the morning line, Shirl's Speight was bet down Friday in a race diminished to a field of eight when Ivar , Public Sector and Somelikeithbrown were scratched.
Still, there were plenty of classy foes to beat, led by stakes-winning Masen and Smooth Like Strait , the runner-up in last year's FanDuel Breeders' Cup Mile Presented by PDJF (G1T). And catch them he did, unleashing a furious stretch charge that brought him from seventh to first in the final eighth to win by a nose.
He even did so despite slow fractions of :24.95, :49.63, and 1:13.38, set by Smooth Like Strait over a drying-out course rated as good. Needed to win was a closing quarter-mile that Trakus timed Shirl's Speight covering in :22.08.
Sign up for BloodHorse Daily
"He gave me an amazing run at the end. So, man, I was impressed with the way he ran," said winning rider Luis Saez.
The result was a head-bobbing photo in which Shirl's Speight nailed Masen on the wire.
"I had a feeling I got there first, but you never know. Sometimes it's pretty tough to be so confident," Saez said.
Shirl's Speight raced a mile in 1:35.93, paying $20 as the sixth choice in the field of eight.
The winning connections of Shirl's Speight in the trophy presentation for the Maker's Mark Mile Stakes
Smooth Like Strait held third, a neck behind the runner-up. He finished three-quarters of a length ahead of Atone in fourth. Mira Mission , Count Again , Set Piece and In Love completed the order of finish.
Garrett O'Rourke, general manager at Juddmonte USA, felt Masen produced a "fantastic run" in his stateside debut. The Kingman gelding, now trained by Chad Brown, went 3-for-6 in 2020-21 in Ireland.
"He passed the horse we felt we had to beat (Smooth Like Strait) and just got nailed," O'Rourke said. "Still, the best horse won on the day, but we're going to be very happy and look forward to a nice year with this guy."
Attfield said in 2020 he removed Shirl's Speight from Derby consideration due to a cough but indicated Friday that he felt the Derby was a reach for a short horse on experience.
"He wasn't going to go to the Derby. He won his first two races very easily and Mr. Fipke's a bit optimism," he said, smiling. "Quite often, things work out the way he wants them to, but he was the one that was talking about the Derby. I had no intentions of going there. A, I didn't know how he'd run on the dirt. B, I don't know about a mile and a quarter. And C, he didn't have enough seasoning to do that anyway."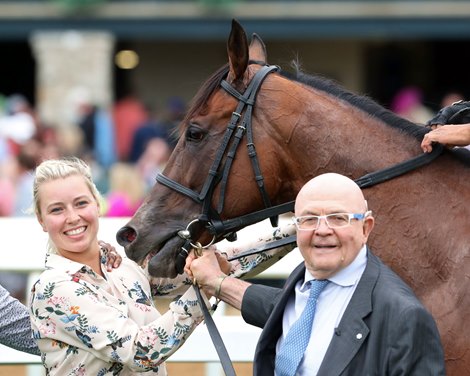 Charles Fipke and a handler hold Shirl's Speight after the horse's victory in the Maker's Mark Mile at Keeneland
Friday it was Shirl's Speight that had the seasoning edge, at least in 2022. He entered the race 2-for-2 on the year, topped by a victory in the Feb. 5 Tampa Bay Stakes (G3T) in his last start. Masen and Smooth Like Strait had not raced since the fall.
"I won this race with his grandfather (Fipke's Perfect Soul in 2004), and this is a better miler than he was," said Attfield.
The Maker's Mark Mile was known as the Fort Harrod through 1996 during which time Attfield also won with Shudanz in 1992.
Shirl's Speight, bred in Kentucky by Fipke, is out of the Perfect Soul mare Perfect Shirl winner of the 2011 Emirates Airline Breeders' Cup Filly & Mare Turf (G1T) at Churchill Downs for Attfield and Fipke. Shirl's Speight is among three winners and two black-type horses from seven foals produced from the mare. Her youngest foals include a More Than Ready yearling filly and a full sister to Shirl's Speight born this month.
"Everything that (Perfect Shirl) has produced has got an attitude, also," Attfield said, though he mentioned Shirl's Speight as an exception. "I like that. I like to see if I can get inside a horse's head, work with them. They're all different, right? That I like more than anything else."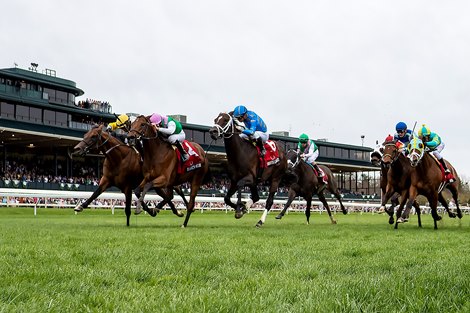 Shirl's Speight wins the Maker's Mark Mile Stakes at Keeneland
Video:

Maker's Mark Mile S. (G1T)
.