Many prominent Thoroughbred breeders in North America have been watching as their Japanese counterparts, primarily the Yoshida family, have accumulated for more than two decades many of the world's best broodmares and broodmare prospects and waiting for the shockwave from that migration of quality to show at the racetrack.
The leading edge of the wave arrived at the 2021 Breeders' Cup World Championships where Japanese bred and raised Marche Lorraine captured the Longines Breeders' Cup Distaff (G1) and Loves Only You won the Breeders' Cup Filly & Mare Turf (G1T). The wave continued through Saudi Cup Day, when Stay Foolish won the Longines Red Sea Turf Handicap (G3) and went on to win the Dubai Gold Cup Sponsored by Al Tayer Motors (G2) on the Dubai World Cup under card. Dubai World Cup Day was a tour de force, too, with a total of four Japanese-bred winners that also included Bathrat Leon who won the Godolphin Mile Sponsored by Nakheel (G2); Crown Pride , who won the UAE Derby Sponsored by Mubadala (G2); and, Panthalassa who dead-heated with Lord North in the Dubai Turf Sponsored by DP World (G1).
Marche Lorraine wins the 2021 Breeders' Cup Distaff at Del Mar
Japan's recent march through several of the world's biggest racing days actually began in 1990 when the Yoshidas' Shadai Stud on Hokkaido made the deal of a lifetime in 1990 when it acquired dual American classic winner Sunday Silence, a son of Halo, who became Japan's greatest sire —leading the sire rankings from 1995 through 2007. The stallion died in 2002 but his influence remains in full force through his sons Deep Impact, Heart's Cry, Stay Gold, Agnes Tachyon, Gold Allure, Daiwa Major, and others.
"As Nasrullah sired Bold Ruler, who changed the world's breeding capital from Europe to the US, one stallion can change the world. Sunday Silence is exactly such a stallion for the Japanese Thoroughbred industry," Teruya Yoshida told Trainer Magazine after the stallion died.
Sign up for BloodHorse Daily
Guided by the vision of patriarch Zenya Yoshida, the family's laser focus on quality led them to spend nearly $198 million at Keeneland and Fasig-Tipton on broodmare and broodmare prospects since 1989 that included 2002 Horse of the Year Azeri and grade 1 winners Contested , Hilda's Passion , In Lingerie , Champagne d'Oro and Zazu among many other elite runners. Most recently they acquired 2020 Preakness Stakes (G1) winner Swiss Skydiver .
Recognizing the building strength of Japan's bloodstock, WinStar Farm's CEO and president Elliott Walden and SF Bloodstock's Tom Ryan, who worked at Shadai in 1998, decided in 2015 they needed to go shopping at the Japan Racing Horse Association's annual select yearling and foal sale.
"We were intrigued with the opportunity to bring new bloodstock back," Walden said. "If it worked and we got a grade 1 winner out of it, then we would have a horse that stood out in the market and would bring back that Sunday Silence blood."
Walden and Ryan bought five horses on the trip totaling US$1,709,681—two yearling colts by Empire Maker and a yearling colt by Heart's Cry and two weanling colts, one by Stay Gold and one by Empire Maker. They stretched the most on the Heart's Cry colt out of American grade 1 winner and track-record holder Hilda's Passion that cost $765,160.The colt was bred by Katsumi Yoshida's Northern Farm.
"The Heart's Cry was the target we identified at the sale. We felt he was the right fit because he's such a beautiful horse. He's so well balanced, and he also has the dirt family on the bottom being out of Hilda's Passion, who was a grade 1 winner at Saratoga," Walden said. "Tom and I went right past our budget a little bit and kept going. It was strong to buy over there because they have a lot of money in their purses. It was very competitive for horses between $200,000 and $1 million."
Ryan said while they were acutely aware of the high quality of Japan's stock, they still had to find the right horse who could thrive in North America.
"That was the most significant hurdle we had, was finding the perfect blend of pedigree," he said. "We were looking for a horse that wasn't limited to the more traditional Japanese distance of 12 furlongs. Heart's Cry was already a brilliant stallion, and Hilda's Passion was a grade 1-winning fast and precocious racehorse on dirt with an average winning distance." of 6.5f."
The Heart's Cry colt grew to become dual grade 1 winner Yoshida , who WinStar campaigned initially with China Horse Club and later along with Head of Plains Partners. With trainer Bill Mott, Yoshida became a stakes winner in his second start at 3 in the James W. Murphy Stakes on the turf at Pimlico Race Courseand the following two graded-placed finishes captured his first graded stakes in the Hill Prince Stakes (G3T) at Belmont Park. At 4, Yoshida won his first grade 1 in the Old Forester Turf Classic (G1T) at Churchill Downs.
Even with his regular successes on turf, Walden and Mott talked regularly about trying Yoshida on dirt.
"It's hard to change sometimes when you're having success, but Bill and I had the conversation many times. It just so happened we landed on the Woodward for his first dirt race," Walden said.
In the 2018 Woodward Stakes Presented by NYRA Bets (G1) going 1 1/8 miles on the main track at Saratoga Race Course, Yoshida and jockey Joel Rosario bided their time in the early going. At the top of the stretch, they swung wide into the middle of the track and began wearing down Leofric who had the lead, and Rally Cry , who had been stalking him. Yoshida hooked up with Gunnevera who was making his own late charge but Yoshida repelled the challenge and prevailed by two lengths at the wire.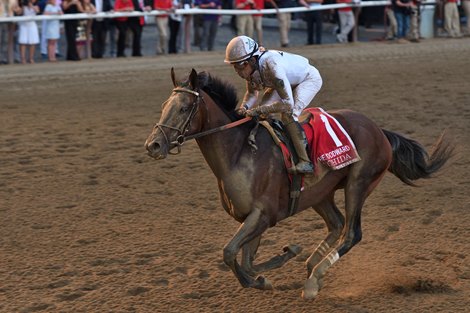 Yoshida wins the 2018 Woodward Stakes at Saratoga Race Course
"He ran an unbelievable race, but I was not surprised to see him win a grade 1 on dirt," said Walden. "We are seeing this kind of success in Japanese horses, who are winning all over the world on dirt and turf. We saw it at Breeders' Cup and again in Dubai. They are a force to be reckoned with and a lot of it I think goes back to Sunday Silence, who was such a great racehorse."
Ryan also said he was thrilled to see Yoshida live up to the promise he exuded at the Japan select sale back in 2015.
"On paper, this made sense. We could repatriate some of the brilliant Sunday Silence blood and the freaky speed of a Saratoga grade 1 winner," he said. "Yoshida had been raised the right way on the good soil; there was no imagination needed to see what this horse would be like. He was an imposing yearling and has developed over time into a dual grade 1 winner."
Yoshida entered stud at WinStar in 2020 at $20,000 and bred 148 mares. Walden said the sire's first foals, which are yearlings this year, are being stamped with solid physiques and mental toughness.
"What impresses you the most is their strength," Walden said. "Yoshida is a very strong, well-balanced horse with a deep heart girth. What sets him apart for me is he has that Sunday Silence, I'm going to call, 'It' factor. He is a fiery, hot-blooded , in your face, don't back off type of horse, and we're seeing that with a lot of his progeny. You can tell the Yoshidas in the field by the way they're acting and showing that tenacity."
Yoshida has been attracting more attention from US breeders because of Japan's recent successes worldwide, according to Walden.
"At first some people had a hard time because of Heart's Cry," said Walden, noting the sire was a multiple group 1 winner but exclusively on turf. "Now I think people are starting to understand that basically the hottest place in the world for producing racehorses is Japan."
Ryan said no one should be under the delusion that Japan's success in the world's highest profile races will not continue and on all surfaces and distances.
"I've spent a significant amount of time in Japan. They have been preparing for their coming out moment for 30 years, so let it be no surprise, we are now starting to see results across various distances and surfaces," he said. "It's my firm belief that this is only the beginning. They have all the ingredients now to ramp up production and compete at the highest level as this is no longer a prototype."
.