Clock watchers couldn't fail to notice the lightning-fast sectionals the Kodiac filly out of Yajala recorded during her two-furlong workout April 11, and the well-related youngster duly drew a final bid of 460,000 guineas (US$633,169) on Day 2 of the Tattersalls Craven Breeze-Up Sale.
Jake Warren, stationed on the back stairs, tried hard to land the sought after filly and faced late and stern opposition from David Redvers, who emerged from behind the partition to deliver a solitary bid of 450,000 guineas ($619,593).
But both had to give best to breeze-up sale regular Michael O'Callaghan, who was involved from early in proceedings and played the decisive final raise from the bidders' area opposite the podium.
The filly's sale was yet another big result for breeder and consignor Tally-Ho Stud, whose eight-strong draft generated receipts totaling 1,787,000 guineas ($2,461,039) and contained the sale's two-most expensive lots, headed by the 525,000 guineas ($718,181) Kodiac colt bought by David Loughnane and OMNI Horse on Day 1.
"I've bought a lot of good horses off Tally-Ho, horses like Twilight Jet, Blue de Vega, and Now Or Never to name just a few," said O'Callaghan. "She's a lovely filly and she did a very fast breeze. She's a great physical and she's got a very good pedigree to back it up.
Sign up for BloodHorse Daily
"She ticked all the boxes and hopefully she can make up into a Royal Ascot filly. She's been bought for Amo Racing and they've six with us now so it's going well. Crispy Cat is a good 3-year-old so hopefully, we'll have a few for Royal Ascot for them."
The Kodiac filly is out of the listed-placed Fasliyev mare Yajala, whose two winners are headed by the dual listed scorer Evil Spell. The mare also bred Society Power, who was runner-up in the Jersey Stakes (G3) before switching to Hong Kong, where he raced as King Of Hearts.
Stroud Secures Well-Related Sioux Nation
There was a three-way tussle for the third lot into the ring on Wednesday evening, and the outcome was the Sioux Nation half brother to 2021 Breeders' Cup Juvenile Turf Sprint (G2T) winner Twilight Gleaming changing hands for 380,000 guineas ($523,384).
Najd Stud's representative Saud Al Qahtani was back in his usual position by the podium and went toe-to-toe with Anthony Stroud, who was hidden away on the back stairs opposite. The pair continued to trade 5,000 guineas ($6,883) increases well after the six-figure barrier had been breached, but at 280,000 guineas ($385,616) Stroud rounded the price up to 300,000 guineas ($413,031).
"He'll be well race fit by the time this session is over," quipped auctioneer Simon Kerins as he gestured towards the well-related colt. But just when matters looked to be drawing to a close Richard Brown of Blandford Bloodstock appeared by the gangway and entered the fray. However, Stroud was not to be denied and threw in the final 20,000 guineas ($27,544) increase that brought the gavel down.
The Mocklershill-consigned son of Sioux Nation was making his second appearance at public auction, having been knocked down to JB Bloodstock at last year's Goffs Orby Sale, where he fetched €50,000 ($58,418). The Wesley Ward-trained Twilight Gleaming had already finished second in the Queen Mary Stakes (G2) when her sibling was offered last autumn, but enhanced the page further by winning the Breeders' Cup Juvenile Turf Sprint in the colors of Stonestreet Stables.
"He's a very nice horse, needless to say," said Stroud. "He's from a very good consignor, looks sharp, did a good breeze, and veterinary wise everything was good. It's still to be sorted out who is going to train him but he'll stay in England and he's been bought for KHK Racing. Richard Brown is a very good judge and he was the underbidder. He was the one horse we wanted to get tonight. He looks like a real 2-year-old."
Coolmore's Sioux Nation is odds on to be crowned leading first-season sire by individual winners and has already opened his account at stud with Jessica Harrington's Ocean Quest having made a winning debut at the Curragh.
Doyle Sees Long-Term Potential in Kingman Colt
Big figures continued to be spent deep into the evening as Ross Doyle went to 300,000 guineas for the Kingman colt out of group 3 winner Fate offered by Mick Murphy of Longways Stables.
"He's a very attractive, good-walking, strong horse," said Doyle. "He's got a good pedigree and is by a nice stallion. He did a good breeze but he's probably more of a seven-furlong or a mile horse so we weren't worried about him looking too rapid. He comes from a good home as we got Witch Hunter off Mick last year."
The colt, among the catalog's punchier pinhooks having cost 210,000 guineas ($300,059) as a yearling, is a sibling to one winner, while his dam is a half sister to the champion Pride, who in turn bred the dual group 2 winner One Foot In Heaven. Pride is also a half sister to the dam of 2006 Stan James One Thousand Guineas (G1) heroine Speciosa.
Gredley Drawn to Zustar Filly's Personality
Another first-season sire to enjoy a big result was Tweenhills' Zostar who had a filly go the way of Bill Gredley for 270,000 guineas ($371,835).
The six-figure youngster was offered by Gaybrook Lodge Stud having been pinhooked by MC Bloodstock at 70,000 guineas ($101,705) at last year's Tattersalls Somerville Yearling Sale.
Lot 121, a Zustar filly at the Tattersalls Craven Breeze Up Sale
"I liked the gray filly earlier (Lot 116), sold to Phil Cunningham for 150,000 guineas ($206,490) but I was underbidder on her," said Gredley. "I liked this filly too, a lot of people liked her so she cost a lot of money, but if you want something good you've got to pay for it. We've got the stud (Stetchworth And Middle Park) but we 'll race her first and if she gets to the track and wins that'd be good."
"I've been in racing a long time and I don't usually buy at the breeze-ups but I had seemed a look at her and she to have a nice personality, which works for me. I like nice people with nice personalities And she seemed nice. We've got a few trainers but I don't know who'll get her, I'll have a chat with my son (Tim) but he's in Spain jumping horses at the moment."
The filly is out of Cordiala Juddmonte-bred daughter of Oasis Dream who won two races for Stuart Williams. The half sister to group 3 winner Monarchs Glen, whose page goes back to Nebraska Tornado, has shown plenty of promise at stud having bred two winners from as many runners.
Reflecting on the filly's success, Gaybrook Lodge's Jim McCartan said: "We wanted to buy a Zustar, we wanted to support the stallion, and she was just a very nice individual. We were hoping she would turn out to be a Craven filly and she's done nothing but improve. She's been very easy to train and she came here, did a very good breeze and showed very well.
Najd Make Amends
Najd Stud made amends for the earlier reversal on the son of Sioux Nation when the operation landed the American Pharoah colt out of Circulation offered by Lynn Lodge Stud at 260,000 guineas ($358,023).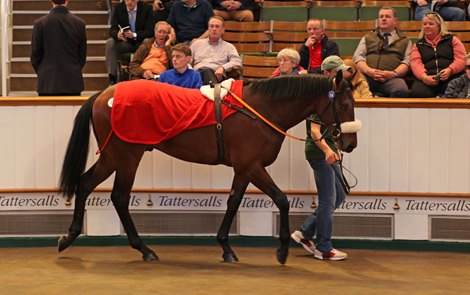 Lot 114, an American Pharoah colt in the ring at the Tattersalls Craven Breeze-Up Sale
Al Qahtani, who was joined by Peter Doyle, has become a regular buyer at Tattersalls in recent months, with his most notable impact coming at last year's Autumn Horses in Training Sale when Nadj Stud spent 2,791,000 guineas on 14 lots, 9% of turnover.
"He'll ship straight to Saudi Arabia, that's the plan at the moment but things can always change," said Doyle.
"He's a lovely horse and a very sound individual. The underbidder, Stuart Boman, was trying to buy him for Hong Kong and he would have had to have passed all the vets to head there. The American-bred horses have done well in Saudi ."
Al Qahtani explained that Najd Stud was making its first foray into the European breeze-up market, a move that was in part inspired by last year's star graduate Native Trail. He said: "We've bought at the American breeze-ups before but the Craven Sale is a good sale. Native Trail came from here last year and that encouraged us to come here. This horse will go for the Saudi Derby (G3) ."
The American Pharoah colt consigned as Lot 114, is out of a winning Oasis Dream half sister to four-time group 1 scorer Twice Over and netted connections a tidy profit, having been sourced by Mags O'Toole for $57,000 at last year's Keeneland September Yearling Sale.
Middle Eastern interests have played a significant part in this year's Craven Sale, including the Dubai-based trainer Satish Seemar's 530,000 guineas ($729,693) spend on three lots.
McGivern in Clover
Others may have sold pricier lots on the day but no consignor could match the smile on Katie McGivern's face after her Derryconnor Stud saw the Mastercraftsman colt out of Elusive Girl go to Ross Doyle for 140,000 guineas ($192,781).
The 2-year-old was a particularly successful pinhook for McGivern, who gave just £16,000 ($21,852) for the youngster at the relocated Tattersalls Ireland September Yearling Sale.
Explaining how she came to pick up such a bargain, McGivern said: "I loved him at the Fairyhouse sale and couldn't believe I got him so cheap, but he was only the fourth lot into the ring and I just think people weren't t quite ready. I went in to give more for him but got lucky and got him against the reserve because no one else was there!"
While Mastercraftsman was undoubtedly a high-class sire, his progeny's tendency to progress with age means his offspring aren't typically associated with the breeze-up sales. However, McGivern said this colt's physique and female line gave her confidence he would prove up to the task at hand.
"When I bought him a lot of breeze-up people asked why had I bought a Mastercraftsman, but the first dam was 2-from-2 with 2-year-old winners by Gleneagles (Gordonstoun) and Camelot (Msayyan) and he looked very sharp," she said.
"He didn't look like your typical Mastercraftsman, he looked like a ready-made 2-year-old. He's been very easy to deal with, he loves his work, in fact you couldn't give him enough!
"He manned up at the sale and has been foot perfect every show. He clocked very well for a horse who was going at maybe only 80%, he wasn't flat out. I knew I had a nice horse coming here but obviously, There are nerves when you're going up to the ring. It all worked out in the end though."
.