OLEY, Pa. — At Jollyview Farm, the taste of the vegetables and strawberries is essential to the farm owners, Ben and Jill Prout. But achieving excellent flavor begins with hard work. The Prouts dislike pushing their plants for maximum production and using black plastic because they believe those methods can change the taste of the vegetable and fruit.
"We are shooting for flavor," Jill said.
Ben is a traditionalist. He likes to grow everything on his 120-acre farm as "naturally" as possible.
"We always wanted to have stuff that you can eat right out of the field," Ben said. "You don't have to be afraid to pick tomatoes, string beans, or strawberries off my plants and you can stick it right in your mouth."
His grandparents raised vegetables and berries without plastic mulch, herbicides or hoop houses. It worked for them, and since 2005, those old-time practices such as hand weeding have been working for his farm too.
"I don't know if that makes us a niche thing or if it really plans out financially. It's mostly because it's what I know how to do," Ben said. "We get enough made without falling into that trap.".
After cultivating their produce, Ben and Jill weed the rows of various vegetables and berry patches by hand. They employ their two children, Polly and Oliver, and hire two or three high school workers to help them with the summer fieldwork. Prout's method does come with a cost. Certain weeds can get firmly rooted before he and Jill are entirely able to wrench them from the rows. The business started with Jill working farmers markets and running a roadside stand. With two small children often in tow, she moved away from doing roadside and started the farm's community-supported agriculture program. She would also spearhead the farm's pick-your-own strawberry patch.
Jollyview's CSA secures the finances of the business. Over 70 community members prepay for 15 weeks of fresh fruits and vegetables from June to September. Members can select receiving a total share — a bushel of seasonal produce — or a partial share of half a bushel. As the season goes on, Jill will make five delivery stops at central locations in the Oley Valley area, but most customers like to come to the farm to pick up their fresh supplies. Ben said the volume of products will build up in the CSA boxes over the summer. Besides the well-known vegetable staples, the couple grow several varieties of sweet potatoes, lettuce and heirloom tomatoes. Ben aims to plant as many vegetables as possible in the Pennsylvania growing season. Jollyview also offers its customers not-so common produce like kohlrabi and lima beans.
"We like to plant the weird stuff, the stuff nobody else does. First, it makes it a little special, and second, I like the weird stuff," Jill said.
Most customers have told the Prouts that their strawberries are what brings them back to Jollyview year after year. Jill said customers had said the farm's berries have the most flavor, and a consistent soft texture that allows the fruit to crush in the mouth — unlike the woody berries bought at a grocery store. "I am maximizing on my customer satisfaction," Ben said.
The Prouts' strawberries are divided into four patches on a 1-acre field. Ben said he plants 2,000 new strawberry plants every year. He will plow up the oldest patch when the picking season is over. He gets three to four years of life out of a patch, and the farm averages 4,000 quarts of strawberries yearly. The farm's pick-your-own strawberry fields are different from other farms.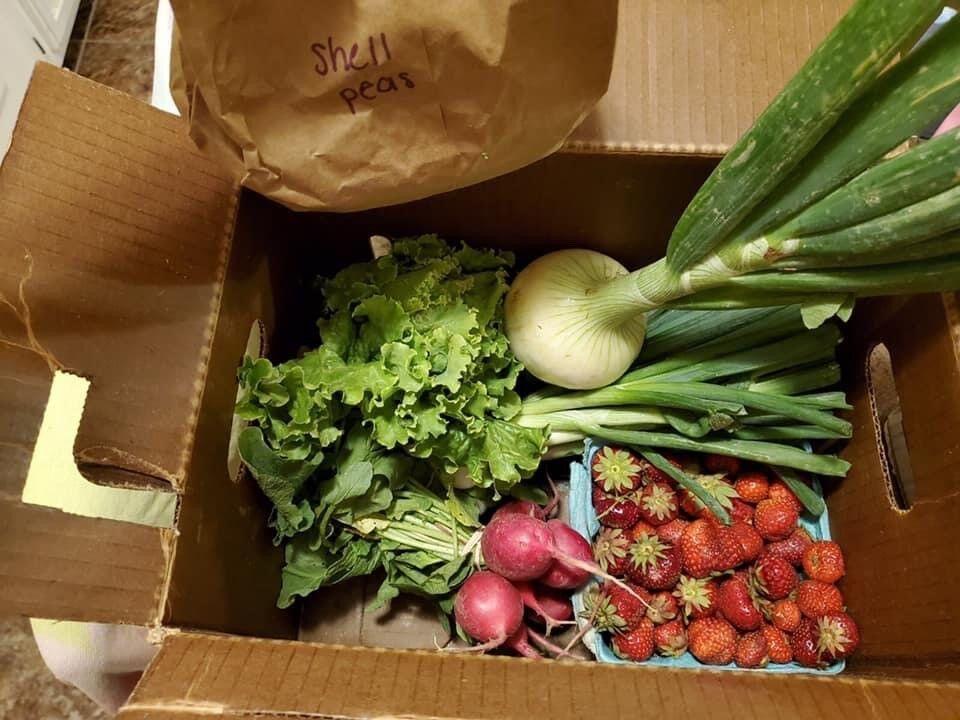 The Prouts encourage mothers with children to let their young ones run around the 300-foot rows of berries and enjoy eating the fruit off the vines.
"I always tell them, I want to see your kid's faces red," Ben said "The most they will eat is a $5 quart," Jill added.
Offering this choice has made Jollyview a summertime go-to for mothers. It also allows the couple to teach customers, both parents and children, about farming. And the children's eating in the field reduces the number of strawberries Ben and Jill need to pick themselves.
Teamwork is also what makes farming enjoyable for the couple. Ben and Jill will split up the tasks in the summer, such as Jill focusing on doing more of the ground picking of berries while Ben does the heavier lifting of the baskets of sweet corn ears.
"We work as a team," Jill said.
.