Illinois Thoroughbred horsemen are off and running for a year that promises hardship and even downright depression—with a big dose of uncertainty looming just months away.
There is hope for the future but …
With Arlington International Racecourse closed and the Chicago Bears drawing up plans to run wide receivers and tight ends where Citation , Secretariat , and John Henry once raced, Hawthorne Race Course in 2022 is the sole venue for racing in the Chicago area.
And, because harness racing also must be accommodated, the Thoroughbred meeting that opened April 2 runs only until June 25, when the track is scraped for the return of the buggies. Thoroughbreds are back Sept. 23 but during the prime summer months, they are without a Chicago home.
There are only 76 Thoroughbred racing dates on the 2022 calendar.
Sign up for BloodHorse Daily
Chris Block, president of the Illinois Thoroughbred Horsemen's Association and member of a prominent, long-time breeding and racing family, said the situation poses unique challenges as trainers look for places to spend their summer.
"I believe we'll probably have a few horsemen that'll stay here like they did over the winter," Block said. "I think they probably did a lot of jogging in the shedrow and then they were able to run over at Turfway Park. But I think a lot of these horses will probably end up in either Canterbury or Indiana Grand. Colonial seems to be a spot that some horsemen are headed towards, maybe Ellis Park."
Trainer Chris Block adjusts his horse's bridle as his family looks on at Arlington Park.
Canterbury Park in Minnesota, in fact, has announced incentives for horsemen. When Canterbury opens May 18, horses raced in Illinois in 2021 or 2022 will be eligible for a $1,000 bonus for their first Minnesota start, plus a general $1,000 bonus for any horse racing during May, plus loans to cover shipping costs.
"We understand that owners and trainers who have historically called Arlington home are faced with challenging decisions in 2022," said Andrew Offerman, vice president of racing operations at Canterbury. "We respect that all horsepersons need to make the best decision for their stable and we have a desire to keep these horses within the Midwest. Canterbury Park is a great option for them to consider."
Other horsemen accustomed to summering at Arlington mentioned Colonial Downs in Virginia, the nearby Indiana circuit, and Ellis Park in Kentucky as options.
"All the horsemen this year are probably going somewhere for two months," said nine-time Arlington champion trainer Larry Rivelli. "I'm gonna go to Colonial and Kentucky."
But Block said it's not as simple as picking someplace and going there.
"The problem is that it's expensive to move," Block said. "And one of the things we're running into as horsemen is, it's getting more and more difficult finding qualified help to take care of these horses… I'm right now trying to decide between Ellis and Colonial but I don't want to go there looking for help because that's just not happening these days."
Other Arlington regulars from past years have more flexibility stabling elsewhere.
Wayne Catalano, a noted jockey before he turned to training, lamented he won't be at Arlington for the summer, noting, "I've got a farm over there—a beautiful place."
"I don't know how that is going to work," Catalano said of the split Thoroughbred season at Hawthorne. But, he said, he will have "a couple" to run during the spring at Hawthorne and likely will pay the occasional visit again in the autumn.
"We won't be moving the whole operation up to Hawthorne, that's for sure," he said. We're going to Saratoga."
While Catalano is a veteran who made a mark at Arlington, Chris Davis is a younger, up-and-coming trainer who also had been a regular at the northwest Chicago oval. Now based at Keenelandhe said Hawthorne does not figure into his plans on a full-time basis.
"There's no point to set up shop there and then they kick you out in a couple of months," Davis said.
Davis, however, had nothing but praise for the Carey family, Hawthorne's multigenerational owners.
"I think they really want to make it work for the horsemen," Davis said. "I know the Carey family's hearts are in the right place for us. When we've needed something, they've always stepped up for us. It's just the cost of getting there for a few months."
Block, normally among the upbeat contingent of the Illinois racing community, said the situation has a psychological impact on owners and trainers, too, as their lives are turned upside down twice in the course of the year.
"I use the word depressed right now," Block said, "and I am a little down because this is the time of year when we're gathering the horses together and making the venture to Arlington Heights and setting up our stable for the next six months and everybody's at home and we're at Arlington Park.
"We've done that for so many years. It was life. It was who we are and what we do. We don't have that now and it's a big shock for everyone and we have to adjust. It's not always easy to adjust."
Despite all the angst, horsemen did get the spring season at Hawthorne off to a good start with decent fields on the first weekend of April despite typically nasty Chicago-area seasonal weather.
"The horsemen of the Illinois Thoroughbred Horsemen's Association have already shown great support in the entry box," said John Walsh, assistant general manager. "The increased purses have been a major draw. Also, to start building a stakes schedule once again shows that things are headed in the right direction at Hawthorne."
Now, the question is what will happen after the "summer vacation?" Will horsemen find the grass greener elsewhere and stay or will they return to Hawthorne just in time for the onset of autumn and winter?
And what about the coming years, if the situation doesn't change?
"I believe when they leave, they'll come back," Block said. "It's home for a lot of people and so they'll always come back. Now, whether this is something that's going to work for everybody, I think that remains to be seen, depending on how that two and a half months goes for our horsemen that do venture out to another racetrack and take their horses there and see if they can do well."
He said he bases that forecast on an improved purse structure at Hawthorne at the start of the season and the prospect for more of the same in the fall.
Rivelli agreed.
"Purses are a lot bigger than what they were," he said. "I think they're bigger than Indiana now. Apparently (the split schedule) is just for one year. Next year we should be good—all the way through like Arlington's meet.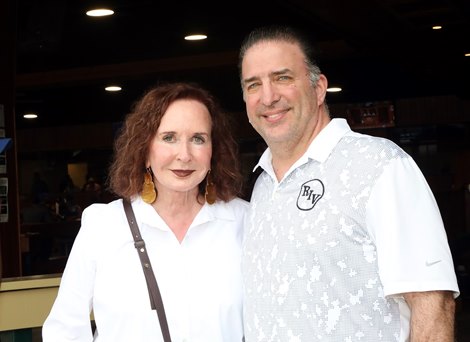 Owner Carolyn Wilson and Larry Rivelli
"It's a foregone conclusion that we're not going to split up the meet with the harness like they did this year. Hopefully, they'll have a place to go and a track to be built, or a different venue to run at. That's what I've heard, anyway. I would pretty much guarantee that next year's Thoroughbred meet should be back to normal."
That might be news to the Illinois Harness Horsemen's Association and a 2023 schedule won't be finalized until the September meeting of the Illinois Racing Board. And a new harness track has been put on hold by Machiavellian Illinois political forces—for how long, no one knows.
Block acknowledged restoration of an optimal schedule.
"It isn't possible until we get a second racetrack," he said. "And, again, my fear is that's way down the road and I just don't know how long our horsemen can hang on with this gap that we'll have."
Another issue is the long delay in getting construction going for a casino at Hawthorne. The track was able to get a sports betting operation up and running relatively quickly after passage of gaming-expansion legislation in 2019. But that facility does not provide for racing and regulatory delays have slowed progress on the full casino, which is expected to be expected boost purses.
Sources said Illinois Gaming Board approvals are expected late this spring, freeing construction to start in June with cards to be dealt, wheels to spin, and purse money to start flowing sometime late in 2023.
The sound of construction itself might be a depression-lifter?
"Yes," Block said. "Yes, it would!"
.