Emma Bubola, Valeriya Safronova and Maria Varenikova reported in today's New York Times that, "In the past six weeks, Russian shells have destroyed Ukrainian cities, homes, hospitals and schools.
But the war has also reached deep into the fertile plains of a region known as Europe's breadbasket, paralyzing harvests, destroying granaries and crops, and bringing potentially devastating consequences to a country that produces a large share of the world's grain.
"Ukraine has already lost at least $1.5 billion in grain exports since the war began, the country's deputy agriculture minister said recently. And the economic fallout from the war has also disrupted supplies from Russia, the world's leading grain exporter."
Today's article explained that, "In Ukraine, warehouses are filled with grain that cannot be exported. Russia has blocked access to the Black Sea, Ukraine's main export route, cargo trains face logistical hurdlesand trucking is stymied Because most truck drivers are men aged 18 to 60 who are not allowed to leave the country and cannot drive agricultural exports across the border.
"Ukraine has also banned some grain exports to ensure that it has enough food to feed its people.
"On Tuesday, the Agriculture Ministry said that Six large granaries had been destroyed by Russian shelling. Farmers say they face shortages of fuel and fertilizerand that some of their workers have gone to the battlefield."
Bubola, Safronova and Varenikova also pointed out that, "Farmers also worry whether they will be able to sow crops this spring, putting next season's crops at risk. On Thursday, Ukraine's prime minister, Denis Shmygal, said that the government expected a 20 percent decrease in crops to be sown this spring.
"Russian forces have mined some farmlandblown up machines and destroyed fuel reserves, an effort, Ukrainian authorities say, to disrupt planting."
And Washington Post writer Max Bearak reported in Sunday's paper that, "All of Ukraine's Black Sea ports are closed off to the world by a Russian blockade that includes floating mines. A battleship the Ukrainian navy scuttled to avoid capture is blocking access to grain stores at the country's biggest port in Odessa. And after 20 years of investment in farm-to-port infrastructure, Exported wheated by train is just a tiny fraction of what is exported by sea.
"Without export income, Ukraine's giant industrial agriculture economy is grinding to a haltthreatening bankruptcy for farmers and increasing the likelihood that the global grain market — and other food supplies that depend on it — will see worse scarcity even in the unlikely event that the conflict ends soon."
"The war's knock-on effects on energy and fertilizer supplies are already rippling through agricultural supply chains, raising prices of basic goods for nearly everyone on the planet," the Post article said.
Bearak added that, "The diesel that fuels tractors and other equipment is unavailable across the country, either because it was once obtained from Russia or because Russia has bombed local fuel storage sites.
"Key moments in the agricultural calendar — fertilizing, tilling and, soon, planting — are passing while farmers struggle to source essential supplies, and while others have left to go fight. Farm employees are exempt from conscription, but many have joined out of a sense of duty."
Nonetheless, Reuters writer Pavel Polityuk reported today that, "The 2022 spring crop sowing area in Ukraine can reach 80% of the pre-war acreage if the country manages to clear mines In northern regions, deputy agriculture ministers Taras Vysotskiy was quoted as saying on Monday.
"Ukrainian agriculture officials said in February that the sowing area could fall 50% due to the Russian invasion, but later they revised the sowing area forecast. to around 70% As the Russia failed to occupy most of the country."
'If the territories of Chernihiv and Sumy regions, which have huge agricultural areas, can be cleared of mines in coming weeks, the sown area may increase to 80%,' state-run Ukrinform news agency quoted Vysotskiy as saying.
"He gave no 2022 grain forecast or outlook for exports," the Reuters article said.
In other developments, Bloomberg writer Alfred Cang reported yesterday that, "Chinese farmers in the country's most important region for corn, soybeans and rice are facing a myriad of challenges as the spring planting season kicks off, endangering the nation's ability to secure enough grains for this year.
"Already hit by soaring fertilizer and fuel costsgrowers in some areas of the northeast have had to contend with strict Covid curbs that prevent them from plowing their fields and sowing seeds. The region produces more than a fifth of China's national grain output."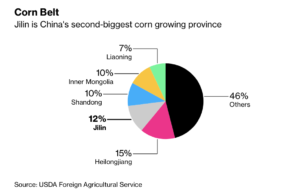 Cang noted that, "Those who can go out to work have encountered another problem: strict anti-pollution rules against stubble burning. The practice — still widely used around the world — is seen by farmers as the quickest and cheapest way to clear land of leftover straw and waste from the previous harvest before the next planting season. But it is also seen as a major source of dangerous air particles and the Chinese government has urged farmers to instead use machines to collect the waste and send it to nearby power plants where it can be burned for fuel."
"While it's still uncertain how the move will ultimately impact the output, the fears feed into larger concerns that China could face a shortage of domestic grain production and need to boost imports," the Bloomberg article said.
Wall Street Journal writer Jason Douglas reported today that, "Inflation in China picked up in March As soaring global commodity prices and lockdowns in major cities drove up prices for consumers and businesses."
"Data from the National Bureau of Statistics Monday show prices for fresh vegetables up an annual 17% in March, fruit prices up 4.3% and the price of flour up 4.6%," the Journal article said.
Also today, Reuters writer Dominique Patton reported that, "Chinese President Xi Jinping said the country needs to be independent in seeds to achieve food securitystate media reported on Monday, reiterating growing concerns about China's reliance on imports of food.
"Xi made the remarks on Sunday while visiting the Yazhou Bay Seed Laboratory in the southern island of Hainan, a major breeding base for the seed sector, Xinhua reported."
In its monthly Grain: World Markets and Trade report last week, USDA's Foreign Agricultural Service (FAS) stated that, "China has been the key driver in global import demand for major coarse grains (corn, barley, and sorghum) since becoming the top importer of corn last year. China's customs data for the first 5 months (October-February) in 2021/22 shows combined imports of coarse grains at the same level relative to a year ago as larger volumes for barley and sorghum offset the decline in corn.
"Corn imports totaled 8.1 million tons for the period, supplied by the United States (51 percent) and Ukraine (45 percent). The import volume for Ukraine corn was on par relative to a year ago, but US corn fell behind last year's record pace. For March through Septemberimports from Ukraine are expected to be small as the ongoing conflict severely limits Ukraine's ability to transport the grain from the Black Sea. This month, the China corn import forecast is adjusted lower to reflect this, with Ukraine a major supplier to China since 2014/15."
FAS added that, "Sorghum imports totaled 3.6 million tons, supplied by the United States (52 percent), Argentina (36 percent), and Australia (12 percent)."