NAMPA — Jos Zamzow wants to recruit an army of water soldiers: Treasure Valley residents equipped with the knowledge to conserve irrigation water.
"I think one of the big misconceptions a lot of people have is that you have to choose between having good lawsns or conserving water," Zamzow said to a full house at the Nampa Civic Center on Thursday night. "And the reality is that we don't have to, and if you pay attention to what I'm teaching you tonight, you can have a better lawn and use less water."
The presentation was designed to teach residents how to build their lawns' "drought muscles." The event is part of an effort by Nampa's newly formed irrigation task force to educate residents about wise water use in preparation for the upcoming irrigation season, as previously reported. In addition to the presentation, representatives from the University of Idaho extension service, as well as Canyon County were on hand to answer the public's questions.
The Treasure Valley area, along with most of the state, is experiencing drought conditions following an unusually dry January through March. Zamzow's presentation offered a method for how to help lawns thrive using less water.
An individual can build their lawn's drought muscle in the same way as building human muscle: putting it under stress, Zamzow said. Right now, most lawns are bone dry to the point of being dusty, Zamzow said. When irrigation water becomes available, people should give their laws a long, deep watering. But instead of continuing with timed watering, people should turn their system back off, he said.
"We're gonna let the grass tell us when it needs water," Zamzow said. This means observing the grass to see when it starts to wilt, indicating it's thirsty, he said.
Watering the grass on an as-needed basis teaches the grass to establish deep roots. In contrast, frequent, shallow watering encourages roots to stay close to the surface, and makes the grass "water addicted," he said.
People should aim to give their lawn one watering per week, maybe two, Zamzow said, aiming for 1 inch of water per watering through May. Once the weather gets hotter, people should increase to 2 inches per week, he said.
But if an individual only uses time as a measurement of how much they water their lawn — for example, 30 minutes per day — they likely have no idea what quantity of water the are using, or what kind of coverage they are getting from their sprinkler system, Zamzow said. If people notice a dry spot, their tendency may be to turn up the sprinklers instead of figuring out why that area is dry, he said.
Residents can place low-tech, measuring gauges in different sections of their lawns to evaluate how much water their sprinkler system is putting out in a certain timeframe and whether all sections of the lawn are getting adequate coverage, he said. He recommended watering for 15 minutes to measure how much water the system distributes. Then, a resident can do simple math to calculate how long the sprinklers should run for to get to the appropriate amount of water in one or two waterings, he said.
When Zamzow asked the audience how many people can only water for 10 minutes before their water starts running into the street, a few raised their hands. There are products that can be applied to laws to help water infiltrate better, he said.
Applying other inputs can support the microorganisms that contribute to soil health, Zamzow said.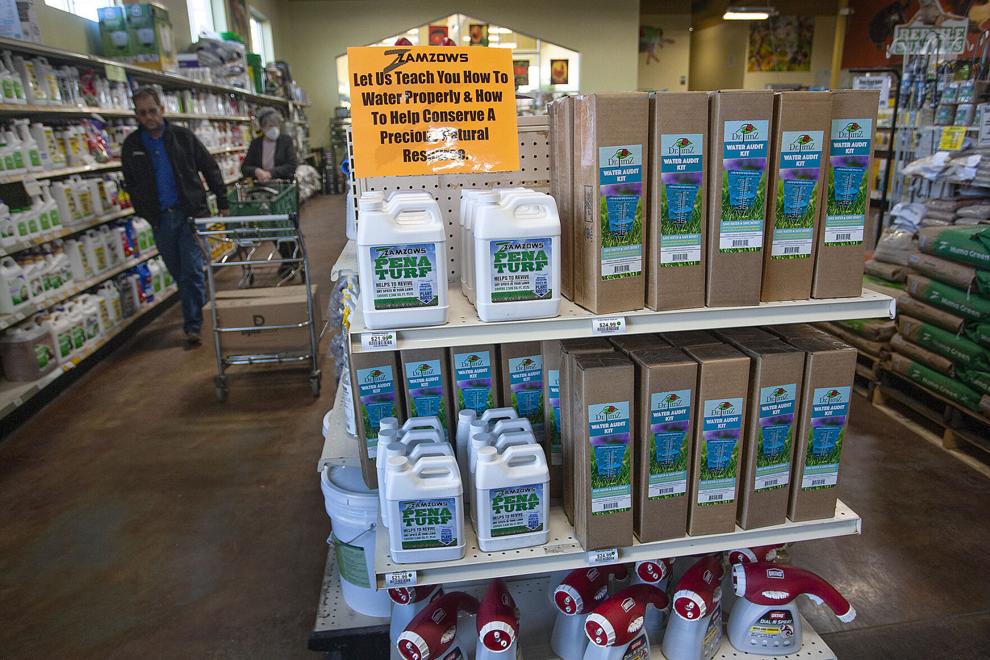 Idaho soils are not carbon rich compared to other areas of the country, such as the Midwest, so applying nitrogen-heavy fertilizers can be counterproductive to health lawn, he said. Applying compost or other products that are carbon-rich will help nourish the soil microorganisms that contribute to the aeration and moisture in the soil, he said.
Soils in the area tend to be very clay-heavy, and building soil enables better water infiltration, he said. Though clay soils are sometimes thought of as difficult to work with, they are excellent at retaining moisture, he said.
"We're building up that bacteria knowing that as I build the soil, not only does it break up the clay that holds a tremendous amount of water, we're talking about millions of organisms that are the only thing smaller than those clay particles that are moving, and growing, and living, and dying," Zamzow said.
"Build your soil; I'm telling you, it's the holy grail for your garden or your lawn," he said.
Watering less also helps prevent issues such as thatch build-up, and funguses and bugs that can plague lawns, Zamzow said. But overall, even with less watering, Zamzow emphasized that residents will be able to achieve a green lawn that survives through the summer, even if irrigation water is turned off earlier than normal, he said.
Ensuring that your lawnmower blades are sharp is important to ensure grass heals quickly from the cut and does not leak moisture, he said. Small lawnmower shops in the area often offer lawnmower blade sharpening, he said.
There are lots of misconceptions about conserving irrigation water. Zamzow said he used to think that conserving irrigation water would mean that it went unused. But he has since learned how flows are adjusted everyday, and using water conservatively means stretching the precious little coming from mountains and reservoirs. Anything unused will flow to other residents and communities, he said.
Though common wisdom is to water during less hot times of the day, when residents are building their drought muscle and testing sprinkler system coverage, it's important to water at times when the systems can be easily observed, at least initially, he said. And complying closely with local staggered watering recommendations will allow maximum pressure and coverage for everyone, he said.
Attendees expressed appreciation for the knowledge they built during the presentation.
"I learned quite a bit and confirmed what I've already been told to a degree — that watering less is good to build your roots," said Kim Erb, a Nampa resident. Though you need to ensure your lawn gets the right amount of water, "there are other good things that will happen when you water less, like less fungus, less bugs. And those are things I are things I hadn't considered," she said.
Some attendees were excited to share what they had learned with their neighbors. For Jeff Wall, the presentation validated the efficacy of his usual infrequent waterings, he said.
"I'm not gonna walk around my neighborhood and do that, but I do talk with my neighbors often, all my neighbors around us, so it's something that I would tell everybody else," said Jeff Wall.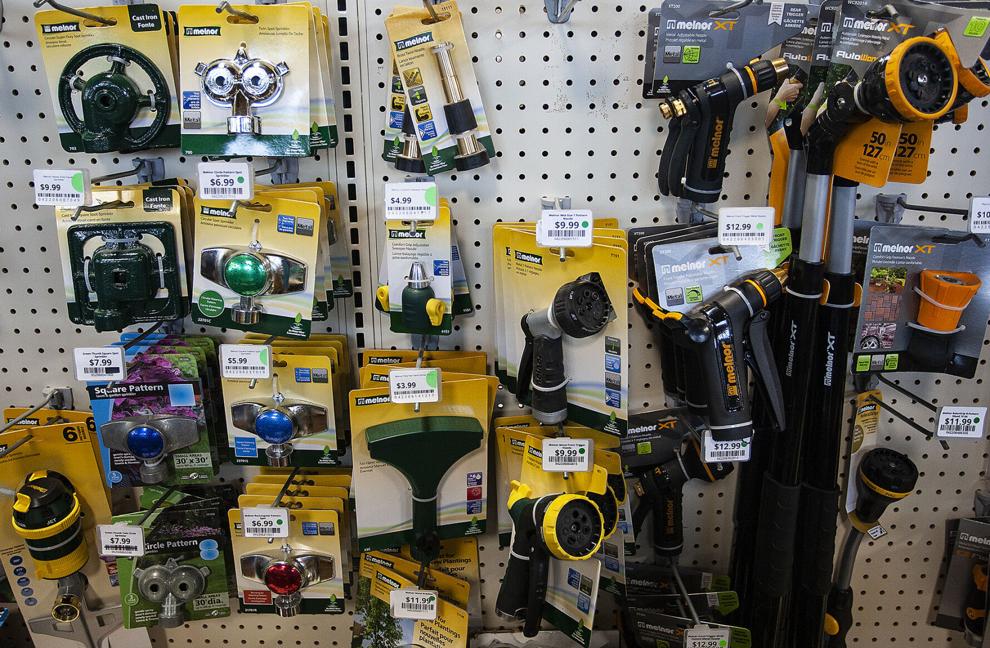 Carla Lenerd lives in a new subdivision that does not yet have an HOA because not all of the homes in it are built yet, she said. But the neighborhood does have a website that she plans to post video and other information from the event, she said.
"This is such fabulous information," Lenerd said. "I'm going to ask people, 'did you see this?'" and share information with people who did not attend, she said.
Nampa Mayor Debbie Kling, who made opening remarks ahead of the presentation, said residents conserving water also helps keep water available to local farmers.
"That's why it's important to stretch it because … you know what, a beautiful green lawn is not a necessity," Kling said. "Food is. The economy is. We have been an agricultural community, and we need to support our agricultural industry and do our part."
One tool to better weather drought on Nampa's horizon is the development of a wastewater treatment system that will make wastewater usable for irrigation, said Tom Points, senior director of public works with the city.
"We're going to treat it to class A standards and then get it into an irrigation canal," Points said, to applause from the audience.
.