Ciaron Maher, Australia's biggest trainer, came out on top during Day 1 of the Inglis Easter Yearling Sale, backing his judgment to land the "colt of the sale," the top-priced AU$1.5 million (US$1,128,432) son of I Am Invincible who was one of six to reach the seven-figure mark at Riverside Stables April 5.
The six million-dollar yearlings, colts by proven stallions and one who is tipped to reach new heights, captured the headlines but it was the depth of the middle market, something evident throughout the majority of yearling sales in 2022, that again underlined buyers' willingness to up their sights.
The aggregate at the end of the day was at AU$66.41 million ($49,959,446), up 3% year-on-year which was then the benchmark single day's trade at a Southern Hemisphere sale (it eventually closed at AU$67.6 million—$50,854,669—after some passed in lots were sold), while the average increased by 4% to AU$383,873 ($288,783) on Day 1 of 2022.
The median of AU$300,000 ($225,686), however, perhaps best illustrates the strength of the market. It was up from AU$260,000 ($195,595) on the same session last year and there is every reason to suggest that the momentum will continue on Wednesday.
Inglis Bloodstock chief executive Sebastian Hutch understandably was pleased with how the statistics read after the first day.
SALE DAY SNIPPET: "Fortune favorites the brave" proclaims @cmaherracing's Bloodstock Manager, Will Bourne after purchasing lot 144 – an I Am Invincible x Egytian Symbol colt for $1.5m, topping day 1 of #InglisEaster. pic.twitter.com/CuvUJLmFXo

— Inglis (@inglis_sales) April 5, 2022
"Any day you can come out of the sale day with figures that we have today, it's hard to be anything other than pleased," Hutch said.
"There were a lot of nice horses in the sale and they sold well. I think it's a really good reflection on the strength of the day that the median is up 15% on the same day last year. I think that is probably the best way of demonstrating the strength and depth of the market.
"Time and time again, we saw people frustrated and not even being able to get close on the horses they wanted to buy and horses were making significantly more than vendors expectations."
Meanwhile, the might of the Maher and David Eustace stable, which has more horses on its books than any other in the country, was to the fore on Day 1 with the training partnership landing the most expensive colt of the session.
Maher's bloodstock manager Will Bourne revealed that the trainer bought the horse without an owner already committed to purchasing the horse such was his opinion of the colt, but it didn't take him long to convince Kia Ora Stud and Tony Fung Investments to come on board .
"We paid a bit of money for him, but Ciaron was in love with the horse. Cressfield are great breeders and overall he's a quality colt," Bourne said.
Ciaron purchased Cellsabeel from this sale (in 2019) and she had a ton of ability, he knows this family very well and he was keen to get his hands on this colt.
"Funnily enough, Ciaron loved him that much. Ciaron has been a very brave person in the business of the Thoroughbred world and it's no shock that he is again at the Sydney Easter sale. )."
Coolmore was underbidder on the colt.
They're a happy team @VineryStud & why wouldn't they be after their Written Tycoon x Gracie's Lass colt (lot 198) sold to @CoolmoreAus @TomMagnier for $1.4m. An amazing result and a special congrats to breeder Greg Perry. pic.twitter.com/1Fi4pFjvtI

— Inglis (@inglis_sales) April 5, 2022
The Lot 144 colt, who attracted a "stratospheric" 27 x-ray hits, is the first foal out of the former Bjorn Baker-trained group 3 winner Egyptian Symbol, who was bred and raced by Cressfield's Bruce Neill. His second dam is group 1-winning sprinter and now pensioned Egyptian Raine, who Neill bought for AU$900,000 (approx. $677,059) off the track, while Cellsabeel, a John McGrath Auto Group Black Opal Stakes (G3) placed mare whose racetrack career was Curtailed by injury, is a half sister to Egyptian Symbol.
"He has a very good second dam, who was one of Australia's great race mares. I think she was second in about 10 group 1s and Egyptian Symbol was a filly we tried to sell at Magic Millions many years ago and she didn't even make AU$80,000 ($83,502) as a reserve," Neill said.
"We kept her and raced her and she won AU$1.5 million ($1,104,470) and now she has made AU$1.5 million for her first foal. We are pretty happy about that."
Neill's Cressfield focuses on quality over quantity, breeding about 25 mares a year and largely to proven stallions.
"The page justified going to a good stallion, I try not to breed Danehill over Danehill and therefore I Am Invincible was a perfect option, Stratum being by Redoute's Choice," he said.
"It's a good outcome. She missed the next year to I Am Invincible but she is in foal to Deep Field now."
Despite the record day of trade, Neill felt there was a lull in the market early in the sale and into the afternoon before it picked up.
"It felt to me like it was plateauing. Before those two AU$1 million ($752,288) colts for Coolmore went through, the clearance rate was only 72%, and the average was on par with last year," he said.
"So it improved with those three top lots going through. I think it's a bit patchy."
Maher and Eustace bought 11 years either outright or in partnership on Day 1.
Coolmore's Triple Play
Despite losing out on the AU$1.5 million colt bought by Maher, Coolmore, as it has for an extended period of time, still demonstrated its sales ring strength, buying the Written Tycoon half brother to group 1-winning colt Artorius for AU$1.4 million ($1,053,203) and back-to-back million-dollar colts earlier in the session.
The Greg Perry-bred and Vinery Stud-consigned son of Written Tycoon, who was cataloged as Lot 198, and early afternoon additions—an AU$1.4 million Arrowfield Stud-sold Snitzel colt and the AU$1 million ($752,288) I Am Invincible colt who were sold consecutively as Lots 90 and 91—will all join the Coolmore-led colts syndicate which has enjoyed immense success with dual group 1-winning Royal Ascot-bound Home Affairs.
The trio, like Home Affairs, will be trained by Chris Waller.
Coolmore Australia principal Tom Magnier said the addition of the Written Tycoon colt provided the horse's new connections with extra incentive to follow the career of Neds Blue Diamond Stakes (G1) winner Artorius, who is also expected to head to Britain in June for the Royal Meeting .
"When we head to Royal Ascot (with Home Affairs) he will give us a reason to be watching Artorius when we go over in the summer," Magnier said. "He is a horse that is mature, he looks strong and Chris was pretty keen on him, he thought he was a forward type of horse."
The colt is the fourth foal out of the unraced Gracie's Lass, a half sister to Darley Sprint Classic (G1) winner Selection .
The Written Tycoon colt consigned as Lot 198 in the ring
Vinery Stud bloodstock manager Adam White said the colt had been a gentleman all week, never put a wrong foot, just paraded in and out of his box all the time and it's a great result for the farm again.
"His pedigree was obviously going to get a lot of the big players around for him, we knew he was a quality colt and most of those stallion funds were on him and we knew Coolmore was certainly there and we're looking forward to seeing him on the racetrack," White said.
"Kudos to Greg Perry, he puts a lot of effort into his matings and does his plans. He relies on us a little bit with the physical match-ups and he's had a terrific run over the last half a dozen years.
"He's not only bred Artorius, but he's also bred a Kennedy VRC Oaks (G1) winner in Aristo and he also bred an Aami Victoria Derby (G1) winner a couple of years ago (Johnny Get Angry) and, of course, he's got Neds Oakleigh Plate (G1) winner, Marabi.
"He's a quality breeder and a farm like Coolmore recognized that and it was great to see them get the colt."
The first of Magnier's high-priced haul was the son of Snitzel out of the listed winner C'Est Beau La Vie. His second dam is group 3 winner Valkyrie Divaa half sister to Melbourne Cup (G1) heroine Makybe Diva .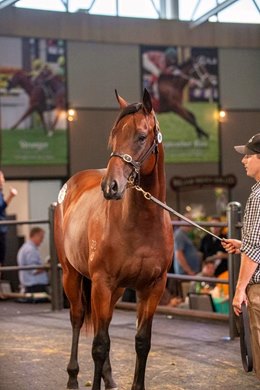 The Snitzel colt consigned as Lot 90 in the ring
"He was a striking colt, one of the nicest Snitzels in the sale," Magnier said. "Snitzel needs no introduction with what he's doing at the moment and he's out of a Bernardini mare, which is always a positive.
"Everyone's here this week to try and find those good colts that we want to turn into stallions and he was one of the standouts of the sale and all the team really liked him, so fingers crossed."
Magnier was also not the least bit surprised that there was so much competition on those colts and at the Easter sale in general.
"I think it's going to be like that a lot this week," he said.
"I think there are some really nice colts and there are some excellent judges on the complex, so I think that when those good horses come up, you're going to have to put your shoulders back."
Magnier also had his sights set on the next lot through the ring, the AU$1 million colt out of the stakes-placed mare Calming Influence.
"He was a lovely moving horse, a great pedigree and this is why you come to Easter, to get those great pedigrees," Magnier said. "Hopefully we get a bit of luck with this guy and try to find the next Home Affairs."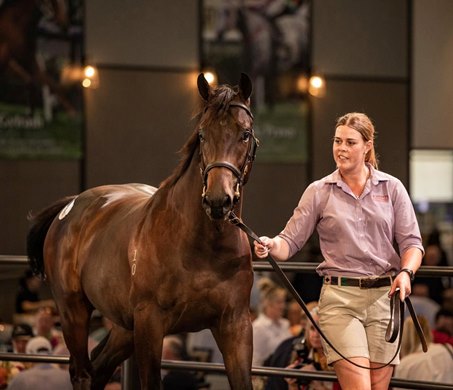 The I Am Invincible colt consigned as Lot 91 in the ring
Day 2 of the Easter sale starts Wednesday.
.