The university's focus on sustainable irrigation and turf care delivers benefits for department and campus.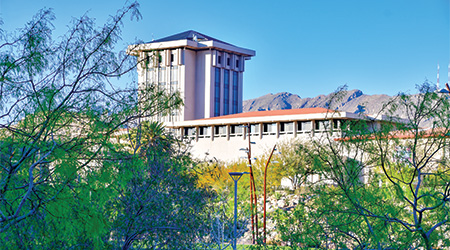 Achieving sustainability in grounds care is challenging. Most organizations have ongoing budget issues that limit funding, sustainability competes with a host of other priorities throughout the organization, and specifying cost-effective products and equipment that deliver green benefits can be daunting.
Now amplify those challenges by locating the organization in the middle of a desert, and you get a sense of the task facing Gerald Dobbs and his team at the University of Texas El Paso (UTEP). Dobbs is UTEP's grounds manager, and to meet these challenges and minimize the environmental impact of the campus, he has focused his recent efforts on several key strategies that include curtailing campus water use and maximizing investments in battery-powered turf equipment.
Water watch
The UTEP campus hosts about 25,000 students, 83 percent of whom are Hispanic. Its 86 facilities are situated on 420 acres in the Chihuahuan Desert in the El Paso-Juarez area. The grounds department has 38 full-time employees who maintain campus grounds and athletic and recreation fields. The campus's location and climate create an often-difficult situation for grounds care.
First, there is the heat.
"Sometimes, the temperatures in El Paso for a month at a stretch can be well over 100 degrees each and every day, and it wreaks havoc," Dobbs says.
Then there is the lack of precipitation.
"Rainwater is scarce," he says. "In fact, a majority of the rainfall comes during what we call the monsoon season. That time of the year is in July. Historically, the rainfall can come down so fast and furious that there have been occasions where flooding has occurred on the campus and in El Paso."
To remedy the situation, the department uses a complex irrigation system.
"The water for irrigation comes from underground water reservoirs," Dobbs says. "Drip irrigation is predominantly used, with miles of spaghetti tubing leading from hundreds of irrigation manifolds to individual plants. The majority of the plants used in the landscape are predominantly species found in the desert. Wood mulch is non-existent. We do use a quantity of material that is readily available to us – crushed rock of different colors."
One of Dobbs' crews is responsible for inspecting, repairing, and maintaining the campus irrigation systems.
"This is probably the largest irrigation crew that I've ever worked with," he says. "I have a supervisor who oversees a group of six men, and the campus is broken down into three different zones. There's a two-person team that would address the irrigation issues in each one of those zones.
"The big problem that we've been having here is that we've had animals chew up the little spaghetti tubing and create some issues. We get no buildup inside the manifolds, as well as inside solenoids in the tubing, and we'll notice that there is definitely a plant maybe suffering, so we'll replace the line."
Threats to the irrigation system also sometimes come from staff.
"We've also had people do some weeding on our staff who might cut the spaghetti lines or maybe damage a manifold, and they report it to the irrigation team," he says. "One of the biggest challenges we have here is that we have so many spaghetti tubes that lead from the different manifolds through all the general plant materials. That takes a while to do all the inspections. ahead and address it."
Mowing green
Beyond irrigation challenges, the area's ecosystem also presents challenges for UTEP's responsible grounds crews for the campus's nine acres of natural turf areas that consist of hardy Bermuda grass.
"Turf takes a big beating," Dobbs says. "We have a couple circles in Centennial Plaza where they do special events, so our challenge is to keep them green at all times. We're trying to do that, but we still have water restrictions, so we've been doing a process of verification on a monthly basis. We do get a lot of foot traffic on the turf areas, but we also put down a product called Biochar, which is a charged carbon that will help us hold water, as well as nutrition, in place for longer periods of time."
To address the department's turf care issues with sustainable solutions, Dobbs turned to an ally on campus.
"This past year, the Green Fund Committee listened to my presentation for purchasing battery-powered equipment to use in our campus turf maintenance operations," Dobbs says. "The Green Fund has funds to be used for sustainable campus projects and equipment. Using battery-powered equipment on the campus will reduce noise pollution and eliminate the emissions from two-cycle equipment and four-cycle riding mowers.
"We were able to purchase two ZTR-type riding mowers and one walk-behind self-propelled mower each with the capability of operating for up to six hours without a charge. In addition, we purchased five battery backpacks to power five drive units with quick-attach weed eaters, edgers and blowers."
The equipment, purchased in 2021, has been a game-changer for the department.
"To get these two machines, the two riders, as well as the one walk-behind, has been a godsend," Dobbs says, adding that prior to purchase, he tried out the mowers at a trade show and was impressed enough to bring it to the attention of UTEP's facilities director, who is a member of the Green Fund Committee.
"They have more than a quarter million dollars, and they look for sustainable ideas for the campus, whether it is inside the building or outside," he says. "They wrote up a proposal to buy the machines, the riding mower and the walk-behind, as well as the backpack power units."
Dobbs' staff also tested the mowers prior to purchase.
"My guys took them out and said they hang on to the power after a few hours, and they operated for about three hours," he says. "The battery was down less than 10 percent, so the machine is ready to go for about six to seven hours straight to handle the mowing operations without any problem. The battery powered backpack units can last about an hour to an hour and a half before we need to recharge them."
The equipment acquisition also has delivered the added benefit of building a connection between the department and UTEP's students.
"It has helped us with the noise pollution, but also it's a story we can tell and share with the students — what they've done for us," Dobbs says. "We're part of the sustainability effort here at the university, and it certainly gives them bragging rights for their contribution to our department."
What lies ahead
While Dobbs and his crew in charge of the irrigation system continue to maximize the performance of the existing system, they are also preparing to specify, install and operate a new irrigation system for a new facility on campus
"The irrigation supervisor will be working with planning on the next building project to install an irrigation system that can be remotely controlled through smart phones, electronic tablets and desk computers whenever there are irrigation issues," Dobbs says. "The system will provide water usage information on a regularly scheduled basis.
"We get an alert on our cell phone or iPad or computer telling us we have a water leak or a main break somewhere. Then we're able to shut it down to address it at a later date. It's very similar to what we did in the park district in Rancho Cordova (in California where Dobbs previously worked), and that's what we're getting ready to do down here in UTEP."
In addition to improved performance and reliability, the new irrigation system will deliver additional benefits for the organization. Primary among them is water conservation.
"That was part of the selling point, Dobbs says. "We spent an awful lot of man hours checking each individual station out on a weekly basis. If we could have the irrigation system with a controller system, we can save a lot of money on water here in this area.
"We have a spend of at least two hours of mandatory overtime for an employee to come in (to address an irrigation leak). We can save that cost by allowing the employee to have a cell phone. That would be extremely beneficial. We have water savings, but we also have labor savings."
The process of selecting the new irrigation system will also call for Dobbs and his team to partner with other groups on campus to educate them on grounds care and irrigation issues
"Actually, the designers had never heard of this type of system before, so we'll be doing education for the designers," he says. "There's a big effort here at the university for sustainability, and part of our job is to educate the planners. I figured they probably would have known about it, but they haven't heard about it yet, so we have that opportunity."
Dan Hounsell is senior editor for the facilities market. He has more than 25 years of experience covering engineering, maintenance, and grounds management issues in institutional and commercial facilities.
---
---
---
Related Topics: