April 28, 2021
By Jace Bauserman
The doldrums of winter have lifted, and your mind now is focused on this year's land-management goals. What can be done to improve those bedding areas? Should you plant some native grasses? How about clearing a hard-to-access locale and putting in a green plot? Decisions, decisions!
In all seriousness, tools and equipment are imperative to land-improvement projects — and an assortment of great habitat products are shown right here. We hope you'll find some that will help you complete this year's to-do list faster and easier.
Bobcat Tractors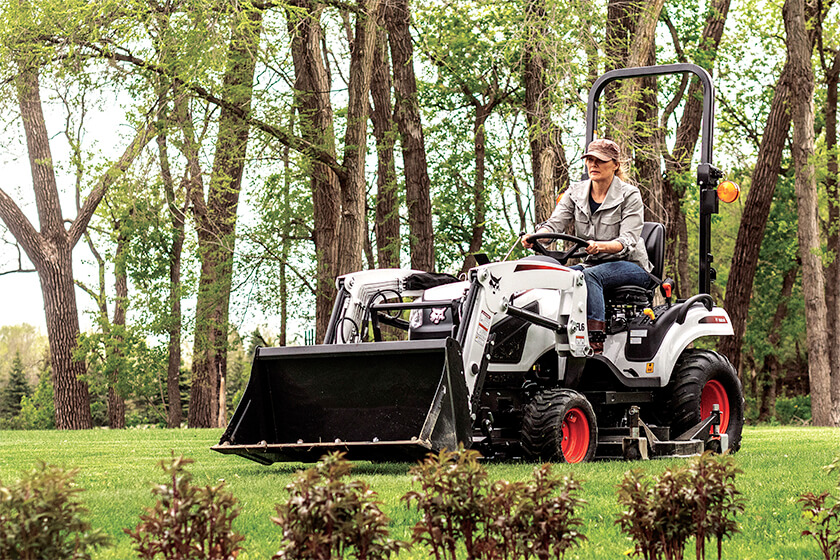 A compact go-getter, the CT1025 packs a lot of power into a little package. Ideal for maneuvering into and out of tight spaces, this 24.5-hp sub-compact diesel tractor has a hydrostatic transmission, 4WD and a Category 1 3-point hitch. An ideal choice for food plot work, the nimble CT1025 sports a width of 46 inches and a turning radius of just 99 inches. Top travel speed is 10.1 mph. This tractor will accept a number of Bobcat-branded implements, as well as those from other manufacturers.
bobcat.com
John Deere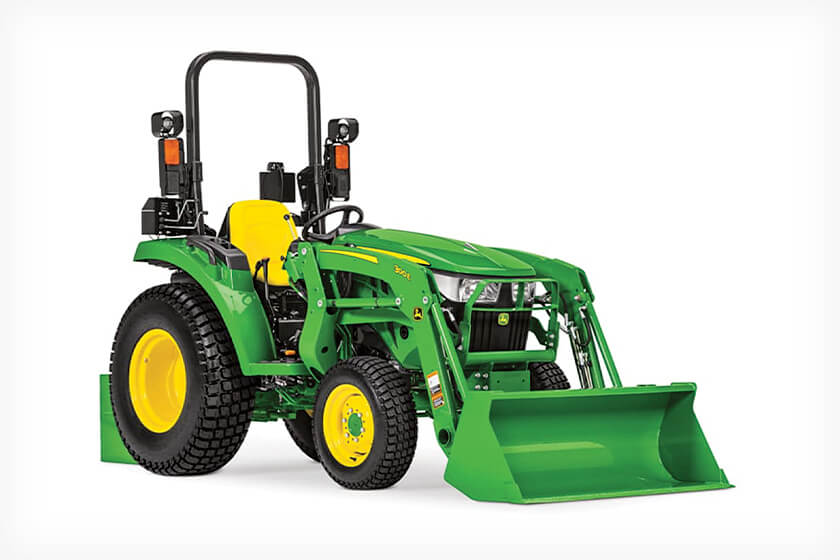 Fitted with a heavy-duty drivetrain with a gear-drive (8F/8R) transmission, the versatile 25-hp 3025D is ready to tackle your land-management needs. This standard 4WD tractor offers on-board diagnostics and simple operation via the placement of the 3D Gear Lever. The composite hood was designed to resist damage, even in harsh landscapes and adverse weather conditions. The 3 Series iMatch Quik-Hitch makes attaching implements easy, and an optional 2-spool rear selective control valve (SCV) boosts performance.
deere.com
Kubota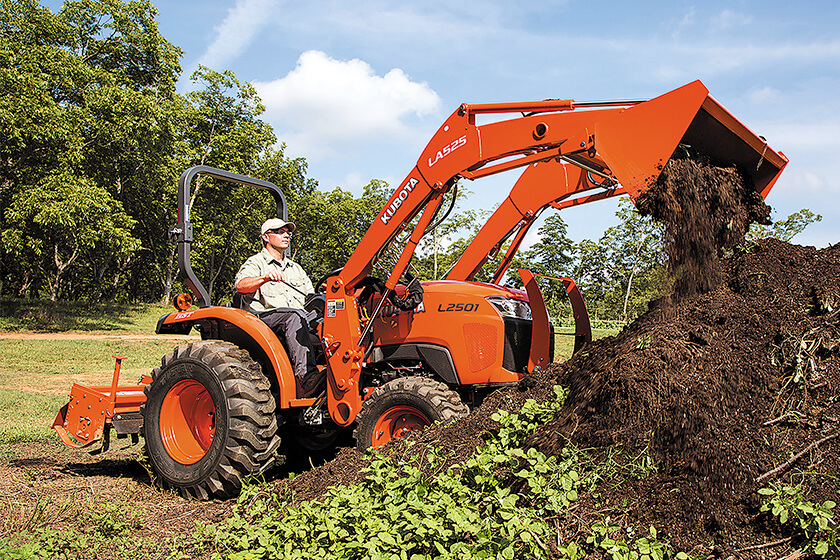 As a member of the legendary L01 Series, the L2501 is made to tackle a wide variety of jobs. Its 24.8-hp diesel engine provides outstanding power and promises reliability, while the spacious operator's platform ensures comfort and ease of operation. Available in 2WD and 4WD models, the L2501 features the Select HST Transmission to provide smooth operation with four main-shift speeds in two ranges (high/low), resulting in a total of eight forward and four reverse speeds. This tractor is fitted with a 2-Lever-Quick Coupler that makes bucket and other attachments simple via the mounting pins and hose couplers.
kubotausa.com
Polaris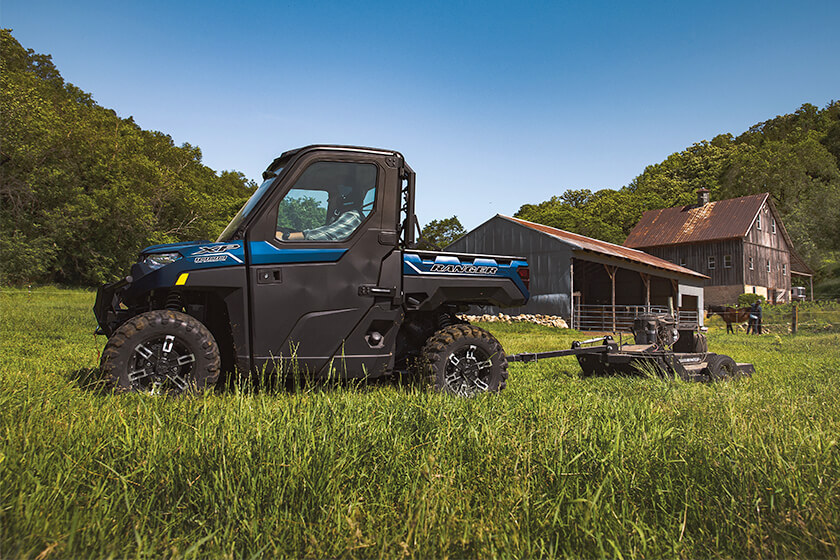 The 2020 Ranger XP 1000 gives side-by-side lovers plenty to cheer about. It has 13 inches of ground clearance and 11 inches of suspension travel. Of course, the 2,500-pound towing capacity, compliments of the DOHC 999cc ProStar engine, can't be ignored. The XP 1000's predecessor, the Ranger XP 1000 Northstar, builds on the legacy of the XP 1000. Ride the farm in style and haul necessary land-management gear in a rig that sports refined LED headlights, larger 29-inch tires for more ground clearance and a tip-out-style windshield. Plus, the upgraded cargo box is deeper, bigger and boasts a 1,000-pound hauling capacity.
---
---
polaris.com
Yamaha Wolverine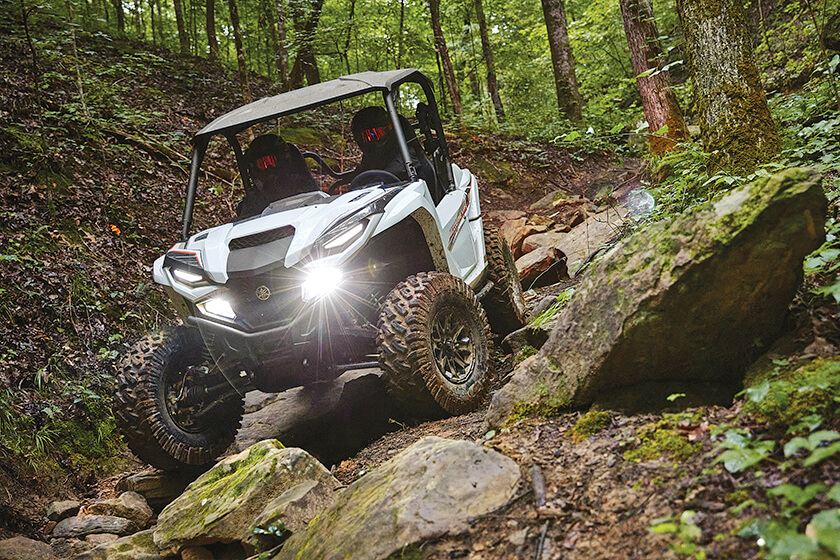 A true workhorse that allows you to venture off the beaten path to hard-to-access food plots is Yamaha's Wolverine RMAX2 1000. A 2-seater, this side-by-side is fitted with an all-new chassis and a new engine. Yamaha's Drive-Mode (D-Mode) power-delivery system and FOX iQS suspension technology are also included. And an all-new suspension system gives the machine maximum ground clearance, and D-Mode provides a trio of custom drive modes that ensure maximum power delivery and engine braking based on terrain and driving style. Another plus is the piston-assist tilting bed, which makes loading and unloading cargo a breeze.
yamahamotorsports.com
Great Plains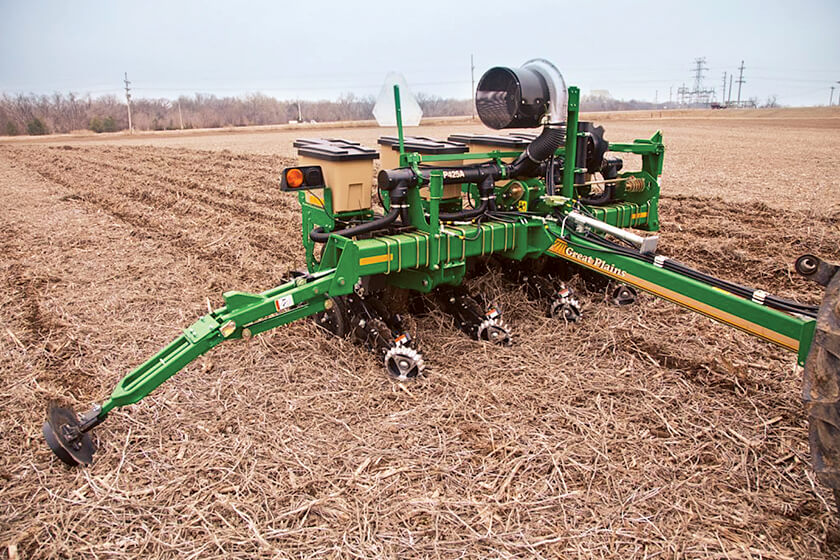 Good crop yield is the measure of a quality food plot. Many whitetail managers start with lush plots but then, due to increased browsing pressure, see them turn to dust just at the time deer need them most. Enter the YP-425A 4-Row Planter from Great Plains. This yield-increasing planter is compact and designed around the Air-Pro metering system, which ensures perfect spacing and accuracy of seed placement. All 25 Series row units promise accuracy, easy maintenance and incredible longevity. Press wheel choices are many, and pull-type and 3-point options are available.
greatplainsag.com
Micro Food Plots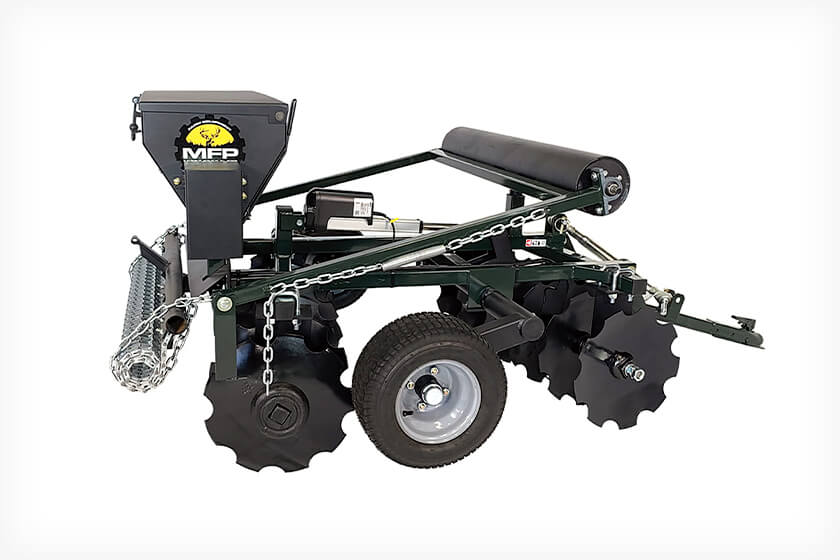 Not every food plotter can or even wants to run big equipment. When it comes to getting more bang for your buck, it's hard to ignore the Micro Food Plot Cultipacker Master Series. This medium-duty implement was designed as an all-in-one tilling and seeding system ideal for small kill plots, as well as larger destination plots. Its heavy-duty frame boasts 12 notched blades with sealed bearings, and the Accu-Seed System Electric Seed Box deposits seed directly behind the disc to eliminate waste.
microfoodplots.com
Groundhog Max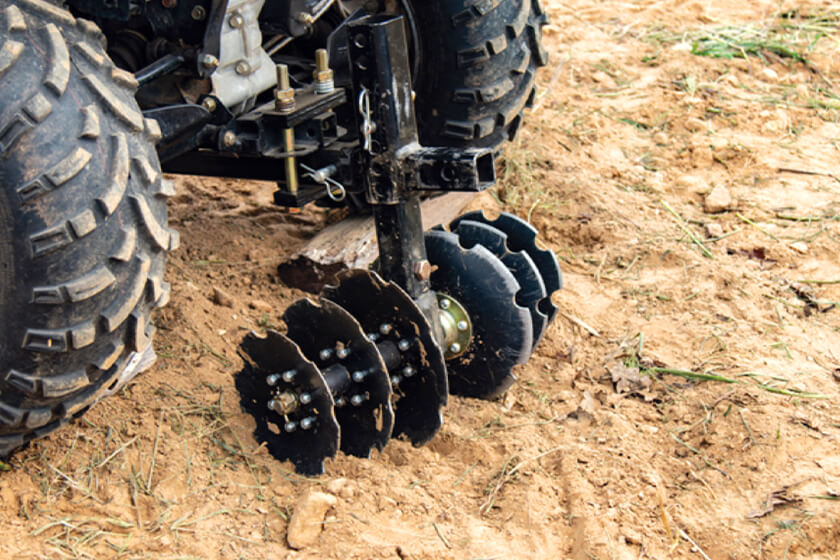 The ATV/UTV Disc Plow has been a go-to item for food-plotting fanatics since 2007. What's the biggest advantage of this compact unit? It will turn earth anywhere you can get your ATV/UTV to go — and that's a lot of places. From brushy hilltops to fertile bottomlands, this compact implement will operate at speeds of 4-7 mph and even can function in reverse. A simple up/down adjustment pin controls the depth and aggressiveness of the dig. Thanks to its compact size, transporting is a breeze.
groundhogmax.com
Ranews Outdoor Equipment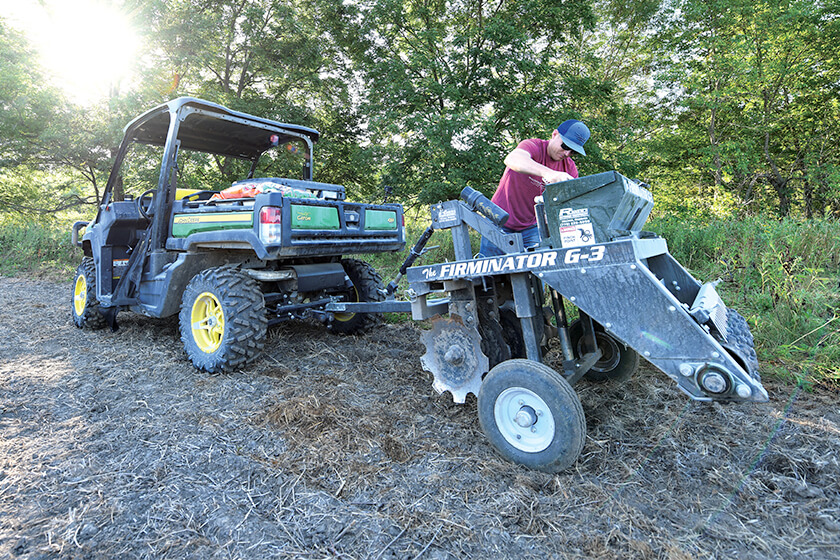 Sure to appeal to a variety of food-plot planters and land stewards, the Firminator G-3 ATV unit boasts the same tried-and-true 16-inch ground-turning discs, seed hopper with precision ACCU-Seed delivery system and true agricultural -grade cast-iron cultipacker as the original full-sized G-3. What's the big difference? This model is sized for a 500cc or greater ATV. With this single implement, land managers can access more remote parts of their property. The ATV model comes with a tow bar sized for a 1 7/8-inch ball, but it also retains the 3-point hitch for those planning to pull the unit with a small tractor.
thefirminator.com
Bush Hog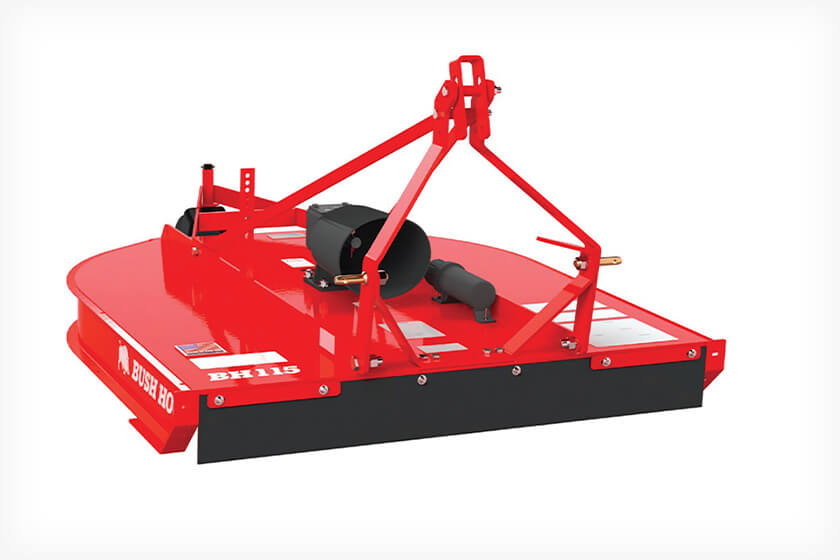 Any land manager would love the BH100 series single-spindle rotary cutters from Bush Hog. Each model in the series (BH114, BH115, BH116) has been robotically welded, including remarkable welding on the underside of the deck. From start to finish, each weld is applied at the same temperature, angle and duration to ensure maximum consistency. Cutting widths range from 4-6 feet by model, while cutting height is from 2-11 inches. Get rid of unwanted grass, weeds and debris up to 1 inch in diameter with the BH100 series.
bushhog.com
Battle Armor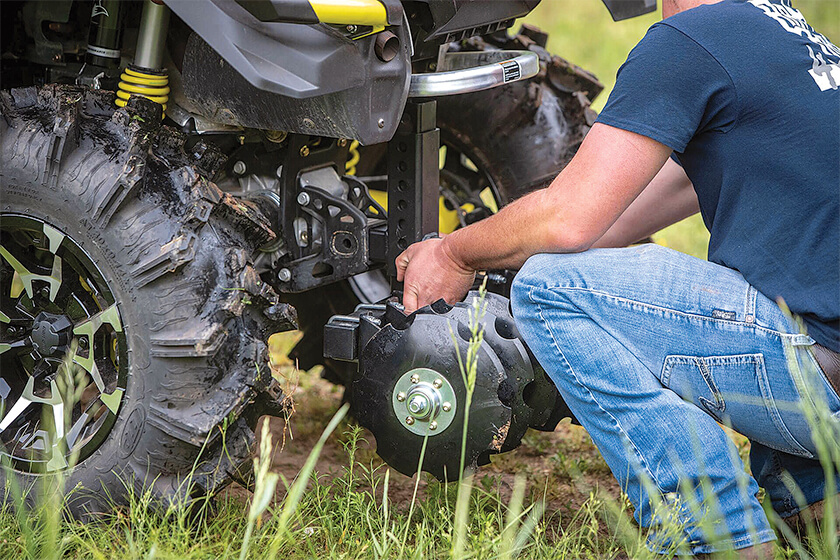 First, let your food-plot imagination run wild. Second, hook onto Battle Armor's Big Buck Food Plot Plow and make those planting dreams a reality. Available in a 6-disc version for ATVs and a larger 8-disc unit for UTVs, this go-anywhere unit attaches to a standard 2-inch receiver hitch. The ultra-aggressive discs ensure maximum ground rippage and allow for tight turning in those small spots you've always wanted to plant. Another bonus of this implement is its integrated clean-out system.
battlearmordesigns.com
RTP Outdoors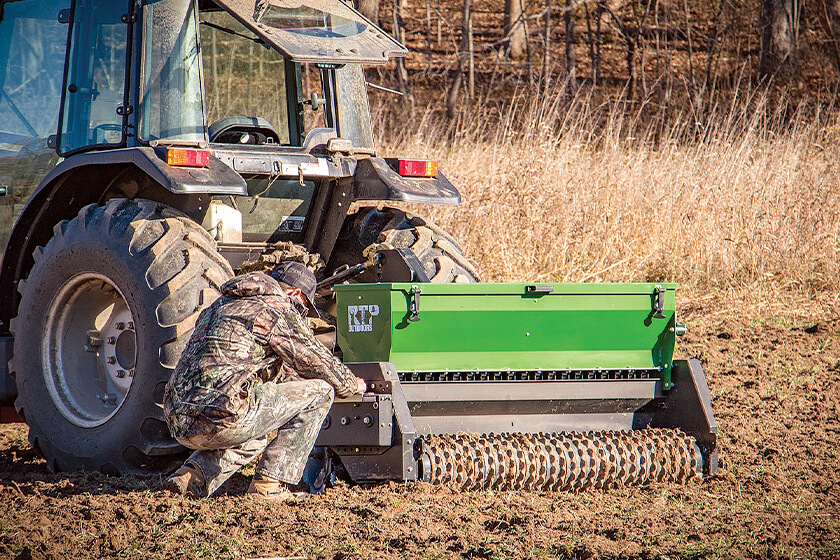 The 3-in-1 Ground-Breaker features a set of adjustable cutting discs, a seed hopper and a cultipacker to make easy work of food plotting. Effective seed spreading is possible at speeds up to 7.5 mph, and the disc spacing on all units is 5.9 inches. The advanced calibration system means seed distribution is simple and accurate. The rear cultipacker smooths the soil for superior seed-to-soil contact, which leads to better germination. The Ground-Breaker is available in a 3-foot model with an optional tow kit for UTVs. Other options include a 12-disc/6-foot model and an 18-disc/9-foot model.
rtpoutdoors.com
Vail Products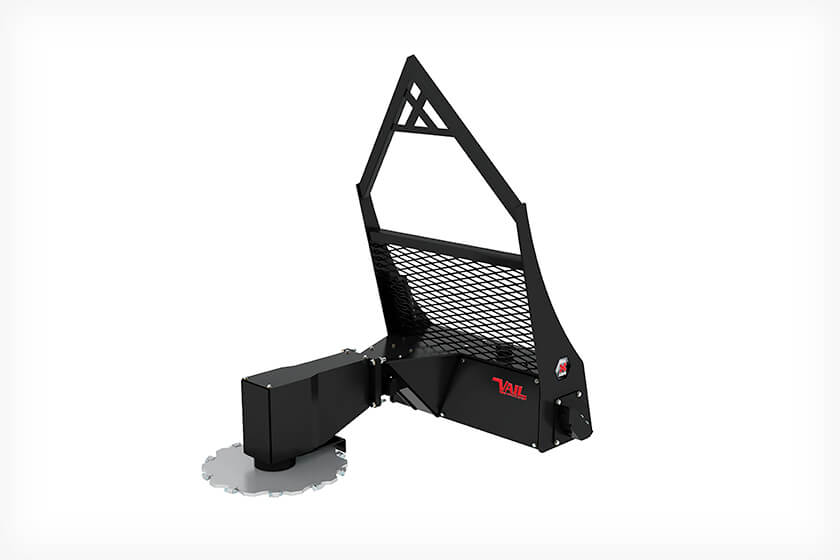 A durable, high-quality saw that can be used for everything from cutting brush to clearing timber, the Vail X Series Tree Saw is offered with Rotational and Fixed cutting head options. The Fixed Head comes with a 5-foot boom, advanced hydraulics for increased motor life and precision control for exceptional below-ground finishing. The Rotational Head provides 180-degree dirt-free rotation, a plug-and-play electrical interface and a Rotary Actuator cutting head to ensure exact and precise cutting angles.
vailxseries.com
.